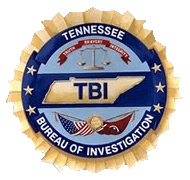 Nashville, TN – Two Nashville men who were placed on the Tennessee Bureau of Investigation's Top Ten Most Wanted list last week were arrested today in Davidson County.
Darryl Antoine Starks, 31, and Terrance Christopher Kimbrough, 18, were taken into custody early Tuesday evening without incident by officers with the Metro Nashville Police Department's Gang Unit and agents with the Bureau of Alcohol, Tobacco and Firearms.
The two were apprehended at 908 Blank Street in Nashville. Starks and Kimbrough were added to the Top Ten list on July 24th.
They were wanted by the TBI and the Metro Nashville Police Department on multiple charges stemming from multiple incidents, including First Degree Murder, Attempted First Degree Murder, Reckless Endangerment and weapons violations.
At the time of this news release, Starks, left top, and Kimbrough were still going through the booking process.