Written by Staff Sgt. Terrance D. Rhodes
2nd Brigade Combat Team, 101st Airborne Division (Air Assault) Public Affairs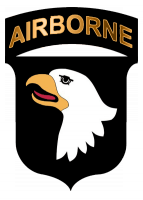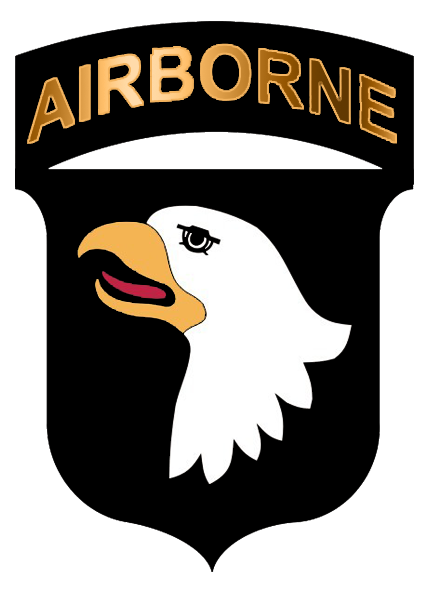 Fort Campbell, KY – The 101st Airborne Division (Air Assault) and Fort Campbell held its Day of the Eagles here July 30th, 2015.
Day of the Eagles is a tradition to honor past and present 101st Airborne Division Soldiers.
The first "Week of the Eagles" celebration was held in 1973, a year after the division was welcomed back from Vietnam. This year's Day of the Eagles themes are "Once a Screaming Eagle, always a Screaming Eagle," and "Continued legacy of dominance and dependability in battle."
The day began with a helicopter display ribbon cutting ceremony in front of McAuliffe Hall, the division's headquarters building. Next, Soldiers and veterans took part in a division run, celebrating the division's 73rd anniversary.
"Coming back to Fort Campbell brings back a lot of pride, being in the best division in the Army and in the world," said Walter Heins, a veteran who served with, Headquarters and Headquarters Battery, 1st Battalion, 320th Field Artillery.
After the run, unit dining facilities opened their doors for a veterans' breakfast with the Soldiers.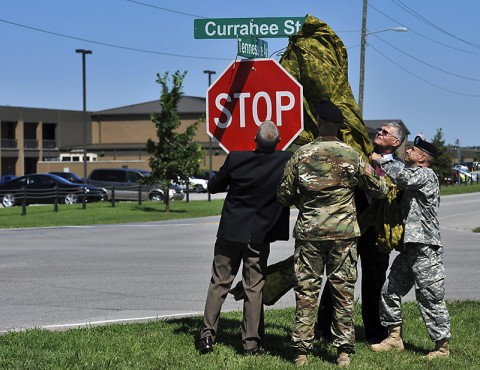 "It's a wonderful experience, getting this opportunity to see how today's Soldiers in the 101st work, live and eat," said retired 1st Sgt. Jack R. Kester, formerly of the 2nd Battalion, 502nd Infantry Regiment. "The food hasn't really changed much."
Sgt. Jeremy D. Williams, a squad leader with Company A, 1st Battalion, 502nd Infantry Regiment, knows that it's imperative to understand how deep the unit history goes.
"It was an extremely humbling experience to learn about the Soldiers that came before us," said Williams. "I met a guy who served in Vietnam and had the same position I had, and hearing how things were for them was really an eye-opener."
Throughout the day, brigades hosted static displays and tours throughout each their respective areas.
"It was definitely a lot of fun – especially for my son," said Hillary S. Webb, a 2nd Brigade Combat Team spouse. "I was able to see the complexity of the weapon systems Soldiers use and the vehicles they drive during deployment. It gave me a better understanding of what they do and makes me appreciate it a bit more."
Other key events included a demonstrations at The Sabalauski Air Assault School, a Pratt Museum open house, a recognition ceremony of 101st's NCO of the year and Soldier of the year, a street renaming ceremony, memorial re-dedication ceremony, and an all-day showing of 101st themed movies at Wilson Theater.
One of the main highlights was the 101st Airborne Division (Air Assault) Sustainment Brigade's re-designation and patching ceremony, in which the "Lifeliners" donned "Old Abe," the 101st's patch, on their left shoulders and uncased new colors to signify their new position within the division.
"Today, Old Abe returns to its rightful place in the 101st Sustainment Brigade and solidifies their formal return to the division," said Maj. Gen. Gary J. Volesky, the commanding general of the 101st Airborne Division (Air Assault) and Fort Campbell. "You have helped build so much history behind our patch, that it is only appropriate you will wear it on your shoulders once again."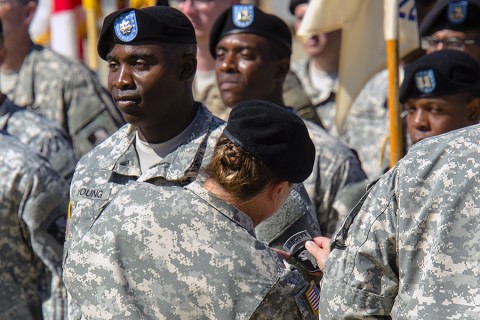 Being able to adapt to change is one of the Lifeliners' strong points.
"The Lifeliner brigade has lived an illustrious life, serving the Army, as it has been transformed, renovated, refurbished and transformed again," said Col. Kimberly J. Daub, commander of the 101st Airborne Division (Air Assault) Sustainment Brigade. "As this brigade prepares to make a historic change, it is comforting to know that the Soldiers standing here today will continue the tradition of excellence the brigade has already established."
Another highlight was a welcome home ceremony held at the Staff Sgt. Eric B. Shaw Physical Fitness Center.
The ceremony welcomed home Vietnam veterans and honored the division's proud history.
"Its past due, but I'm overwhelmed with joy about what the Soldiers did for us today," said Donald Singleton, an infantry veteran who served with 2nd Battalion, 502nd Infantry Regiment.
"I think the 101st is the best Army unit on this planet, and I'm grateful to be a part of them," said the Richmond Hill, Georgia, native.
The Day of the Eagles came to a close back where the day's events started – McAuliffe Hall – where the commanding general hosted a ceremony and honored veterans.
"It is my honor to walk in the footsteps of our Screaming Eagle veterans and serve in this great Division with our nation's finest men and women," said Volesky in his closing remarks during the ceremony. "Thank you all for coming and making this Day of the Eagles so special."