Event on October 3rd at Vanderbilt University sports field; signup is open for fundraising teams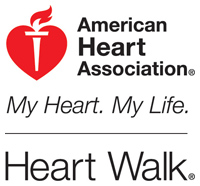 Nashville, TN – Everyone knows someone who's been affected by heart disease or stroke. It might even be you. Now's your chance to fight back.
The American Heart Association's Greater Nashville Heart Walk is 8 weeks away, on Saturday, October 3rd at Vanderbilt University sports field. The annual event brings together the Middle Tennessee community in a free festival and non-competitive walk, to raise funds for research, education and public health programs  fighting the No. 1 and No. 5 killers of Americans, heart disease and stroke.
It's the biggest fundraiser for the American Heart Association locally, and allows the association do its lifesaving work in Middle Tennessee.
This year, the Heart Walk has set the most ambitious fundraising goal ever: $2 million.
Whether it's $5.00, $50.00, $500.00… Every dollar raised can help save a life here at home.
This is how you can help right now:
Register and form a fundraising team online! It's easy to sign up and invite others to join your team. Go to www.nashvilleheartwalk.org and click Register and Join Heart Walk.
Give a donation! Donations can be given to the Nashville Heart Walk at www.nashvilleheartwalk.org . Just look for the red Give button.
The Greater Nashville Heart Walk is nationally sponsored by Subway Restaurants. Local My Heart. My Life. sponsor is Vanderbilt Heart.
Co-Chairs of the event are Gary A. Garfield, President and Chief Executive Officer, Bridgestone Americas, Inc. and Damon T. Hininger, President and Chief Executive Officer, CCA.
Top sponsors include:
Saint Thomas Heart
ESa
Bridgestone Americas Inc.
CCA
Direct General
Healthways, Inc.
Regions
SMS Holdings
UPS
Media sponsors include WKRN News 2, 650 AM WSM and Lamar Advertising.
Follow Heart Walk news on Facebook, Twitter and Instagram at AHA Greater Nashville.