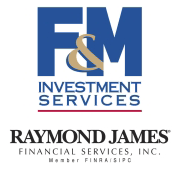 Clarksville, TN – While it's no secret that retirement brings a lot of unknowns, you don't want to be caught off guard if you can help it.
With so many decisions to be made from both financial and lifestyle perspectives, planning now for some of the "surprises" that may come your way can give you confidence that your financial future will be comfortable.
Retirement Expenses
Your Health
No surprise that this is one of retirees' biggest concerns – and expenses – in retirement. With health issues being the number one reason people retire early, your savings could dwindle with out-of-pocket health costs. There may also be a gap between employer-sponsored healthcare and eligibility for Medicare when you're 65.
Make It Meaningful
Financial needs for what they call "the longest vacation" aren't the only thing that can surprise you in retirement.
How you feel about your new found time and freedom may be the biggest revelation of all. Time on your hands could bring a shift in mindset regarding volunteering or work.
Some Find these activities lead to satisfaction, a sense of identity and purpose in addition to providing a set schedule for their week to make their time fulfilling.
Plus, there are separate Medicare expenses such as outpatient services, prescriptions, eye and dental care in addition to Medigap and long-term care insurance needs.
Your Taxes
Types of income are taxed differently, so it's important to understand how this affects consulting or part-time work in retirement. Taxes also change by state of residence and marital status, so understanding their implications is wise.
Also, regarding Social Security, you may have to pay on your benefits once you start receiving them. Talk to a tax professional to understand your obligations.
Your Home
Many people believe that paying off their mortgage will reduce their housing costs.
However, whether downsizing or staying in your home, there are still expenses to consider. Downsizing means moving costs and staying put could mean renovations to account for changes in health or mobility.
And, if you're considering purchasing a second home, getting a mortgage is difficult without current income.
Your Income
What costs $1.00 today will more than double in price in 25 years; and many retirements last that long.* Inflation is real, so work with your financial advisor to plan your retirement income stream.
Run hypothetical scenarios and talk about how you can help your money last as long as you'll need it and keep up with inflation. This could mean investing for growth when you thought you'd be more conservative at this time in your life.
Your Lifestyle
While it's true that your expenses change as you slow down, you may find that you're living differently than you thought you would. More time could mean increased wanderlust or a more expensive lifestyle overall. When calculating how much you anticipate spending in retirement, keep in mind rules of thumb don't work for everyone.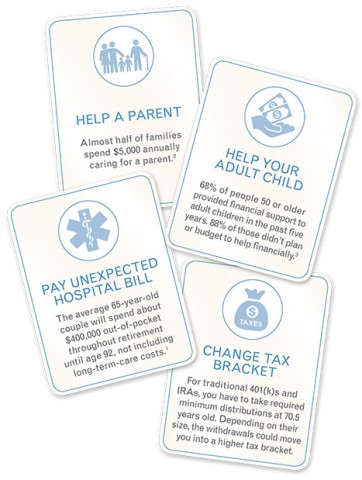 Implementing an appropriate withdrawal strategy, taking taxes and market issues into account, is key. Your strategy should make sense for your retirement and have the ability to evolve as your needs do.
Your Family
While you may still be footing the bill for some of your adult children's or grandchildren's expenses, you may not have counted on contributing financially to care for your aging parents.
You may also want to contribute to your grandchildren's education via 529 plans, or help with preschool costs, so talk about what might affect your budget and plan accordingly.
With some conversations and planning for these retirement expenses, you can avoid shorting yourself in the long run of your retirement and help ensure that most surprises make you smile.