Instant Peay Play: APSU Governors Football shows improvement as fall work continues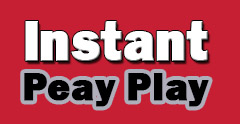 Clarksville, TN – With its first scrimmage of 2015 under its belt, Austin Peay State University's football team shows some encouraging signs, with the regular season less than two weeks away, but there is still much to do.
First, for the first time, Governors head coach Kirby Cannon could field what he felt was three full units on other sides of the ball – finally getting the depth on both sides of the ball that he has been building too since arriving at APSU.
"We being able to go out there with three complete units was some that we haven't been able to do since I've been here," Cannon said. "To be able to have that many players that are scrimmage ready and be able to work that many players that goes a lot way to the player development.
"It wasn't a game out there (today), but it's the closest thing we'll get before we have one, so for your evaluation and teaching in those situations was really good."
Overall, right around 90 players saw action in the scrimmage, with the more than 40 newcomers to the program still getting acclimated to the speed and physicality of the college game at game speed.
"We're looking for the guys who gave great effort all day long," Cannon said. "And we'll look for guys that don't appear ready to go. Those are guys that are obvious down-the-line guys and redshirt candidates.
"We are really looking to come out of this scrimmage evaluation with who our first-team guys are, who are second-team guys are and who's going to redshirt."
While most of the questions still lingering about the team are on the offensive side of the ball, the much more veteran defense looks like it has addressed one of its shortcomings that it has suffered the past two seasons and that the ability to get to the opposing teams quarterback.
The Govs defense was credited with four sacks in the 91-play scrimmage, with Steven Pappadakes recording two, while Tyler Schnieder and Hunter Lane adding one apiece.
"I think we're a little bit more explosive up front," Cannon said. "I thought we did a pretty good job of stopping the run and make people throw it.
"You do what you have to do based on your personal, but I think we'll be able to rush (the passer) more often and get some descent pressure."
If the Governors are able to do that, then that allows the coaching staff to approach their overall defensive strategy differently than the past couple of a seasons.
"Any years I've coached a secondary that has a lot of interceptions its been because we have the people up front that can get the ball thrown while its in front of us.
"When you get pressure on the quarterback you can play a lot more zone (coverage), so you're not going to give up big, bad ugly plays. "We had to resort to many times last year to man-to-man coverage, which one man getting beat, or a player making a great catch, means you're going to give up a score."
Offensively, the Governors have a solid receiving corps and several options at tight end to go with a stable of running backs, but it's the offensive line and quarterback position that still has some questions to be answered.
Right now it looks like redshirt-senior Trey Taylor has the leg up to be the starter at quarterback, while sophomore Mickey Macius and freshman Nolan Chowbay also saw reps in the scrimmage.
"Since camps begun its turned into a one-horse race," Cannon said. "Trey Taylor, on a day-to-day basis — which is what we're looking for in our quarterback — is a consistency of play so we can actually begin to understand what we can do and what we can't do and who we are on offense. I think he's won that job.
"It's not that Mickey's played poorly, I just think Trey's done more things consistently well on a day-to-day basis and that's going to give him the opportunity to start the first ball game against Mercer."
As for the offensive line, overall they look to be a more imposing lot size wise; with a number of new faces getting their shots at what will be a rebuilt unit, but also young group learning as they go.
"Anytime an offensive lineman is unsure of what he's going to see or do they slow down," Cannon said. "Defensive kids normally have simpler assignments, so they can get off to a better start in ball games and scrimmage situations.
"We're not where we need to be and we're not where we're going to be, but we're heading in the right direction."
The Governors will scrimmage one final time at 9:00am, Saturday, Aug. 29th.