The final summer holiday to have a 1% increase from 2014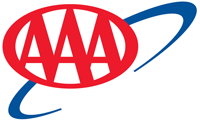 Tampa, FL – AAA Travel projects 35.5 million Americans will journey 50 miles or more from home during the Labor Day holiday weekend, the highest volume for the holiday since 2008 and a 1 percent increase from the 35 million over 2014.
This will mark the fourth consecutive year of overall travel growth for the Labor Day holiday period, and the seventh out of the past nine years to see year-over-year increase in volume.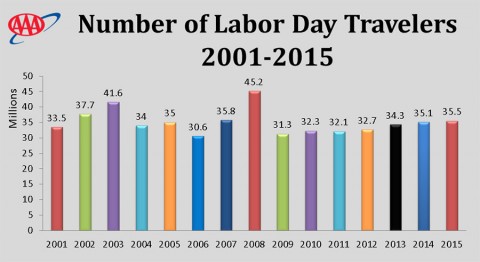 Forecast Highlights
The holiday period is defined as Thursday, September 3rd to Monday, September 7th.
The 2015 forecast of 35.5 million American travelers will mark the highest Labor Day holiday travel volume since 2008.
This would be the fourth consecutive year travel volume has grown for this holiday.
Gas prices for the holiday should be the lowest in a decade.
Rising wages and falling gas prices have helped boost disposable income, which is expected to increase 3.5 percent compared to last year, but a cautious consumer is using some of that money to save and pay debt.
Nationally, 85.8 percent of travelers will drive; an increase of 1.1 percent or 30.4 million travelers hitting the
road. Tennesseans will count for 604,260 auto travelers—a state-wide increase of .6 percent from 2014.
7.4 percent of travelers (2.64 million) will fly – a 1 percent increase from last year.
6.8 percent of travelers (2.42 million) will go by other modes of transportation like train, bus or cruise.
Hotel costs rise 10 percent for Two Diamond Hotels and 2 percent for Three Diamond Hotels.
Airfares are forecast to fall 1 percent.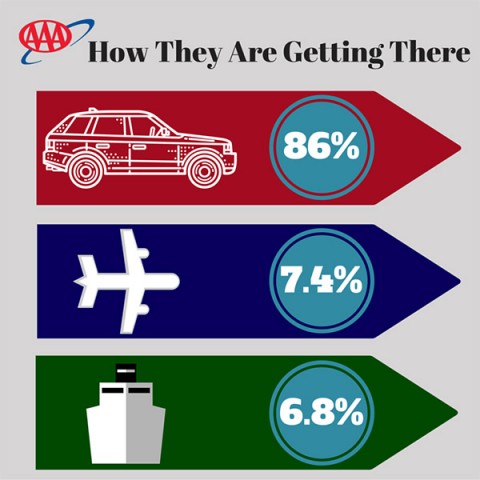 "The summer travel season is almost over and many kids are back in school, but an extended weekend and positive economic fundamentals should be enough to convince millions of Americans to take one more trip during Labor Day weekend," said Brent Stahlheber, Sr. Vice President – Brand Marketing and Travel, AAA – The Auto Club Group.

"Historically, more Americans have shown a higher tendency to travel when Labor Day weekend begins in August. Although this year's holiday begins in September, AAA still expects more Labor Day travelers than last year, primarily due to low gas prices, solid income gains, rising household net worth, and an improving housing market," stated Stahlheber.

Economic Improvement Spurs Travel Growth

A strong labor market has helped increase personal income, which, combined with flat prices, has resulted in a boost to disposable income, which is expected to increase 3.5 percent compared to last year.

However, a cautious consumer is using some of that money to save and pay debt. As a result, the increase in travel volume is forecast to be moderate this Labor Day.

Consumer spending is expected to grow 3.1 percent this quarter and 3.2 percent in the fourth quarter. Real GDP is forecast to be just 1.8 percent above last year, while the unemployment rate is expected to fall to 5.3 percent, which is 0.8 points lower than this time last year. The housing market continues to improve, helping household net worth increase an expected 5.6 percent compared to last year.

Labor Day Gas Prices Could be Lowest in a Decade
Motorists could find the lowest Labor Day gas prices in a decade. The national average price for a gallon of regular unleaded was $2.56 on Wednesday, August 26th, 2015 – 88 cents cheaper than the price on Labor Day 2014, and lower than all Labor Day national average prices dating back to 2004. In Tennessee, yesterday's average price was $2.22 – $0.99 lower than last year's holiday.
The price of oil continues to sink, putting downward pressure on gas prices. West Texas Intermediate dipped below $40.00 a barrel this week for the first time since February 2009. The closing price on Tuesday was $39.31.
Road Trips Remain Top Travel Preference
The 30.4 million anticipated auto travelers will mark the fifth consecutive year of rising travel volume by automobile. The 2015 forecast is expected to be the second highest volume by this mode since 2003. Low gasoline prices are making it easier, especially for low-income families, to take a last minute Labor Day road trip.
Airfares Dip, Hotel Rates Climb
According to AAA's Leisure Travel Index, hotel rates are expected to average higher this Labor Day holiday, while the cost of a flight is slightly lower.
AAA Three Diamond lodgings are expected to be the highest in five years, increasing 2 percent from one year ago, with travelers spending an average of $175.00 compared to $171.00.

The average rate for Two Diamond properties increased 10% from Labor Day 2014. Year-to-date through August, the average rate for Two Diamond hotels has increased 10%.

The $138.00 average is $13 higher than last year, and the highest for this holiday in the past five years. Click here for AAA's

top tips for saving on hotel bookings.

Airfares are down 1 percent, with the average round-trip discounted fare for the top 40 U.S. routes costing $216.00, down from $219.00 last year.
Download The AAA Mobile App Before a Labor Day Getaway

Before setting out on an Labor Day getaway, download the free AAA Mobile app for iPhone, iPad and Android. Travelers can use the app to map a route, find current gas prices, access exclusive member discounts, make travel arrangements, request AAA roadside assistance and more. Learn more at AAA.com/mobile.

With the AAA Mobile app, travelers can find more than 58,000 AAA Approved and Diamond Rated hotels and restaurants via TripTik Travel Planner. Every AAA Approved establishment offers the assurance of acceptable cleanliness, comfort and hospitality, and ratings of One to Five Diamonds help travelers find the right match for amenities and services.
Travel Forecast Methodology
AAA's projections are based on economic forecasting and research by IHS Global Insight. The Colorado-based business information provider teamed with AAA in 2009 to jointly analyze travel trends during major holidays. AAA has been reporting on holiday travel trends for more than two decades. The complete AAA/IHS Global Insight 2015 Labor Day Travel Forecast can be found here.
About The Auto Club Group
The Auto Club Group (ACG) is the second largest AAA club in North America.  ACG and its affiliates provide membership, travel, insurance and financial services offerings to approximately 9 million members across eleven states and two U.S. territories including Florida, Georgia, Iowa, Michigan, Nebraska, North Dakota, Tennessee, Wisconsin, Puerto Rico and the U.S. Virgin Islands; most of Illinois and Minnesota; and a portion of Indiana.
ACG belongs to the national AAA federation with more than 55 million members in the United States and Canada and whose mission includes protecting and advancing freedom of mobility and improving traffic safety.
As North America's largest motoring and leisure travel organization, AAA provides more than 55 million members with travel, insurance, financial and automotive-related services. Since its founding in 1902, the not-for-profit, fully tax-paying AAA has been a leader and advocate for the safety and security of all travelers. AAA clubs can be visited on the Internet at AAA.com.
For more information about AAA Travel, visit AAA.com/Travel.
Sections
News
Topics
AAA, App, Florida, Gas Prices, Georgia, Iowa, Labor day, Labor Day Weekend, Michigan, Nebraska, North Dakota, Oil Prices, Puerto Rico, Tampa FL, Tennesseans, Tennessee, The Auto Club Group, West Texas Intermediate, Wisconsin, WTI