Austin Peay Sports Information

West Lafayette, IN – Austin Peay State University's volleyball team got off to a slow start, but fought throughout in a three-set season-opening loss (27-17, 25-16, 25-23) to Ohio, Friday afternoon at Holloway Gymnasium.
As far as starts go, Austin Peay (0-1) couldn't have asked for better when senior setter Aubrey Marsellis served up an ace on the opening point.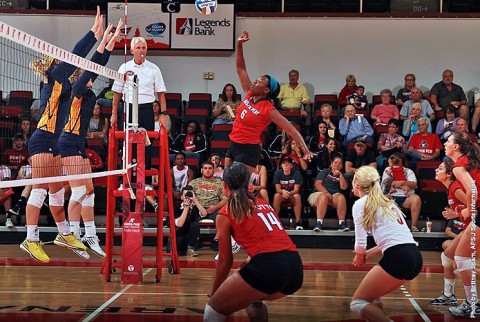 However, Ohio responded with the next six points to force an Austin Peay timeout trailing 6-1.
The Lady Govs timeout couldn't stem the Bobcats momentum and trailed 15-4 before piecing together its own four-point burst. Austin Peay would later added a pair of three-point runs, but ultimately fell 25-17 in the opening set.
Ohio (1-0) threatened to run away in the second set, opening up an 8-3 lead. Austin Peay would fight back to take an 11-10 lead thanks to back-to-back points from Ashley Slay, one on a service ace and then a kill. Ohio kept the APSU lead from growing larger and responded with its own 6-1 run to build a 16-12 lead.
Austin Peay would get back within a point, 16-15, as senior outside hitter Sammie Ebright posted a kill and then added a block assist on back-to-back points. Yet that was as close as they would get as Ohio used a 7-0 run to break the set open en route to the 25-16 victory.
The third set was a near duplicate of the second, Ohio raced out to a 6-2 lead only to watch as Austin Peay battled back to take a 16-15 lead thanks to freshman outside hitter Kaylee Taft's kill. Ohio stopped the run with four straight points to force an Austin Peay timeout at 19-16.
That timeout did the job as Ebright and Taft teamed up for a block on the next point to start a 3-0 APSU run to tie the set, 19-19. However, Austin Peay could not retake the lead as Ohio scored the match's next three points. A last Lady Govs run closed the gap back to one point, 24-23, and forced an Ohio timeout, but Bobcats outside hitter Jaime Kosiorek posted a kill on the ensuing rally to end the match.
Austin Peay finished with just 30 kills in the three-set affair, posting a .032 attack percentage. Slay led the effort with seven kills while Ebright, senior outside hitter Samantha Strother and freshman outside hitter Cecily Gable each had six kills.
"We played really hard and did some really good things. But we struggled in serve receive and that made it difficult to side out. Overall I was very pleased with the hustle and effort we gave for most of the match," said APSU Volleyball head coach Taylor Mott.
Ohio scored 39 kills in the victory but was held to a .190 attack percentage. Kosiorek led the Bobcats offense with 14 kills and a .191 attack percentage.
Austin Peay continues play at the Mortar Board Premier with a 10:00am (CDT), Saturday contest against host Purdue.
Box Score
Ohio (1-0) -VS- Austin Peay (0-1)
| Team | 1 | 2 | 3 |
| --- | --- | --- | --- |
| Ohio Bobcats | 25 | 25 | 25 |
| Austin Peay Lady Govs | 17 | 16 | 23 |
Set
Ohio
Austin Peay
K
E
TA
%
K
E
TA
%
1
13
4
39
.231
9
8
39
.026
2
13
6
38
.184
8
8
36
.000
3
13
6
44
.159
13
10
49
.061
39
16
121
.190
30
26
124
.032
Game Leaders
OHIO – Leaders

| Statistic | Leaders |
| --- | --- |
| Kills | KOSIOREK, Jaime (14), NELSON, Katie (9), WALKER, Shelby (6) |
| Aces | HORD, Aubree (4), KOSIOREK, Jaime (1), OLMAN, Stephanie () |
| Blocks | NELSON, Katie (5), BULL, Karin (4), GILLELAND, Abby (3) |
| Assists | GILLELAND, Abby (30), ASHY, Meredith (3), HORD, Aubree (2) |
| Digs | SALIS, Mallory (16), GILLELAND, Abby (15), ASHY, Meredith (14) |
APSU – Leaders

| Statistic | Leaders |
| --- | --- |
| Kills | SLAY, Ashley (7), EBRIGHT, Sammie (6), STROTHER, Samantha (6) |
| Aces | SLAY, Ashley (2), MARSELLIS, Aubrey (1), STROTHER, Samantha (1) |
| Blocks | TAFT, Kaylee (3), EBRIGHT, Sammie (2), SLAY, Ashley (1) |
| Assists | MARSELLIS, Aubrey (18), STUCKER, Kristen (3), SLAY, Ashley (2) |
| Digs | ADAMS, April (16), EBRIGHT, Sammie (13), STROTHER, Samantha (12) |