Austin Peay Sports Information

Clarksville, TN – A rare opening week home opener awaits Austin Peay State University's volleyball team as it readies to host Evansville in a 7:00pm, Tuesday contest at the Dunn Center. It will be Austin Peay earliest home opener since 2008.
Austin Peay (0-3) could not get its offense on track during last weekend's Mortar Board Premier at Purdue.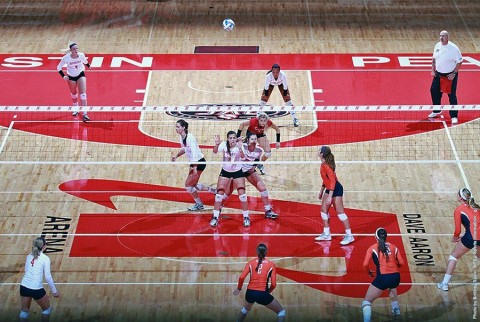 The Lady Govs averaged just 10.6 kills per set and posted a .108 attack percentage. Yet head coach
Taylor Mott
left Purdue believing the inconsistent offensive outing could be traced back to her team's struggles with serve reception.
"We struggled with our serve receive this weekend," said Mott. "It's possibly the most important part of the rally because a good serve reception allows your offense to get into its flow right from the start. When it goes wrong, you always seem to be recovering the rest of the rally."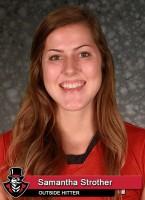 The Lady Govs did see positive signs during the weekend as senior Samantha Strother posted a nice weekend total and freshman setter Kristen Stucker stepped off the bench and provided some stability. Strother ended the weekend with a team-best 30 kills (3.00 per set), including a career-high tying 16 kills against VCU. Stucker ended her first weekend as a Lady Gov with a team-best 49 assists (8.17 per set).
"It wasn't a great weekend for us offensively, but I was pleased to see Samantha come up big against VCU and end the weekend on a good note," said Mott. "I believed Sammie (Ebright) also had some good moments to build on during the weekend. Kristen was big off the bench for us and played with a lot of maturity."
Tuesday's match against Evansville will provide another opportunity for Austin Peay's volleyball team to take a step forward.
The Purple Aces promise to be an athletic squad, similar to what the Lady Govs saw against VCU.
"VCU was a long, athletic team and posed a lot of challenges," said Mott. "I expect the same from Evansville and believe it will be a good test. Hopefully we can carry forward some of the lessons we just learned from playing VCU and apply them Tuesday."
Three Things To Know
Opening the Dunn: Austin Peay's volleyball team concludes the first week of the regular season when it hosts Evansville in a 7:00pm, Tuesday contest at the Dunn Center. APSU President Alisa White will have the first serve before the match's start.
Early Home Opener: Opening the home schedule during the season's first week is a rarity for Austin Peay's volleyball team. Tuesday's contest will be APSU's earliest home start since the 2008 season.
Strother Opens Strong: Senior outside hitter Samantha Strother opened 2015 by earning all-tournament honors at last weekend's Mortar Board Premier hosted by Purdue. She tied her career-high with 16 kills against VCU while posting a .263 attack percentage. Strother finished the tournament with a team best 30 kills (3.0 per set).
Scouting The Opposition
Evansville began its 2015 slate with a 2-1 mark at the Wright State Invitational. The Purple Aces downed OVC member Tennessee Tech to begin the tournament then added a win against Niagara before losing to host Wright State.
Right-side hitter Stephanie Cerino was named to the all-tournament team after recording 32 kills (2.67 per set) and posting a .221 attack percentage. Yet it was outside hitter Genesis Miranda who paced the Purple Aces attack, recording 52 kills (4.33 per set) in the tournament.
Last Season and the Series
Austin Peay snapped a four-match losing streak against Evansville with a four-set victory in Evansville last season. Sammie Ebright paced APSU with a 13-kill performance. Miranda and Ashley Ring each had 15 kills to lead Evansville.
The Purple Aces retain a 20-16 lead in the all-time series, but the series is level, 8-8, in matches played at the Dunn Center.
Catch APSU Live
Parking and admission to all Austin Peay volleyball home matches at the Dunn Center are free to the public. Unable to make the game in person? All Austin Peay home volleyball matches will feature free live video on the OVC Digital Network.
In addition, live statistics will be available at www.PeayStats.com