Austin Peay Sports Information

Birmingham, AL – With its opening week behind it, Austin Peay State University's volleyball team looks ahead to its second weekend tournament, Friday-Saturday, at the UAB Invitational.

The Lady Govs open the tournament with a 4:00pm, Friday contest against Savannah State. Saturday's action begins with an 11:00am contest against Florida International before APSU wraps its stay with a 4:00pm matchup with host UAB.

Austin Peay (0-4) may be winless after its opening week, but head coach Taylor Mott has been encouraged by her squad's willingness to battle.

In Tuesday's five-set loss to Evansville, the Lady Govs drive showed through in the third set when it fended off five straight set points to nearly tie the set before falling 25-23.

Austin Peay then shook off that disappointment to post a dominating effort in a 25-18 fourth set win to force a fifth set.
"I see a team that's playing really hard and battling for every point," said Mott. "This week against Evansville I believe nerves got to us, we panicked when we got the lead in the fifth set. I believe we're going to figure it out with time and experience. We can score points for sure."
Senior outside hitter Samantha Strother and sophomore middle hitter Ashley Slay have been the Lady Govs dominant offensive forces with each owning the team's kill leads in two matches. In addition, Austin Peay freshman Cecily Gable has posted double-digit kills in back-to-back outings. And yet, APSU still awaits a breakout performance from redshirt junior Sammie Ebright who has not posted a 10-kill outing this season.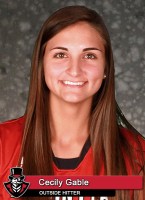 "Right now it's been a collective effort," Mott said. "We would like to have our hitters be successful more consistently. Yet it's nice to not always rely on one person and to know you have four or five options you can go to."

While Austin Peay travels to Birmingham looking for its season's first victory, Mott is looking at the bigger picture. The season will not be determined by the first two weeks of results.

Instead, she is looking for her young squad to improve and get stronger in preparation for the long Ohio Valley Conference schedule that waits ahead.

"Every time we step out on the court we want to get better in whatever area it might be," said Mott. "This weekend is a different field of good teams that will test us in different ways."

"We have to stay focused on our side of the net and work on improving our passing and blocking. If we do that it will be a successful weekend," stated Mott.
Three Things To Know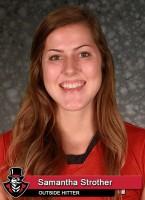 Slay, Strother Lead the Way: In the season's first four matches, senior outside hitter Samantha Strother and sophomore Ashley Slay have each led the team in kills twice. Strother, who has a team-best 44 kills (2.93 set) led APSU against Purdue and VCU. Slay, who is second on the team with 38 kills (2.53 per set), led the Lady Govs against Ohio and Evansville.
Gable Improving: After being held to two kills against Purdue, freshman outside hitter Cecily Gable has rebounded in impressive fashion. She finished her stay in Indiana with an 11-kill performance against VCU then followed that with a 14-kill effort against Evansville. Gable is third on the team with 33 kills (2.20 per set).
Digging Adams: Senior libero April Adams has gotten off to a quick start with 70 digs in the season's first four outings. She ranks second among Ohio Valley Conference players with 4.67 digs per set, trailing only Murray State's Ellie Lorenz (4.88 per set).
Scouting the Opposition
Savannah State (0-5)
The Tigers enter the season's second week also seeking their first victory of 2015. Savannah State opened the season at the Kennesaw State Invitational where they picked up with a three-set loss to OVC member Jacksonville State. Junior setter Caitlynn Masoe leads the Tigers offense with 23 kills (1.53 per set) and 46 assists (3.07 per set).
UAB (2-2)
The Blazers opening week was highlighted by victories against Marist and Texas Southern at the Lamar Invitational. UAB then traveled to Troy, Tuesday, where it dropped a five-set decision to level it record at 2-2. Junior outside hitter Gabby Deshotel was impressive in the opening week, recording 71 kills (4.44 per set) and a .222 attack percentage in four matches, including a 23-kill outing against Troy.
Florida International (2-1)
Florida International returns to action after a five-day break. The Panthers opened the season with its own Panther Challenge and picked up wins against Alabama A&M and South Florida after losing to North Florida. FIU packs a potent one-two punch in senior outside hitter Lucia Castro and freshman outside hitter Lina Bernier.
Castro leads the team with 41 kills (4.10 per set) while Bernier is close behind with 33 kills (3.30 per set), the duo combining for more than half the team's total offense.
Series Histories
Savannah State: Friday's contest will be the first-ever meeting between Austin Peay and Savannah State.

UAB: Austin Peay and UAB will meet for the eighth time. However, the Lady Govs are seeking their first win in the series, the Blazers holding a 7-0 advantage, including a 3-0 mark in Birmingham. Austin Peay and UAB last met at the 2013 Middle Tennessee Invitational, UAB grabbing a three-set victory.

Florida International: Austin Peay meet's FIU for the third time with the team's splitting the two previous meetings. The Panthers picked up a three-set victory in the most recent meeting at the 2011 Blue Raider Bash.
Catch It Live
Austin Peay's match against host UAB will be available on UAB's athletics site (www.uabsports.com), an online video portal available for a monthly fee. Live statistics for all three matches will be available through UAB's Gametracker (www.uabsports.com).
Sections
Sports
Topics
Alabama A&M, April Adams, APSU, APSU Athletics, APSU Sports, APSU Volleyball, APSU Women's Volleyball, Ashley Slay, Austin Peay State University, Birmingham AL, Caitlynn Masoe, Cecily Gable, Evansville, Florida International, Gabby Deshotel, Jacksonville State, Lady Govs, Lina Bernier, Lucia Castro, North Florida, Ohio, Ohio Valley Conference, OVC, Panthers, Samantha Strother, Sammie Ebright, Savannah State, South Florida, Taylor Mott, Tigers, Troy, UAB, UAB Invitational, VCU