Jake Sanchez Earns First Triple-A Win, Barry Zito Returns
Papillion, NB – A 95-minute rain delay could not cool off the Nashville Sounds red-hot bats as they cruised to a 8-3 victory over Omaha at Werner Park on Sunday night.
The top of the Sounds order carried the load in this one as Craig Gentry, Joey Wendle and Brent Morel went a combined 6-for-12 on the night with five RBIs and five runs. Gentry began the game with a single to extend his road on-base streak to 31 games and then scored on a triple by Wendle.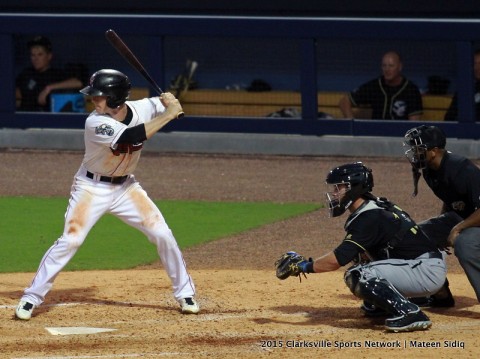 Had Wendle stopped at second, he would have set a Sounds single-season doubles record, but the always hustling second baseman motored around second, sliding just ahead of the tag at third. Max Muncy later drove the aforementioned Wendle in with a sacrifice fly to make it 2-0.
After Gentry singled in the third, Wendle seized the moment and went into the Sounds history books, recording his 42nd double to make it second and third with one out. After a five RBI game last night, Morel added to his gaudy stat total singling in both Gentry and Wendle. Exactly half (12 of 24) of Morel's RBIs have come against Omaha this season. Morel scored on a double by Ryan Roberts and the Sounds led 5-2 after three.
Gentry continued to rough up Omaha starter Casey Coleman, recording his third hit in as many at bats to drive in Nate Freiman an inning later. The centerfielder then hit a sacrifice fly in his next at bat, scoring Freiman again, extending the Sounds lead to 7-1.
Jake Sanchez pitched well in just his second career Triple-A start. The right-hander utilized just 60 pitches over six innings, surrendering just one run and striking out three to earn his first win with the Sounds. Barry Zito made his first appearance since August 5 and pitched a 1-2-3 seventh inning.  Muncy doubled in Bryan Anderson to make it 8-1 in the top of the ninth. Aaron Kurcz was tagged for a two-run homer by Dusty Coleman in the ninth.
Nashville and Omaha will conclude their respective seasons tomorrow. The Sounds will send Cody Martin (3-4, 5.33) to the mound, while Omaha will counter with Chris Dwyer (3-2, 3.98). The season finale is expected to get underway at 12:05pm.