Austin Peay Sports Information

Pawleys Island, SC – Austin Peay State University women's golf team collected plenty of birdies, Monday, in the second round of the Golfweek Program Challenge, but they could not eradicate the large numbers for a second straight day at the Caledonia Golf and Fish Club.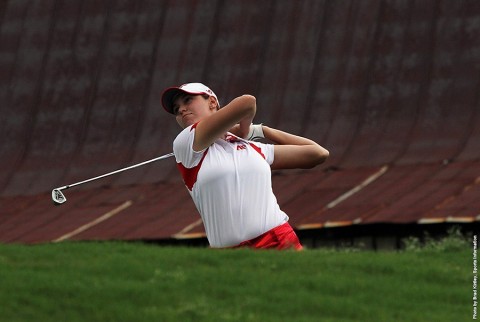 The Lady Govs, who had just six birdies in Sunday's first round, had 13, Monday, but they also had a seven double bogeys or worse, shooting a 313 for a 622 total. As a result, the Lady Govs could not move up in the standings, again finding themselves in a 13th-place tie (Houston Baptist).
Campbell, ranked 45th in Division I, is in first place at 581, holding an 11-shot lead over Morehead State.
The Lady Govs played the first 12 holes with a consistent rain falling. For a second straight day freshman Taylor Goodley, who had two birdies on the day, led the Lady Govs with a low-round 76. Her two-round 150 total is tied for 22nd. Goodley was matched, Monday, by junior Morgan Kauffman, who had three birdies offset by eight bogeys for a 76.
Also, for a second straight day the Lady Govs could muster just two sub-80 scores. Senior Jessica Cathey came in at 80 while junior Morgan Gardner had an 81. Cathey, the two-time All-OVC selection, was able to save par numerous times, Sunday, but was unable to replicate that trick Monday as evidence by eight bogeys to go with two birdies.
Meanwhile, AnnaMichelle Moore shot an 86. The sophomore by far had the team's most frustrating day. Normally one of the Lady Govs steadiest players, she led the team with five birdies, but also had two double bogeys, a triple and two quads.
"We had some good holes today, despite downpours for the first 12 holes," APSU coach Sara Robson said. "Taylor and Kauffman held on to put up good numbers today but all five girls need to buckle down and play smart tomorrow—we need to trust ourselves and be confident.
"We need to commit to our shots that will allow us to hit more greens and lead to more pars."
The Golfweek Program Challenge consists of women and men's teams from 18 NCAA Division I schools playing 54 holes on separate courses. After the completion of the final round, women and men's team champions will be crowned. But so, too, will be the Program Challenge winner – the school (both men and women's teams) that has the lowest cumulative score.
The tourney's final round will be played Tuesday. Follow the results at: www.golfstat.com