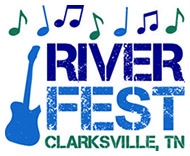 Clarksville, TN – Clarksville's Riverfest Celebration continues Friday, September 11th at McGregor Park with a 9/11 Commemoration Ceremony at 4:45pm on the Miller Lite Stage, followed by performances by the Fort Campbell Band, The Rocketmen, Tina Brown Band, Serieux and more.
First Baptist Church will host Christian performers Sons of Levi, Dionne Jermeia, Bellarive and more on the Riverbend Stage.
Festival visitors will experience a brand-new stage this year. The Wicked Good Sandwiches stage will be near the boat launch and include alternative rock bands from across the mid-South.
Riverfest is a free, three day music and arts festival features diverse entertainers, cultural groups, delicious food, and fun for the entire family.
Serieux: A Temptations Revue will delight everyone with the sights and sounds of the legendary Temptations Friday night at 9:00pm on the Miller Lite Stage.
Ali Ollie Woodson, led the Motown quintet The Temptations in the 1980s and '90s. Ali played an integral part in restoring The Temptations to hit-making glory with songs like "Treat Her Like A Lady," which he wrote, "Lady Soul," "Soul To Soul", and "Some Enchanted Evening."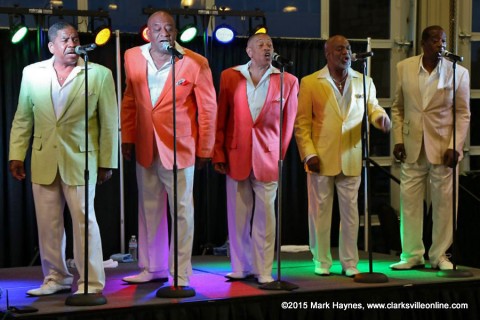 "Dynamic," "Awe-Inspiring," "Breathtaking" and "Mind Blowing" are words used by audiences around the globe to describe the explosive entertainment provided by Serieux, a group of high impact singers and musicians, who have recaptured the excitement of the legendary Motown sound that continues to captivate the entire world. From 2000 to 2010, Ali and Serieux traveled the world performing Ali's Temptation Show until his death on May 30th, 2010.
The demand for great entertainment continues. Serieux answers this call and still delivers astonishing vocals, energetic choreography, versatile and impressive musical abilities on both national and international stages.
Friday's Entertainment and Activities
Wicked Good Sandwiches Stage
5:00pm     Earnest Ernest
6:00pm     New City Savages
7:00pm     Whiskey Angel
8:00pm     Dusty Mahan & The Bootleggers
9:00pm     Queen City Heist
Miller Lite Stage
4:45pm  September 11th Commemoration with Fort Campbell
5:00pm  Fort Campbell Band
5:30pm  Cultural Performances
7:00pm  The Rocketmen
8:00pm  Tina Brown Band
9:00pm  Serieux – A Temptations Revue
Riverbend Stage
5:00pm     Emma Feldman
5:45pm     Lydia Walker
6:30pm     Risen
7:15pm     Not Easily Broken
7:45pm     Sons of Levi
8:30pm     Dionne Jermeia
9:30pm     Bellarive
'Earth Explorers' Kids Area
North Extension by O'Charleys
Inflatables: Friday 5:00pm to 8:00pm
Children can explore hands on games and activities while learning about the environment and cultures. Families, clubs, and even businesses can decorate their paper bag using this year's theme and show it off to the Festival. Prizes will be awarded!
Pre-registration is strongly encouraged online at www.clarksvilleriverfest.com
Most games and activities are free for the children to participate. This includes the booths operated by our partner organizations, craft area, and walking parade.
Children WILL be required to purchase a wristband if they wish to use the inflatables. The cost is $10.00 per person and is valid for unlimited rides on both Friday and Saturday. The same wristband MUST be kept on if you will use it both Friday and Saturday. No replacements will be given.
New this year – PARENTS: Save time and headache! Pre-order your child's wristband online today and pick it up at the Clarksville Parks and Recreation Main office (102 Public Square) through September 10th or at the Will Call Booth at the Festival.
Be A Diver Scuba Experience
Boat Launch Area – Friday
A giant 60×40 tank will let visitors, ages 10 and up, test their scuba skills for FREE. The experience is brought by DEMA, the national diving education association, in partnership with Water Dogs Scuba.
Food and Drink
Food and drink are available to purchase with tickets ONLY. Tickets are available at six different ticket booth locations. No outside food or drink is allowed at the festival.
Shopping
Over 80 vendors with everything from handmade art, retail items, to great information from local businesses. You'll want to visit them all!
About Riverfest
Riverfest is Clarksville's longest running community Festival. Now in its 28th year, Riverfest brings over 30,000 people to the banks of the Cumberland River in an arts and recreation celebration. Music, art, family events, and more will fill McGregor Park.
Admission and entertainment at the Festival are free and open to the public. To stay up to date on the latest Festival happenings visit the Festival website, www.clarksvilleriverfest.com, and sign up for the Festival newsletter.
The Festival is brought to you by the City of Clarksville Parks and Recreation Department. For questions please call 931.645.7476 or visit www.clarksvilleriverfest.com