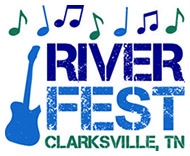 Clarksville, TN – Truly one of the most unique, fun, events at Clarksville's Riverfest is the Regatta boat race. Unlike other boat races, participants in the Regatta compete in boats made from cardboard, plastic bottles and other approved materials.
The race kicked off at 10:00am at the McGregor boat dock. Competitors raced 100 yards on the Cumberland River to the finish line.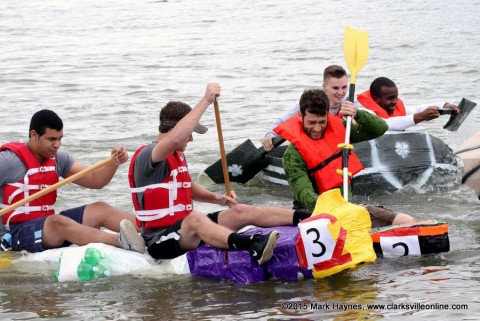 Expect the unexpected with the Regatta. Boats sink, paddles break and some boats go off on a course all of their own. All to the enjoyment of those in attendance along the bank of the Cumberland River.
There are five divisions: Adult Open, Youth with Adult, Business & Industry, Church/Civic Organization, and City/County. Each heat is timed and the boat with the fastest time in each division is declared the winner. Boats are also judged prior to the race for a variety of awards
This year, the Ship Shape Award (most creative boat design) went to Chrono-Nautilus. Go Green won the Cardboard Queen Award (prettiest boat in the regatta. Team Unity Award (most spirited and organized team) was award to Law Commander. Keep Calm won the Team Attire Award (most creative costumes). The Titanic Award for the most spectacular sinking went to Shark Bait.
If you did not make it down this year, make sure to mark it on your to do list for next year's Riverfest. Also, start making plans to build your own cardboard boat for entry into next year's event.
2015 Riverfest Regatta Groupings
Heat 1 – City/County Government
Boat Name
Captain
Organization
Boat #
Race Time
Place
Shark Bite
Kenneth Gentry
Montgomery County Facilites & Maint.
12
1:10
1
Go Green
Howard Cunningham
Montgomery County
13
1:20
2
Leave it To Beaver
Tyler Barrett
Clarksville Police
14
1:40
3
Heat 2 – Adult/Youth/Bottle
Boat Name
Captain
Organization
Boat #
Race Time
Place
CHS Junior Civitan
Preston Albertia
CHS Junior Civitan
3
3:07
1
Bottled Beauty
Nicholas Thorington
TN Frame Co.
2
3:38
2
Boats-N-SWOs
Stepanie Hoye
Detachment 4 Booster
1
4:13
3
Chrono-Nautilus
Andy-Lee Fry
4
Sank
–
Heat 3 – Business/Industry
Boat Name
Captain
Organization
Boat #
Race Time
Place
KW-N-Motion
Rhett Barnes
Keller Williams Realty
6
1:43
1
America
Patrick Johnson
Fort Campbell Federal Credit Union
5
2:33
2
Law Commander
Robert Wilson
Kennedy Law Firm
7
3:07
3
Heat 4 – Civic/Church
Boat Name
Captain
Organization
Boat #
Race Time
Place
Leave It To Beaver
Tyler Barrett
Clarksville Police Union
8
1:44
1
Keep Calm
Gary Murphy
One Church TV
11
2:08
2
IMUA
James Livesay
Hui Hawaii O Tenesi HCC
10
2:09
3
Shark Bait
Sidney Harrison, Sr.
One Church Men's
9
Sank
–
Photo Gallery
About Riverfest
Riverfest is Clarksville's longest running community Festival. Now in its 28th year, Riverfest brings over 30,000 people to the banks of the Cumberland River in an arts and recreation celebration. This year the Festival will be held September 10th-12th, 2015. Music, art, family events, and more will fill McGregor Park.
Admission and entertainment at the Festival are free and open to the public. Riverfest is proud to announce the 2015 headliner Charles Esten, star of the hit ABC series "Nashville". More announcements will be made soon, as new events and entertainment are finalized.
To stay up to date on the latest Festival happenings visit the Festival website, www.clarksvilleriverfest.com and sign up for the Festival newsletter. The Festival is brought to you by the City of Clarksville Parks and Recreation Department.
For questions please call 931.645.7476 or visit www.clarksvilleriverfest.com