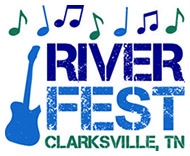 Clarksville, TN – If you have ever wondered what it would be like to scuba dive, then here is your chance. Waterdogs Scuba and Safety has partnered with the National Diving Education Association to bring the "Be A Diver" program to Clarksville's Riverfest Celebration Saturday.
The "Be A Diver" program will let you try scuba diving under the direction of professional scuba instructors. You will learn how to use scuba gear in shallow water and experience what it's like to breath underwater.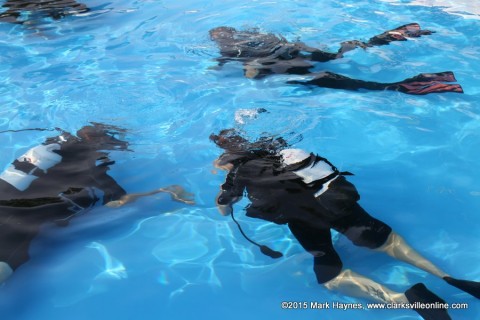 "The Be a Diver" pool is a national program that travels around the United States turning people onto scuba diving," said Dave Reidenbach with the Be A Diver Pool Tour. "This weekend, we have brought it to Riverfest and are working with Waterdogs, a local dive store, to show people how easy it is to scuba dive.
The diving pool is approximately 20 foot by 30 foot, 4 foot deep, and holds 15,000 gallons of 86 degree water. There is a dressing room, towels and hairdryers if needed. You will be using the newest diving equipment that includes an air compressor, wetsuits and fins.
"It was amazing. It was a very good experience. I am glad they had it out here today, " stated Jamie Wyman. "You don't always get the chance to breath underwater. That was the craziest thing in the world being able to breath underwater like that."
Everyone will be learning how easy it is to dive. Your photo will be taken and placed on Facebook so you can get your photo. A certificate that says you have tried diving at the "Be a Diver" pool is also being emailed to those that participate.
"We are offering free discover scuba. It's normally a $30.00 course," said Cecil Stout, co-owner of Waterdogs Scuba and Safety. "We want to get you in the water and let you experiment, play and see whether you would like to learn scuba."
"We know less about the underwater world than we do the moon. So basically, it's an opportunity to get a whole different perspective on the world as we know it," stated Stout.
To find out more about Waterdogs Scuba, visit their website at www.waterdogs-scuba.com
For more information about the Be A Diver Tour, visit www.beadiver.com
Photo Gallery
About Riverfest
Riverfest is Clarksville's longest running community Festival. Now in its 28th year, Riverfest brings over 30,000 people to the banks of the Cumberland River in an arts and recreation celebration. Music, art, family events, and more will fill McGregor Park.
Admission and entertainment at the Festival are free and open to the public. To stay up to date on the latest Festival happenings visit the Festival website, www.clarksvilleriverfest.com, and sign up for the Festival newsletter.
The Festival is brought to you by the City of Clarksville Parks and Recreation Department. For questions please call 931.645.7476 or visit www.clarksvilleriverfest.com