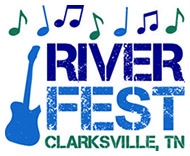 Clarksville, TN – The rain Friday afternoon dissipated, the sun came out and dried off the banks of the Cumberland river. Rain delayed the start of Riverfest, but once it started, it was with a bang.
Those in attendance were welcomed by the sounds of different musical acts on three stages at McGregor Park. Besides the music, there were activities for the family, food, vendors and more.
Waterdogs Scuba, in partnership with the National Diving Education Association, setup a 60×40 tank to allow you to experience what it's like to breathe underwater. Available for ages 10 and older, visitors were able to learn some scuba skills for free.
The Rocketmen took to the Miller Lite Stage at 7:00pm. The Rocketmen are a four-piece, Nashville-based band who rocked the stage with the songs of Elton John. The crowd really came to life during their renditions of "Crocodile Rock" and "Saturday Night's Allright".
Next on stage was local favorite, the Tina Brown Band. Tina's soulful sounds rose up from the Cumberland River touching young and old alike. Tina and her band gave a fantastic performance.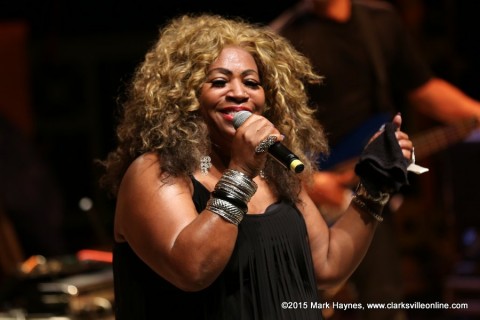 The featured musical group of the night was Serieux: A Temptations Revue. Serieux hit the stage running and continued non stop. To say they were dynamic, or mind blowing would be an understatement. This group brought energy to the stage with their vocals, harmonies and spot on choreographed moves.
"They sound good. They look good. Their great," said Mia Hughes. "This is my first time at Riverfest and I love it! I will be back tomorrow."
Serieux truly loves what they do and it showed on stage. The longer they played, the larger the crowd in front and along the walk way got. They gave an impressive performance and truly did justice to The Temptations.
Riverfest continues Saturday with activities starting at 10:00am. Make plans to be there as this looks to be the biggest, best, Riverfest yet.
Photo Gallery
About Riverfest
Riverfest is Clarksville's longest running community Festival. Now in its 28th year, Riverfest brings over 30,000 people to the banks of the Cumberland River in an arts and recreation celebration. Music, art, family events, and more will fill McGregor Park.
Admission and entertainment at the Festival are free and open to the public. To stay up to date on the latest Festival happenings visit the Festival website, www.clarksvilleriverfest.com, and sign up for the Festival newsletter.
The Festival is brought to you by the City of Clarksville Parks and Recreation Department. For questions please call 931.645.7476 or visit www.clarksvilleriverfest.com