Clarksville, TN – Downtown Clarksville's 10th Annual "Frolic on Franklin: A Celebration of the Arts" will take place Saturday, September 19th from 8:30am to 3:30pm. This free event will showcase the works of more than 30 artists, staged entertainment and art demonstrations — all along the 100 block of historic Franklin Street.
A variety of original fine art, as well as handmade crafts, will be on display including paintings and photography, jewelry, clay garden items, wood work, purses and fabric accessories, pottery, candles, jewelry, woven and knitted items, and seasonal gifts. Items will be for sale with prices ranging from $2.00 to $500.00.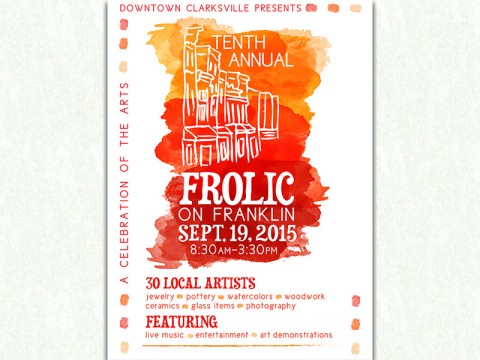 "We are excited to celebrate 10 years of bringing notice to local artists and artisans with Frolic on Franklin," said artist coordinator Ryan Bowie. "Vendors are coming from all over Middle Tennessee to demonstrate, show and sell their wares during this daylong festival, with a variety of items for all ages and tastes."
A crowd favorite is seeing, and often participating in, artists' demonstrations. Several booths will offer the opportunity to learn techniques directly from the artists throughout the day. Some of these include watercolor demonstrations, wood-turning on a lathe, beaded jewelry making, collage activities, portrait drawings, scroll saw cutting, knitting, and weaving.
Artist Lineup:
4HIS GLORY PHOTOGRAPHY • Ray Szczepaniak
Nature/Landscape Photographs
A STITCH OR TWO • Bettina Nuckolls
Scarves, Coasters, Dishtowel Dresses, Baby Quilts, Misc
ART BY OLA • Olasubomi Bashorum
Acrylic/Graphite/Oil on Paper/Wood/Canvas
CLARKSVILLE ARTS & HERITAGE DEVELOPMENT COUNCIL
'C' is for Clarksville Alphabet Books, Clarksville Prints, Coloring Books, Postcards
CAROLYN ROGERS
Embroidery and Fabric Items
DAVID MAGERS PHOTOGRAPHY
Photography
DONALD GROVES PHOTOGRAPHY
Photography
DOWNTOWN ARTISTS CO-OP
Various Works by Members, Demonstrations and Kids' Art Projects
FRANK LOTT
Paintings
FRIENDS OF PHOTOGRAPHY
Photography
HORSEFEATHERS
Face Painting
KELLY GOLDSMITH
Custom Baby Items
LISA KEMMER PHOTOGRAPHY
Photography
LNM CREATIONS • Lou & Mary Toth
Clay Garden Ornaments, Photo Cards
MISHMASH • Danielia White
Photos, Succulents, Paintings, Cards
NANOTIME PHOTOGRAPHY • H.N. James
Photography
PHOTOGRAPHS BY DAVID • David E. Smith
Photography
THE CUT ABOVE WOODWORKING • Joe Adams
Scroll Saw Art, Puzzles, Ornaments
THORNTON POTTERY • Ronnie Thornton
Pottery
TUCKESSEE WOODTURNERS
Lathe-Turned Wood Products
TWISTED CREATIONS • J.T. Young
Beaded and Wire Jewelry
VILLAGE ARTS • Erin Johnson
Mixed Media, Drawings, Prints, Book Safes, Decoupage Tiles
WESTCHESTER FALLS CANDLE COMPANY • Rhonda Lewis
Candles with Wooden Wicks
WOODEN THINGS • Robert Max Harris
Wooden Items and Utensils
In addition to artist booths, two areas will feature live entertainment. The Lower Franklin Stage, located on the corner of Franklin and First Streets, will feature Red River Breeze, the Kenwood High School Hi-Steppers, Northeast High School Exit One Show Choir and others. The Upper Franklin Stage, located across from Section 125, will feature Brio String Ensemble, Mo' Pie, a live broadcast from WJZM Radio, and more.
Sponsors of the event include the Clarksville/Montgomery County Arts & Heritage Development Council, F&M Bank, Fort Campbell Federal Credit Union, Legends Bank, Planters Bank, Richview Dental Center, Two Rivers Company and the Roxy Regional Theatre.
Shops and restaurants throughout the downtown district will be open their regular Saturday hours. The Downtown Market is also open around Public Square until 1:00pm.
The evening will conclude with Gala 33, a ticketed auction, dinner and opening of the Roxy's 33rd season, featuring selections from Lionel Bart's Oliver!, children's favorite Go, Dog. Go! and the hit 20's musical revue Speakeasy.
For more information about Frolic on Franklin or to purchase Roxy Gala tickets, please contact the Roxy Regional Theatre at 931.645.7699 or visit www.roxyregionaltheatre.org