Convention to Benefit Cats Are Us
Clarksville, TN – Daycon Clarksville will host its sixth annual anime convention at the Riverview Inn in downtown Clarksville September 19th and 20th. Daycon Clarksville is designed to be a safe, fun, family-friendly event for those who share an enthusiasm for anime, video games, and Japanese pop culture.
The convention features variety of panels, a game room, vendors, artists, costume contest, Ramune (soda) Drinking Tournament, and much more.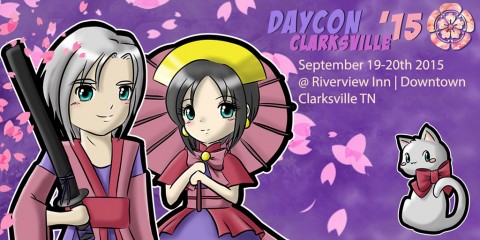 Special guests include talent Eric Stuart, star of hit shows including Pokémon (voice of Brock, James) and Yu-Gi-Oh! (voice of Seto Kaiba). Jennifer Cihi will be returning to perform a concert as the singing voice of Sailor Moon.

Other guests include nerd-pop artist Professor Shyguy, Retro Revolution, author Stephanie DLeo, and Clarksville-native comic artists Heather Walker and Barry Williams of HB Collaborations.

The convention will run from 10:00am – 11:30pm on Saturday, and 10:00am – 10:30pm on Sunday. Admission is $10.00 for one day, or $20.00 for both, and can be purchased at the door.

Another goal of Daycon Clarksville is to raise much-needed funding for the Cats Are Us (And Dogs Too) animal shelter. Every year a portion of Daycon's ticket sales are donated to the shelter.

In addition, the Cats Are Us Charity Raffle gives the convention attendees a chance to win prizes, with all money from the raffle directly donated to the shelter.

For a full schedule convention activities, visit the website at www.dayconclarksville.org



Sections
Events
Topics
Barry Williams, Cats Are Us, Clarksville TN, Downtown Clarksville, Riverview Inn, Video Games