Nashville, TN – Nashville Zoo is beginning plans to relocate three, female elephants living at the Zoo to new homes. The move will enable the Zoo to create a barn that can support new elephant management requirements.
"We are planning to have elephants in the future of Nashville Zoo," Zoo President Rick Schwartz said. "First, though, we need to relocate our elephants and begin making plans for a state-of-the-art facility for our African expansion. We place the highest priority on the well being of each animal in our care. Now is a good time to move the elephants while the weather is in our favor."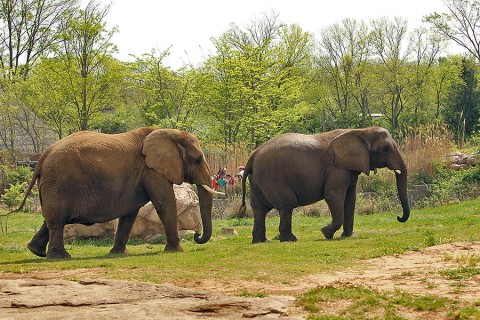 Hadari, a 33-year old female and Rosie, a 44-year old female will both be relocated to The Elephant Sanctuary in Hohenwald, TN, just a 90 minute drive from the Zoo.
"Hadari is privately owned by a couple who have worked for the Zoo caring for elephants for many years," Schwartz said. "They wanted Hadari to be close so they could visit her, and I respect that decision. Rosie is the second oldest African elephant in accredited zoos so it made sense for her health and well being to keep her trip to a new home as short as possible."
"The Elephant Sanctuary in Tennessee is thrilled to collaborate with our Nashville Zoo neighbors to provide for the retirement and long term care of Hadari and Rosie," said Janice Zeitlin, CEO. "They will join Flora, a 33 year old African, and Tange, a 42 year old African, in The Sanctuary's African habitat.  We look forward to working with the staff of the Nashville Zoo as we plan for their move."
The destination for Sukari, a 31-year old female, has yet to be decided. All three elephants are expected to be relocated by November, and the Zoo plans to give community members the chance to visit the elephants and to say goodbye before they all leave.
An exact timeline for completing the Zoo's elephant facility expansion has not yet been determined. Mandates by the Association of Zoos and Aquariums require considerable improvements to Nashville Zoo's existing barn which was built in 1997.
Several options are currently being considered but any work will be extremely invasive to the elephants' current home making the relocation necessary. The end result will be tremendous for the Zoo's elephants and for the future of this species at Nashville Zoo.
About Nashville Zoo
Nashville Zoo is accredited by the prestigious Association of Zoos and Aquariums, assuring the highest standards of animal care and husbandry.  Attracting more than 830,000 visitors annually, the Zoo is considered one of the top things to do in Nashville.
The Zoo is a non-profit organization located at 3777 Nolensville Pike and is open every day except Thanksgiving, Christmas and New Year's Day. The mission of Nashville Zoo is to inspire a culture of understanding and discovery of our natural world through conservation, innovation and leadership.
For more information about Nashville Zoo, call 615.833.1534 or visit www.nashvillezoo.org