Clarksville, TN – On October 13th, the American Cancer Society Relay For Life® campaign of Montgomery County will officially get underway as event volunteers and participants gather at the Hilldale Baptist Family Life Center for a kickoff rally to launch their fundraising efforts for the year.
In addition to a delicious meal and fellowship with some of Clarksville's finest volunteers, the rally will feature speakers from the community who have benefited from funds raised at Relay, will honor cancer survivors, recognize this past year's participating teams and their contributions toward this effort and during which this year's campaign theme will be unveiled.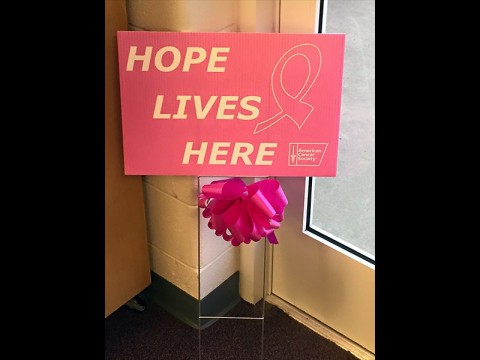 Registration is open for teams interested in participating in this year's campaign with the culminating event to be held on May 12th, 2016.
All teams registered by Monday, October 12th, 2015 will receive a special prize at the Kickoff event, and individuals present will be eligible to participate in drawings for special door prizes.
Relay For Life provides support for all forms of cancer; however, with this year's Campaign will also mark the launch of its "Hope Lives Here" campaign as part of the Paint Tennessee Pink effort in recognition of Breast Cancer Awareness Month to promote awareness of the prevention, research and treatment as well as survival of breast cancer that affect men and women globally. These promotional signs may be purchased at $20.00 each, and all funds will be donated to the American Cancer Society.
The campaign kickoff takes place at 6:00pm on October 13, 2015 at the Hilldale Baptist Family Life Center located at 250 Old Farmers Road, Clarksville, Tennessee.
The world's largest grassroots fundraising movement, Relay For Life, mobilizes communities throughout the country to celebrate people who have battled cancer, remember loved ones lost, and provide participants with an opportunity to fight back against the disease. Relay brings together friends, families, businesses, hospitals, schools, faith-based groups, people from all walks of life – all aimed at furthering the American Cancer Society's vision of creating a world with less cancer and more birthdays.
Relay For Life began in 1985 with one man who walked and ran around a track for 24 hours and raised $27,000 for the American Cancer Society. This year, Relay For Life will take place in nearly 5,100 communities in the United States and 20 other countries and will raise funds to support the Society's mission of saving lives by helping people stay well, by helping people get well, by finding cures and fighting back.
To join the Montgomery County Relay For Life effort, to register as a team of individual visit Montgomery County's website at www.relayforlife.org/montgomerytn For other questions contact Jason Pennington at 931.980.6058 or Brittnye Farley at 931.220.1226.