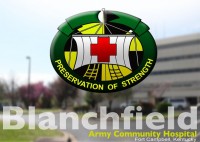 Fort Campbell, KY – Blanchfield Army Community Hospital command and staff invite parents who have lost children at birth, by miscarriage or at a young age to join them in honoring their children in a 9th annual celebration Walk to Remember ceremony at the hospital's "A" building parade field at 11:30am Wednesday, October 7th.
The event is organized by BACH's chaplain and Bereavement Support Committee in support of Pregnancy and Infant Loss Remembrance Month. The national observance provides an opportunity to increase understanding of the tragedy involved in the deaths of unborn and newborn babies.
The annual "walk" seeks to promote support, education and awareness for bereaved parents and family members. BACH's Bereavement Support Committee extends the national remembrance to include bereavement of the loss of child at any age.
"We encourage moms, dads, siblings and supportive friends to join us in the celebration of these precious lives," said Chaplain Thomas Gidley. "We want our families at Fort Campbell to understand that the community cares and supports them in times of need but also we continue to remember their loss."
The ceremony will culminate in a release of balloons in honor of their children and then a walk around the hospital's Joel Drive wellness track as a celebration for their life.