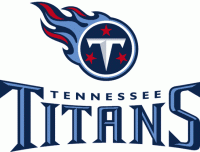 Nashville, TN – The Tennessee Titans headed into the fourth quarter leading the Indianapolis Colts 27-15 at Nissan Stadium. Midway through the fourth, Colts quarterback Andrew Luck threw two touchdown passes in 56 seconds to take the lead 28-27.
Indianapolis went on to score another touchdown via a 6 yard run by Frank Gore to put them up 35-27. The Tennessee rallied late and scored on a 1 yard run by fullback Jalston Fowler. The Titans attempted the two-point conversion, by Fowler's run was stopped. He retreated trying to find somewhere to go but was brought down by the Colts. Indianapolis would go on to beat Tennessee, 35-33.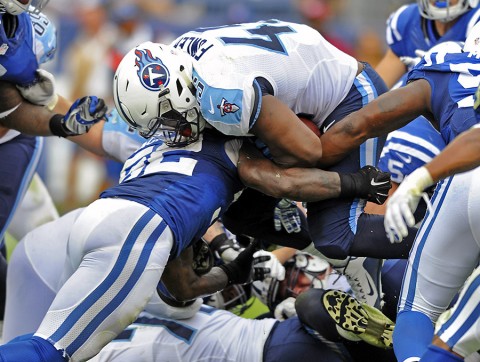 On the two-point conversion attempt, Titans head coach Ken Whisenhunt stated, "You never how those plays are going to come up. I would have to see it on the tape. It's a play where we are trying to establish our identity there, that we are a physical football team and we know that we can get it in. And we didn't. The play before they grabbed us. We had a good play the play before and they grabbed us so that's the way it works sometime."
This was a game that saw the Titans in control until late. Tennessee netted 433 total yards of offense compared to 378 for Indianapolis. The Titans held the ball for 34:59 minutes while the Colts time of possession was 25:01 minutes.
Marcus Mariota commented on the loss, "Yeah, I mean, it's tough, but we'll learn from it.  Proud of the guys in the locker room for fighting all the way through but it's one of those things.  We had a chance to finish it but you know, you've just got to learn from it and get better."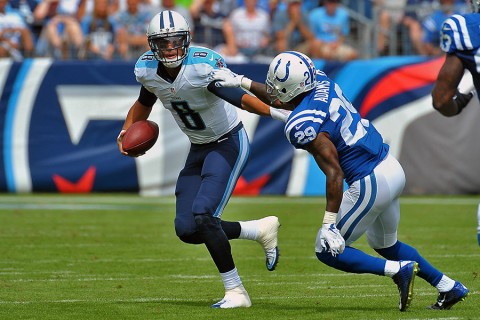 Mariota completed 27 of 44 pass attempts for 367 yards, two touchdowns and two interceptions. Running back Antonio Andrews had 12 rushes for 49 yards and a touchdown. Receiver Kendall Wright hauled in 7 catches for 95 yards and a touchdown. Tight end Delanie Walker had 7 receptions for 68 yards.
For the Colts, Andrew Luck was 18 of 30 for 260 yards, two touchdowns and two interceptions. Frank Gore ran for 86 yards and two touchdowns on 14 carries. Receiver T.Y. Hilton had four receptions for 94 yards.
"We blew a couple opportunities. You know, we had every chance to win that game. Even with our slow start, we had every chance to win that game," stated Titans center Brian Schwenke. "Again, even with our slow start, we came back. We need to seize those opportunities and finish strong."
"Well, obviously extremely disappointing. I guess not much to say except that we couldn't make the play we could have made to win that game," said Whisenhunt. "I like the way we fought back after mistakes in the first half. We took the lead, you know, then we just had some mistakes in the second half that hurt us."
"I think it is pretty evident that we are getting better. We are learning and we've just got to learn from this, continue to grow," stated Whisenhunt.
The Tennessee Titans are back on the field Sunday, October 11th after their bye week. The Titans will play host to Rex Ryan and the Buffalo Bills at Nissan Stadium. Kickoff is at 12:00pm CDT.
Box Score
| | | | | | |
| --- | --- | --- | --- | --- | --- |
| | 1 | 2 | 3 | 4 | Final |
| Indianapolis Colts | 7 | 7 | 0 | 21 | 35 |
| Tennessee Titans | 0 | 10 | 17 | 0 | 33 |
Indianapolis Colts (1-2-0)

Passing
CP/AT
YDS
TD
INT
A. Luck
18/30
260
2
2
Rushing
ATT
YDS
TD
LG
F. Gore
14
86
2
25
A. Luck
6
21
0
15
P. McAfee
1
18
0
18
J. Robinson
2
8
0
5
Receiving
REC
YDS
TD
LG
T. Hilton
4
94
0
48
C. Fleener
4
51
0
19
P. Dorsett
2
43
1
35T
J. Doyle
3
32
0
19
D. Moncrief
4
32
1
11T
F. Gore
1
8
0
8
Fumbles
FUM
LOST
REC
YDS
A. Luck
1
0
1
0
Kicking
FG
LG
XP
PTS
A. Vinatieri
0/0
0
5/5
5
Punting
NO
AVG
I20
LG
P. McAfee
5
50.0
1
54
Punt Returns
NO
AVG
TD
LG
G. Whalen
0
0
0
0
Tennessee Titans (1-2-0)

Passing
CP/AT
YDS
TD
INT
M. Mariota
27/44
367
2
2
Rushing
ATT
YDS
TD
LG
A. Andrews
12
49
1
13
K. Wright
1
13
0
13
B. Sankey
5
10
0
8
J. Fowler
4
9
1
3
D. McCluster
5
7
0
10
Receiving
REC
YDS
TD
LG
K. Wright
7
95
1
24
D. Walker
7
68
0
19
D. McCluster
1
35
0
35
B. Sankey
2
31
0
20
J. Hunter
1
29
0
29
C. Stevens
2
29
0
27
A. Fasano
1
26
0
26
D. Green-Beckham
2
22
1
19
H. Douglas
3
20
0
10
A. Andrews
1
12
0
12
Fumbles
FUM
LOST
REC
YDS
K. Klug
0
0
0
0
Kicking
FG
LG
XP
PTS
R. Succop
2/2
38
3/3
9
Punting
NO
AVG
I20
LG
B. Kern
5
42.4
2
49
Punt Returns
NO
AVG
TD
LG
D. McCluster
3
0
0
2