Austin Peay Sports Information

Clarksville, TN – The last few minutes of the first half have not been kind to Austin Peay State University football in recent weeks, a trend that continued in the Governors 40-16 loss to Eastern Illinois, Saturday.
Trailing 20-10 with just under five minutes remaining in the first half and coming off a 74-yard touchdown run from Austin Peay's Kendall Morris that electrified the home crowd on a dreary afternoon, Eastern Illinois marched down the field on a four-play, 66-yard drive that concluded on 31-yard touchdown pass from Jalen Whitlow to Isaiah Nelson.
Austin Peay's offense suffered a quick three-and-out, giving Eastern Illinois the ball back with a hair over two minutes remaining on the Austin Peay 30 after Shephard Little's 33-yard punt return. Six plays later, Devin Church punched it in from a yard out, sending Eastern Illinois into halftime with a 34-10 advantage.
Over the last three games, the game has turned in the final three minutes of the first half and the Governors have been outscored 35-0 over the final three minutes of the half—seven points from Vanderbilt, 14 at Eastern Kentucky and another 14 against the Panthers.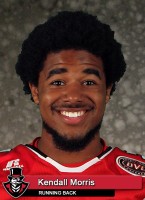 Church found the end zone three times in the first-half alone—he opened the scoring with a 13-yard jaunt in the first quarter and followed that in the second with a 21-yard catch-and-run for a score in the second quarter.
Eastern Illinois' offensive outburst overshadowed a breakout game by Morris. The St. Peters, Missouri native rushed for a career-high 141 yards on 25 carries, leading the way for a rushing game that tallied a season-best  rushing yards in the Governors loss, including his career-long 74-yard run that was Austin Peay's longest play from scrimmage in 2015. His performance was the best by an Austin Peay back since Otis Gerron's 114-yard afternoon against Tennessee State, November 22nd, 2014.
As the conditions worsened in the second half, Austin Peay's defense picked up steam. The Governors got a turnover on downs deep inside their own territory late in the third quarter, while Kyran Moore picked up his first career interception and Gino Roberson recovered a fumble near Eastern Kentucky's goal line that set up Austin Peay's lone second-half score, a three-yard Trey Taylor touchdown run.
This game saw its fair share of oddities in the second half. After Austin Peay had a punt blocked, defensive tackle Jule Pace picked it up in the backfield and raced 50 yards downfield to maintain possession for the Governors. Meanwhile, Eastern Illinois' final score of the game came when offensive lineman Scott Taylor picked up a fumble and rumbled 12 yards into the end zone for a score.
The Difference
Third down again proved to be a problem for Austin Peay in this one, as the Governors went 3-for-16 on third down conversions, going 2-for-3 in the first quarter and 1-for-13 the rest of the way.
The Governors are now 21-for-77 (27.3 percent) on third down conversions in 2015. Eastern Illinois was 8-for-16 on third down conversions, Saturday.
Coaching Quotables
"I think there's a certain amount of wearing down (defensively), I also think that there's an adjustment period that offenses make. It's where they say 'We've got that one (play) figured out, so we're going to have to change.' And it's easier to make adjustments—(they) just don't call that play. If we've been stopping it or that same scheme isn't working then (they) just don't call that play," stated APSU Football Head Coach Kirby Cannon.
Who's Next?
It's back on the road for Austin Peay next weekend as the Governors travel to Murray State for a 3:00pm kick-off. Austin Peay saw its 18-game losing streak snapped in last season's matchup with the Racers.
Box Score
Eastern Illinois (1-3 , 1-0) -VS- Austin Peay (0-5 , 0-2)
| | | | | | |
| --- | --- | --- | --- | --- | --- |
| | 1st | 2nd | 3rd | 4th | Total |
| Eastern Illinois | 7 | 27 | 0 | 6 | 40 |
| Austin Peay | 0 | 10 | 0 | 6 | 16 |
Scoring Summary
Qtr
Time
Scoring Play
EIU
APSU
11:35
EIU – CHURCH, Devin 13 yd run (BRUNO, Nick kick ), 8 plays, 75 yards, TOP 3:25
7
0
14:49
APSU – BIRCHFIELD,Loga 27 yd field goal 11 plays, 59 yards, TOP 3:45
7
3
10:36
EIU – LITTLE, Shepard 6 yd run (BRUNO, Nick kick ), 5 plays, 69 yards, TOP 1:26
14
3
08:27
EIU – CHURCH, Devin 21 yd pass from WHITLOW, Jalen (BRUNO, Nick kick failed) 3 plays, 54 yards, TOP 0:31
20
3
04:48
APSU – MORRIS,Kendall 74 yd run (BIRCHFIELD,Loga kick ), 1 plays, 74 yards, TOP 0:12
20
10
03:44
EIU – NELSON, Isaiah 31 yd pass from WHITLOW, Jalen (BRUNO, Nick kick ) 4 plays, 66 yards, TOP 0:59
27
10
00:44
EIU – CHURCH, Devin 1 yd run (BRUNO, Nick kick ), 6 plays, 30 yards, TOP 1:20
34
10
07:00
APSU – TAYLOR,Trey 3 yd run (TAYLOR,Trey pass failed), 2 plays, 4 yards, TOP 0:41
34
16
00:22
EIU – TAYLOR, Scott 12 yd run (TEAM kick failed), 11 plays, 78 yards, TOP 6:34
40
16
40
16
Team Statistics
Statistic
EIU
APSU
First Downs
Total
27
14
Rushing
18
9
Passing
8
2
Penalty
1
3
Rushing
Total (Net)
261
268
Attempts
50
47
Avg. Per Rush
5.2
5.7
Rushing TDs
4
2
Yds. Gained
292
301
Yds. Lost
31
33
Passing
Total (Net)
266
41
Comp.-Att.-Int.
16-31-

1

6-24-0
Avg. / Att.
8.6
1.7
Avg. / Comp.
16.6
6.8
TDs
2
0
Total Offense
Yards
527
309
Plays
81
71
Avg. / Play
6.5
4.4
Fumbles – Lost

4-1

3-1
Penalties – Yds.
13-

105

6-49
Punting
Punts – Yds.
3-127
7-

184

Avg. / Punt

42.3

26.3
Inside 20
0

1

50+ Yds.

1

0
Touchbacks

1

0
Fair Catch
1
1
Kickoffs
Total – Yds.
7-

386

4-182
Avg. Yds. / Kickoff

55.1

45.5
Touchbacks
1
1
Returns
Punt: Total – Yds. – TDs

2-37-0

0-0-0
Punt: Avg. / Return

18.5

0
Kickoff: Total – Yds. – TDs
3-19-0
5-

54-0

Kickoff: Avg. / Return
6.3

10.8

INT: Total – Yds. – TDs
0-0-0

1-33-0

Fumble: Total – Yds. – TDs
0-0-0
0-0-0
Miscellaneous
Misc. Yards
0
0
Poss. Time

31:57

28:03
3rd. Down Conv.

8 of 16

3 of 16
4th. Down Conversions
1 of 3
2 of

5

Red-Zone: Scores – Chances
4-

5

2-4
Sacks: Total – Yds.
1-7
1-

8

PAT: Total – Made
4-

6

1-1
Field Goals: Total – Made
0-1

1-1