Austin Peay Sports Information

Nashville, TN – For a second straight year Austin Peay State University post player Chris Horton has been named to the Preseason All-Ohio Valley Conference team, as chosen by league coaches and sports information directors.
That was announced Tuesday at the OVC's annual basketball media day, held at the Sheraton Music City Hotel.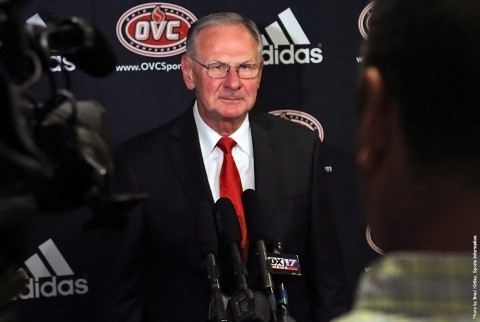 In addition, the Governors have been selected to finish fifth in the OVC's Western Division by the coaches and SIDs.
Horton, the senior from Decatur, GA, enters his final season at APSU ranked No. 2 in OVC (first at APSU) history in blocked shots (262). A season ago Horton averaged a double-double with 13.1 points and 11.1 rebounds/game, becoming the first Austin Peay player to average a double-double since the 1990-91 season.
In fact, the 6-8 Horton led the OVC (eighth nationally) in rebounding (11.1 rpg) in 2014-15, becoming the first Gov since Fernandez Lockett (2006-07) to do so.
In the home finale against SIUE, Chris Horton was credited with 20 rebounds, becoming the first Governor since Tyrone Beck (22, February 5th, 1994) to grab 20 or more rebounds in a single game.
"Chris has proved himself to be a legitimate all-conference type performer," APSU coach Dave Loos said. "He has had three good years and we are looking for an even better year this season.
"Chris has really grown during his time at Austin Peay—he has matured both on and off the court."
In the West Division preseason polling, the Governors (57 points) were picked behind Murray State (125), UT Martin (115), Eastern Illinois (88), Southeast Missouri (72) while SIU Edwardsville (35) rounded out the voting.
In the East, Belmont (132 points) was the runaway winner, followed by Morehead State (105), Eastern Kentucky (88), Tennessee Tech (67), Jacksonville State (52) and Tennessee State (48).
"Fortunately, this (the West Division) still has to be decided on the court," Loos said. "We have never worried about it either way (ranked high or low). It is a long season and a lot of basketball still has to be played but we hope to proof them wrong."
Belmont guard Craig Bradshaw was named the OVC Preseason Player of the Year.
Predicted Order of Finish, Points
East
Belmont (22 first-place votes) 132
Morehead State (1) 105
Eastern Kentucky (1) 88
Tennessee Tech 67
Jacksonville State 52
Tennessee State 48
West
Murray State (15 first-place votes) 125
UT Martin (9) 115
Eastern Illinois 88
Southeast Missouri 72
Austin Peay 57
SIU Edwardsville 35
6 points awarded for a first-place vote, 5 for second, etc. – Coaches and SID's could not vote for their own teams
2015-16 Preseason All-OVC
Preseason OVC Player of the Year: Craig Bradshaw, Belmont
Alex Anderson, UT Martin, G, 5-11, 180, Sr., Memphis, Tenn., 12.5 ppg, 1.9 apg, 2.4 rpg, 94 3's
Trae Anderson, Eastern Illinois, #% G/F, 6-4, 235, Sr., St. Louis, Mo., 13.2 ppg, 4.9 rpg, 1.8 apg, 48.2 FG%
Brent Arrington, Morehead State, G, 6-3, 190, Sr., Baltimore, Md., 11.1 ppg, 3.9 rpg, 2.3 apg, 40.5 FG%
Craig Bradshaw, Belmont, *@ G, 6-3, 210, Sr., Ridgetop, Tenn. 18.3 ppg, 3.8 rpg, 3.1 apg, 82 3's
Evan Bradds, Belmont , # F, 6-7, 205, Jr., Jamestown, Ohio, 14.2 ppg, 7.2 rpg, 68.8 FG%
Antonius Cleveland, Southeast Missouri, G, 6-6, 181, Jr. Memphis, Tenn., 10.8 ppg, 4.8 rpg, 1.8 apg, 47.2 FG%
Chris Horton, Austin Peay & C, 6-8, 195, Sr., Decatur, Ga., 13.1 ppg, 11.1 rpg, 2.3 bpg, 45.8 FG%
Twymond Howard, UT Martin, % F, 6-6, 210, Sr., Pearl, Miss., 13.6 ppg, 6.6 rpg, 1.7 apg, 47.6 FG%
Cornell Johnston, Eastern Illinois, % G, 5-7, 150, So., St. Louis, Mo., 9.1 ppg, 4.7 apg, 1.9 rpg, 55 3's
Jeffery Moss, Murray State, F, 6-4, 190, Sr., Madison, Ala. 11.2 ppg, 3.8 rpg, 2.1 apg, 48.7 FG%
* – 1st team All-OVC team in 2014-15
# – 2nd team All-OVC team in 2014-15
% – OVC All-Newcomer team in 2014-15
@ – 2nd team All-OVC team in 2013-14
& – OVC All-Newcomer team in 2012-13