Clarksville, TN – In 1862, the author of "The American Stud Book," a breed registry for thoroughbred horses, became one of the least popular people in Montgomery County. His name was Col. Sanders Bruce, and as an officer in the Union Army, he oversaw the military occupation of Clarksville during the Civil War.
"Well upon Christmas day Colonel Bruce with his 'whiskey jug' and several regiments took possession of this place and here they have been ever since," Nannie Haskins Williams, a 16-year-old Clarksville resident, wrote in her diary a year later. "And here I am too still writing in my journal about those detestable blue coats for whom I have such a disgust."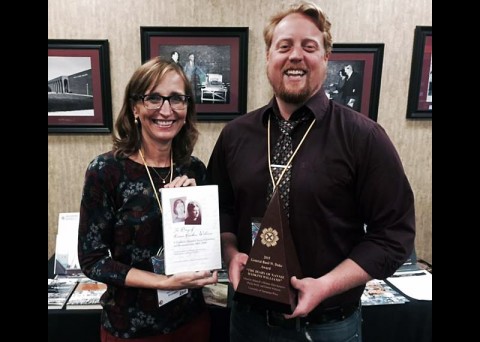 Since last fall, readers and historians have delighted over these intimate details from the Civil War, thanks to the University of Tennessee Press' publication of "The Diary of Nannie Haskins Williams: A Southern Woman's Story of Rebellion and Reconstruction, 1863-1890."
The work—edited by Dr. Minoa Uffelman, Austin Peay State University associate professor of history; Ellen Kanervo, APSU professor of communication; Eleanor Williams, Montgomery County historian; and Phyllis Smith, former president of the Friends of Fort Defiance—was recently honored with the General Basil W. Duke Literary Award, which is given to reissued books or diaries that present personal and accurate histories of the Civil War from a Southern perspective.
"The book won for two reasons," Thomas Wells, with UT Press, said. "It was expertly edited, which cut to the heart of Nannie Haskin's narrative, and the diary itself presented a picture of occupied middle Tennessee and the troubled home front, which is garnering more and more attention from scholars of the Civil War."
Dr. Aaron Astor, associate professor of history at Maryville College, used the diary as a source for his recently published essay, "The Militia Spirit: Lexington and Clarksville Militias and the Making of Civil War Armies." The book's popularity among academics, like Astor, and the reading public is causing the Press tobegin work on a second printing.
"The success of the book is due in no small part to Minoa and her editorial team both investing their time and inquiry into their historical subject and pushing Nannie's story out to the wider public," Wells said.
Nannie's name became prominent among historians and Civil War enthusiasts in the early 1990s when excerpts of her diary were used in Ken Burns' award-winning PBS documentary "The Civil War." Her daughter donated the Civil War portion of the diary to the Tennessee State Library and Archives in Nashville, TN in 1961.
The postwar diary disappeared until the University of North Carolina at Chapel Hill purchased it from an antique dealer. The four local researchers spent years combing through these and other documents, with Smith transcribing the entries while the others worked on providing the historical context for the book
The book is available at APSU's Ann Ross Bookstore, the Fort Defiance Interpretive Center, The Customs House Museum and online at www.amazon.com