APSU Sports Information

Clarksville, TN – Sammie Ebright's 16-kill performance led Austin Peay State University's volleyball team to its third-straight victory – a four-set (18-25, 25-18, 25-16, 27-25) Ohio Valley Conference win against UT Martin, Saturday at the Dunn Center.
After a roller coaster emotional ride in its five-set win Friday, Austin Peay (9-21, 3-11 OVC) got off to a slow start against UT Martin.
The Lady Govs battled back from an 8-4 deficit to tie the set at 11-11 and would keep close through the next 12 points, forcing a 17-17 tie.
But UT Martin closed the frame with an 8-1 run to claim the set.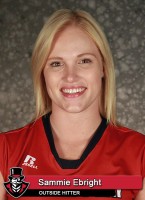 Austin Peay would surrender its early lead in the second set and trailed 10-8. But Ebright hit three straight kills as part of a 4-0 run to give APSU a 12-10 lead.
UT Martin leveled the set at 12-12 but a 4-0 APSU run broke the set open and sparked a 13-6 set ending run.
After the break, the Lady Govs wasted no time opening a 4-0 lead to spark a wire-to-wire victory in the third set. Austin Peay recorded 16 kills for a second-straight set, but were much more efficient, posting a .452 attack percentage.
The fourth set proved the most tightly fought of the match with 16 ties and seven lead changes as neither team enjoyed more than a two-poitn lead. UT Martin threatened to tie the set with a 23-21 lead after a Lael Ceriani kill. But Peyton Walker and Ebright hit back-to-back kills to tie the frame.
Austin Peay would get to match point, 24-23, courtesy a UT Martin error, but could not close the door initially. The Skyhawks fended off a pair of match points but at 25-25 committed a service error to give the Lady Govs their third opportunity. Kelly Ferguson ended the match with her seventh kill.
Inside the Box Score
Peyton Walker posted her season's first double-double with a 13-kill, 13-dig performance – both marks season bests.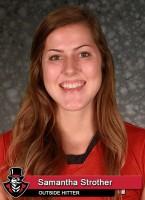 Samantha Strother notched her second straight and seventh double-double this season with 10 kills and 10 digs.
Ashley Slay finished with eight kills in her return to the starting lineup.
Kelly Ferguson had an errorless attack performance, finishing with seven kills and a .467 attack percentage. She added three service aces and five blocks (three solo).
With the win, Austin Peay remained in the race for one of the eight OVC Volleyball Tournament spots. The Lady Govs are two wins behind SIU Edwardsville and Tennessee Tech with two matches remaining.
Ebright posted season highs in both kills (16) and digs (14) in the win. Walker (13 kils, 13 digs) and Samantha Strother (10 kills and 10 digs) each recorded double-doubles. Austin Peay trailed UT Martin offensively, 60-57 in kills, but won the service battle (5-3 service aces) and blocking (7-1).
Five UT Martin players scored 10 or more kills. Alisha Erves led the UTM effort with 14 kills and a .370 attack percentage.
Austin Peay continues its four-match homestand with a 7:00pm, Tuesday contest against league-leading Murray State.
Box Score
UT Martin (8-23, 4-10 ovc) -VS- Austin Peay (9-21, 3-11 OVC)
| Team | 1 | 2 | 3 | 4 |
| --- | --- | --- | --- | --- |
| UT Martin | 25 | 18 | 16 | 25 |
| Austin Peay | 18 | 25 | 25 | 27 |
Match Details
Set
UT Martin
Austin Peay
K
E
TA
%
K
E
TA
%
1
17
4
37
.351
10
6
44
.091
2
15
6
51
.176
16
2
49
.286
3
8
5
34
.088
16
2
31
.452
4
20
7
53
.245
15
2
51
.255
60
22
175
.217
57
12
175
.257
Game Leaders
UT Martin
| | |
| --- | --- |
| Kills | ERVES, Alisha (14), WESSLING, Madison (12), CHEATHAM, Kiah (11) |
| Aces | CAIN, Ellie (2), SCHERB, Jamie (1) |
| Blocks | CHEATHAM, Kiah (1) |
| Assists | CAIN, Ellie (52), CRASK, Amanda (3), BOWLES, Chelsea (1) |
| Digs | BOWLES, Chelsea (26), WESSLING, Madison (18), CAIN, Ellie (13) |
Austin Peay
| | |
| --- | --- |
| Kills | EBRIGHT, Sammie (16), WALKER, Peyton (13), STROTHER, Samantha (10) |
| Aces | FERGUSON, Kelly (3), STROTHER, Samantha (1), ADAMS, April (1) |
| Blocks | FERGUSON, Kelly (5), SLAY, Ashley (2), MARSELLIS, Aubrey (2) |
| Assists | MARSELLIS, Aubrey (41), SLAY, Ashley (5), STUCKER, Kristen (4) |
| Digs | ADAMS, April (31), EBRIGHT, Sammie (14), MARSELLIS, Aubrey (13) |