Clarksville, TN – The first-ever SpiritFest, a celebratory holiday event at 2:30pm on Saturday, December. 5th, will offer an irresistible opportunity for those who gather early to watch the city's 56th Annual Lighted Christmas Parade. It is being touted as "A Pre-Parade Celebration of Christmas."
Rather than getting an early parking spot – then waiting through cold and boredom until the parade begins – parade-goers can enjoy a variety of family-friendly activities during SpiritFest.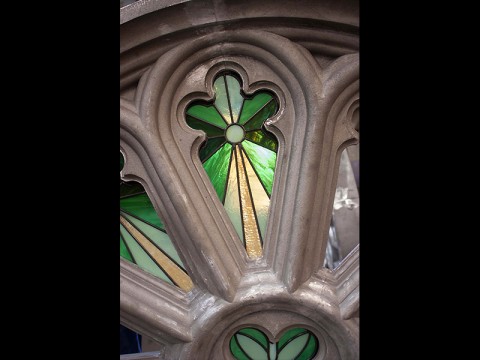 Located on the sites of two Historic Downtown Clarksville churches, the event will culminate at 4:30pm with the first public lighting of First Presbyterian Church's three historic rosette windows, which will celebrate the completion of the stained glass windows' exacting refurbishment.
SpiritFest's main stage will be located at the corner of Main Street and North Third Street. This area is between the two participating churches, First Presbyterian Church at 213 Main Street and Trinity Episcopal Church at 317 Franklin Street.
The free festival will feature kids' inflatables, Santa Claus, complimentary hot chocolate and desserts, Christmas music performances by multiple groups, the Roxy Christmas Carolers, food trucks and two art and gift markets.
SpiritFest will end in time for the parade to proceed down Main Street in front of First Presbyterian Church.
The Clarksville/Montgomery County Arts and Heritage Development Council has recruited artists and artisans to SpiritFest to offer one-of-a-kind items for sale as Christmas gifts. Two associations will also sell "gifts for a cause." One is Ten Thousand Villages, which will feature "fair trade" baskets, jewelry and crafts from international artisans. Another is Thistle Farms, which will sell handmade items, such as beauty products and teas, made by women who have survived prostitution, trafficking and addiction.
The brainchild of First Presbyterian Church, SpiritFest was conceived after congregation members became eager to get more involved in supporting Historic Downtown Clarksville – or in the words of Rev. Gregory L. Glover, FPC pastor, to "bless our community."
During last year's parade, Glover explained, church members observed that people waited in front of their church for a long time for the parade to begin, without amenities or anything to occupy the children. This prompted the creation of SpiritFest.
"What better opportunity could there be to serve our neighbors than by hosting a pre-parade festival?" Glover says. "There's no better time for a church to get deeply involved in its community than during the Christmas season."
The lighting of the rosette windows during SpiritFest will mark First Presbyterian Church's broader vision of blending community and architectural preservation interests.
Since historically-important churches are integral to Clarksville's aesthetic character, as well as to its religious and social history, Glover feels his congregation's historic church, which was built in 1878, should be preserved and shared.
Both First Presbyterian Church and Trinity Episcopal Church are listed on the National Register of Historic Places.
For an events schedule and map – and specific information about musical performances, artists, kids' activities, food trucks, the historic rosette windows and more – visit www.SpiritFestDowntown.com