Austin Peay vs. California
Friday, November 13th, 2015 | 7:00pm
Clarksville, TN | Winfield Dunn Center

Clarksville, TN – A familiar cast coupled with a new director will take center stage when Austin Peay State University women's basketball team begins its 56th season of basketball with a 7:00pm, Friday contest against Pac-12 Conference member California.
The contest will be a "White Out" affair, with Austin Peay fans encouraged to wear white for the Lady Govs opener.
In addition, the first 150 fans who also are members of "Peaynuts Connect," Austin Peay's official mobile fan app, will receive a free white T-shirt.
The biggest story line during the Austin Peay offseason was the hiring of David Midlick as the program's 15th head coach. He is a familiar face to Austin Peay fans, returning to Clarksville after previous stints as a men's basketball graduate assistant (2003-06) and women's basketball assistant coach (2010-12).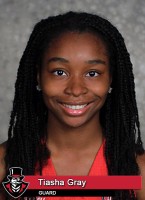 Midlick was involved in the recruiting for the current senior class, but did not have the opportunity to coach them, departing to become head coach at Delta State in 2012.
Midlick inherits an Austin Peay women's basketball team largely unchanged from its 2014-15 edition. Four starters and 11 letter winners return from a team that posted the program's best record since 2010-11.
Senior guard Tiasha Gray highlights the returning group after earning Ohio Valley Conference Defensive Player of the Year honors last season.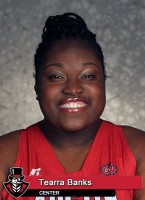 Also returning are junior Tearra Banks, sophomore Brianne Alexander, senior Jennifer Nwokocha and junior Beth Rates – composing five of the team's top six in both scoring and rebounding.
Austin Peay got a glimpse of the 2015-16 product with a November 5th exhibition contest against Division II Kentucky Wesleyan. The Lady Govs led the contest wire-to-wire, holding a 28-point advantage in the third quarter before settling on a 21-point, 88-67 victory.
Gray led the performance with a 26-point, nine-rebound effort. Freshman J'Nayah Hall impressed off the bench with 10 points, nine rebounds, five assists and three steals. Redshirt freshman Falon Baker chipped in 15 points, scoring 11 in the first half.
Friday's opener is the first game in a stretch that will see APSU play three games in four days. Following the season opener, Austin Peay will host Division II foes Christian Brothers (7:00pm, Saturday) and Trevecca (7:00pm, Monday).
The More You Know
Gray Milestone Watch Starts
Senior guard Tiasha Gray begins the 2015-16 season within reach of the following Austin Peay milestones:
APSU Career Steals | Currently 3rd (233) | Record: 243 by Tracie Mason (1987-91)
APSU Career Points | Currently 10th (1,292) | Next: 1,307 by Elaine Swafford (1977-81)
APSU Career Assists | Currently 5th (358) | Next: 387 by Ashley Haynes (2002-06)
About the California Bears
California returns two starters from last season's team that reached the second round of the NCAA tournament. Sophomores Gabby Green and Mikayla Cowling return after starting 34 and 26 games, respectively. Cowling averaged 10.0 points and 5.0 rebounds per game last season while Green chipped in 6.7 points, 5.7 rebounds and 3.2 assists per game.
Joining them is a talented group of five newcomers led by Kristine Anigwe, a McDonald's High School All-American. The 10-woman Cal squad features seven players 6-2 or taller. The Bears were picked to finish fourth in both the Pac-12 Conference's preseason media and coaches polls and are receiving votes in both the USA TODAY Coaches Poll and Associated Press Poll to begin the season.
An Austin Peay Win Would
End its three-game home-opener losing streak, Its first home-opening win since the 2011-12 season. Be its first-ever victory against a Pac-12 Conference member in its first try. End a three-game losing streak in nonconference affairs. Be head coach David Midlick's first victory as Austin Peay head coach. Make Midlick 46-16 in his third season as a head coach overall. Make the Lady Govs 452-650 overall since 1976-77.
An Austin Peay Loss Would
Be its fourth straight loss in both season and home openers. Extend its losing streak to four games in nonconference contests. Give head coach David Midlick a loss in his APSU head coaching debut. Make Midlick 45-17 in his third season as a head coach overall. Make the Lady Govs 451-651 overall since 1976-77.
Broadcast Information
Radio • WAPX 91.9 FM
Play-by-Play: Blake Ball
Analyst: Damion Hoover
TV • APSU Television
Play-by-Play: Charlie Patten
Analyst: Braden Wood
Sideline: Sheridan Black
Lady Govs on the Web
Live Video: www.OVCDigitalNetwork.com
Live Audio: www.LetsGoPeay.com/Listen
Live Statistics: www.PeayStats.com
Video
Head coach David Midlick and the Lady Govs kick off the 2015 season Friday with a White Out contest against Cal.