UT Athletic Department
Kevin Punter Jr. had 24 points and Devon Baulkman had 22 to lead UT to victory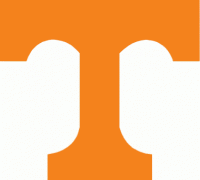 Knoxville, TN – A season-high 13 3-pointers and a 34-7 run to close the game propelled the Tennessee Volunteers to an 89-64 win over Gardner-Webb on Sunday at Thompson-Boling Arena.
Tennessee had four players in double figures, led by 24 from Kevin Punter Jr. Devon Baulkman tied a career high with 22, while Robert Hubbs III scored 17. Armani Moore had 15 to accompany his career-high 16 rebounds.
Tennessee led by as many as 19 in the first half on the strength of the efficiency from long range, but the Runnin' Bulldogs battled back and a jumper from Adonis Burbage at the buzzer cut the advantage to just four at the break, 41-37.
The Vols came out running in the second half to build up a lead of 10 in the early going, but again Gardner-Webb responded, erasing the UT advantage to take a 2-point lead on a couple of occasions, the last coming at the 10:26 mark.
But a free throw from Hubbs and back-to-back 3-pointers from Devon Baulkman put Tennessee back on top, a lead it would not relinquish From that point, UT outscored GWU, 34-7 over the game's final 10:17.
Harold McBride led Gardner-Webb with 17 points, one of four Runnin' Bulldogs in double figures.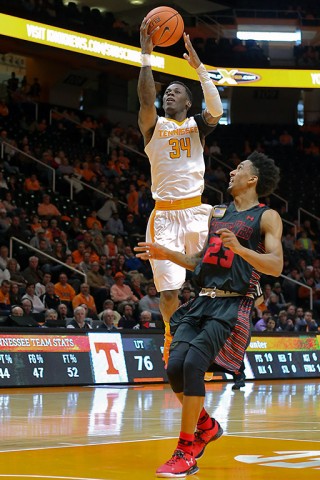 UT's 13 3-pointers made were its most since making 13 against ETSU on December 27th, 2014. The Vols finished the day 13-of-28 from long distance. The Vols were 7-of-16 from beyond the arc in the first half, the best 3-point shooting in a half since hitting at a 62.5 percent clip (5-of-8) in the second half of a 78-63 win at LSU on March 4, 2015.
Devon Baulkman's back-to-back treys to spark the Tennessee run were the most crucial of the game, part of a 6-for-10 day from beyond the arc for the senior. His six made 3-pointers were a career-high, besting his four against Mercer on December 22nd, 2014.
"Coach tells me to keep shooting the ball, but take great shots. I'm really confident in myself right now. I've been spending extra time in the gym, working on my form and shooting the ball a lot," said Devon Baulkman.
The game's leading scorers for each side played the game like it was a personal playground. For Punter and McBride, that is exactly what it was. The two grew up together in the Bronx, New York and are very close friends. Punter finished with a team-best 24 points for Tennessee and McBride led Gardner-Webb with 17.
"I was really impressed watching Gardner-Webb on tape. The fact they run good stuff and they ran good stuff. They hurt us with some things," stated Tennessee head coach Rick Barnes. "We just got blistered right there the last four minutes (of the half). We turned it over and just didn't do some things against the zone. They went to it (the zone) to slow us down, and we allowed them to do that as opposed to really trying to attack it. We need to get out more in transition."
"A lot of that is my fault because we have not spent enough time working against zone. Today was good for us," said Barnes. "I do think we got some guys, when they move, they see the floor. They pass the ball well. This was a really good game for us. That was probably the most zone we have played against combined practice and everything. That was good for us."
The Tennessee Volunteers are back on the court Tuesday, November 24th, 2015 as they host Army West Point. Tipoff is set for 7:00pm ET (6:00pm CT).
Video
Tennessee head coach Rick Barnes
Box Score
Tennessee (3-1) 89, Gardner-Webb (1-3) 64
| | 1st Half | 2nd Half | Final |
| --- | --- | --- | --- |
| Gardner-Webb | 37 | 27 | 64 |
| Tennessee | 41 | 48 | 89 |
Gardner-Webb Bulldogs
M
FGM
-A
3PM
-A
FTM
-A
O
REB
D
REB
RB
AST
STL
BLK
TO
PF
PTS
Tyrell Nelson, F
30
5-16
0-0
5-7
3
7
10
1
1
0
2
4
15
Herve Aholode, F
6
0-1
0-0
0-0
1
0
1
0
0
1
0
0
0
Harold McBride, G
34
5-15
4-10
3-5
2
3
5
3
3
0
3
2
17
Isaiah Ivey, G
20
1-6
1-2
1-2
2
4
6
0
0
0
0
3
4
Dylan Poston, G
18
0-5
0-4
0-0
0
3
3
0
0
1
0
4
0
L'Hassane Niangane, C
14
0-1
0-0
0-0
1
1
2
0
0
0
1
2
0
Brandon Miller, F
19
1-1
0-0
1-2
1
4
5
2
0
0
0
4
3
Adonis Burbage, G
27
5-13
3-8
0-0
1
0
1
1
2
0
0
1
13
Jamaal Robateau, G
3
0-2
0-1
0-0
0
0
0
0
0
0
0
0
0
Laquincy Rideau, G
6
1-3
0-1
0-0
2
1
3
0
0
0
0
1
2
David Efianayi, G
23
4-9
1-2
1-4
0
1
1
1
0
0
1
1
10
22-72
9-28
11-20
16
25
41
8
6
2
8
22
64
30.6%
32.1%
55.0%
Tennessee Volunteers
M
FGM
-A
3PM
-A
FTM
-A
O
REB
D
REB
RB
AST
STL
BLK
TO
PF
PTS
Armani Moore, F
34
6-11
1-1
2-5
3
13
16
3
1
3
3
3
15
Derek Reese, F
17
0-1
0-0
1-4
0
4
4
1
0
1
0
1
1
Robert Hubbs III, G
36
8-14
0-2
1-3
2
4
6
4
0
0
0
1
17
Devon Baulkman, G
31
7-14
6-10
2-3
2
4
6
3
0
1
1
3
22
Kevin Punter, G
34
8-13
5-10
3-4
0
7
7
6
1
1
1
1
24
Ray Kasongo, F
1
0-0
0-0
0-0
0
0
0
0
0
0
0
0
0
Admiral Schofield, F
6
1-1
0-0
0-0
0
2
2
0
0
0
0
2
2
Kyle Alexander, F
3
0-0
0-0
1-2
1
0
1
0
0
0
0
1
1
Jabari McGhee, F
10
1-2
0-0
2-2
1
3
4
0
0
1
0
3
4
Detrick Mostella, G
23
1-5
1-5
0-0
0
3
3
3
0
0
3
3
3
Shembari Phillips, G
5
0-0
0-0
0-0
0
1
1
3
0
0
2
3
0
32-61
13-28
12-23
10
42
52
23
2
7
10
21
89
52.5%
46.4%
52.2%