#4/5 Tennessee (5-0) vs. #8/8 Texas (4-0)
Sunday, November 29th, 2015 | 2:31pm ET (1:31pm CT)
Knoxville, TN | Thompson-Boling Arena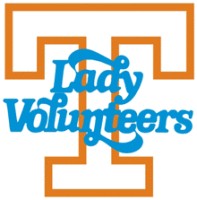 Knoxville, TN – The #4/5 Lady Vols (5-0) continue their eight-game homestand with a top-10 matchup against #8/8 Texas (4-0) at Thompson-Boling Arena on Sunday. Tipoff is slated for 2:30pm, and the game will be broadcast live on ESPN.
Tiffany Greene (PxP) and Carolyn Peck (Analyst) will describe the action on ESPN/WatchESPN. Fans can hear the Lady Vol Network broadcast on stations across the state as well as via a live stream worldwide with Mickey Dearstone calling the action.
Tickets for the game can be purchased online via www.UTTIX.com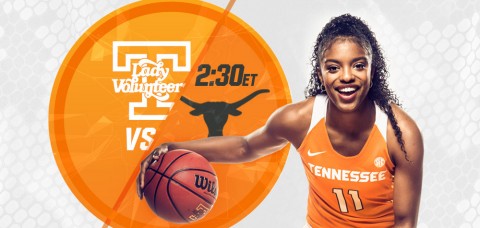 Top 10 Teams Clash On Sunday
The #4/5 Lady Vols (5-0) host their sixth of eight-consecutive home game to open the season, as #8/8 Texas (4-0) visits Thompson-Boling Arena at 2:30pm ET on Sunday in a top-10 battle of undefeated foes. A busy week for Tennessee continues, as Holly Warlick's squad hosts its third of three games (Chattanooga, UAlbany, Texas) in this calendar week.
Tennessee is 1-0 vs. ranked teams this season, defeating #25 Syracuse, 57-55, on November 20th, and the teams the Lady Vols have played thus far are a combined 16-6 through November 27th. Texas will play its first ranked team of 2015-16 when it comes to Knoxville, and the Longhorns have faced squads that are a combined 4-14.
"I think they (UT players) understand the sense of urgency to get ready for Texas. A lot of their friends are on that team. I just think they are more familiar with who is on the team and its style of play. It will be a challenge," said Tennessee head coach Holly Warlick.
About The Longhorns
Texas comes into Knoxville with a 4-0 record and beating its first four opponents by an average of 81.2-46.2. The Longhorns rolled past Hampton, 79-52, on Wednesday night in Austin, with guard Brianna Taylor leading four players in double figures with 16 points. Freshman guard Lashann Higgs had a double-double of 12 points and 10 rebounds.
Texas' other wins came at home vs. UTSA (90-53) and Northwestern State (86-33), and at Rice (70-47). The Longhorns have utilized 12 players in three of four games, but returning guard Ariel Atkins has not been among them. She is recovering from off-season surgery on her right ankle and is expected to be available for Big 12 action in January.
Texas is under the leadership of fourth-year head coach Karen Aston, who is 62-41 in Austin. She is 163-104 overall in her ninth season. Aston guided Texas to a 24-11 record a year ago, including a tie for third in Big 12 play at 9-9.
Texas Sr. Associate A.D./Sports Administrator Kathy Harston was the director of operations at Tennessee from 2008-12.
About The Lady Vols
After a 102-47 rout of Central Arkansas to open the campaign, Tennessee has had to work for its last four victories, winning by margins of eight, two, two and eight. Facing four quality opponents, UT held off Penn State (74-66), #25/RV Syracuse (57-55), NR/RV Chattanooga (59-57) and NR/RV UAlbany (63-55) in Knoxville.
Tennessee improved to 5-0 on Friday afternoon, turning back upset-minded UAlbany, 63-55, in front of 9,806 at Thompson-Boling Arena.
Mercedes Russell became the fourth different Lady Vol to lead the team in scoring this season, dropping in 12 to go with five rebounds, five blocks an assist and a steal. Russell is the only Lady Vol to score in double figures in all five games, averaging 14.4 to rank second on the team.
Diamond DeShields continued to play her way into shape, adding 11 points and scoring in double figures for the second consecutive game and the third time in five outings. Having hit only 5-of-42 on three-point attempts in their previous three games, UT connected on 7-of-21 vs. UAlbany, including 3-of-7 shooting by DeShields.
Tennessee managed to win despite committing 21 turnovers and losing the stat battles for points in the paint (20-28), points off turnovers (22-23) and second chance points (5-12) for the first time all season.
Series History
Tennessee leads the series with the Longhorns, 23-13, and carries a five-game home winning streak into Sunday's 37th all-time match-up between these schools in women's hoops. While the first meeting in the series was on December 8th, 1978 (Tennessee 84, Texas 60), this marks the 34th-consecutive season these programs have met. The UTs played twice in 1986-87 and 1991-92 in regular-season tourney match-ups in addition to the regularly-scheduled games.
This year's battle will be only the fifth contested during the month of November. The teams are tied 2-2 in those games, with the most recent one a 72-59 triumph in Austin by the #6/9 Longhorns over the #4/5 Lady Vols on November 30th, 2014.
This will mark the 27th time these schools have met when both teams are ranked, and Tennessee is 16-10 in the previous match-ups. This is the ninth meeting between the Lady Vols and Longhorns when both teams were ranked in the top 10, with Texas owning a 5-3 mark vs. Tennessee in those contests
Head coaches Holly Warlick and Karen Aston have some common ground, with both having served as assistants (HW: 1985-2005/KA: 1998-2000) and associate head coaches (HW: 2005-12/KA: 2000-06) for two of women's basketball's legendary coaches. Warlick, of course, follows in the footsteps of Pat Summitt (NCAA-best 1,098-208 record in 38 seasons) at Tennessee, and Aston, with some stops at other schools from 2006-12, holds a job her mentor Jody Conradt (900-307) had for 31 years.
When the statue and plaza bearing Summitt's name was dedicated on November 22nd, 2013, Conradt was in Knoxville for the festivities. Likewise, Summitt was in Austin when Conradt's statue was dedicated on October 5th, 2012.
The last Lady Vol loss to Texas in Knoxville came on December 28th, 2003, when the #5/5 Longhorns toppled #2/2 Tennessee, 70-60. Tennessee also was ranked #4/5 when these teams met last year, and their match-up also came in the Lady Vols' sixth game of the season.
Broadcast Information
TV – ESPN
Play by Play: Tiffany Greene
Analyst: Carolyn Peck
Producer: James Davidson
Radio – Lady Vol Network
Play by Play: Mickey Dearstone
Online/Mobile
www.UTsports.com
Free audio stream only
www.WatchESPN.com
Free video stream to registered cable subscribers