Tennessee (4-4) vs. Florida Atlantic (2-6)
Wednesday, December 16th, 2015 | 7:01pm ET (6:00pm CT)
Knoxville, TN | Thompson-Boling Arena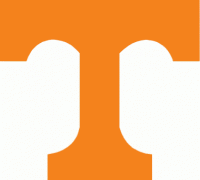 Knoxville, TN – Tennessee plays its first home game in just over three weeks on Wednesday night when it hosts Florida Atlantic at Thompson-Boling Arena for a 7:00pm ET (6:00pm CT) tip.
Wednesday's game will feature an online-only broadcast through SEC Network +. Fans can access SEC Network + through WatchESPN.com or the WatchESPN app.
The Vols (4-4) return to Thompson-Boling Arena in the midst of a three-game skid following Saturday's loss at #18 Butler. Tennessee led for the majority of the first half before going into the halftime locker room trailing by five.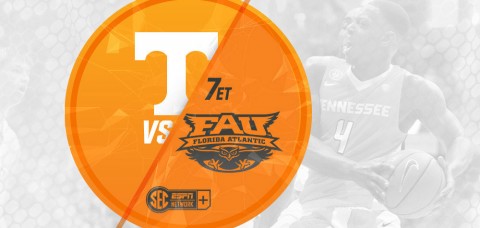 The Butler lead would grow to as many as 11 midway through the second half, but UT whittled it to four with just under five minutes to play.
That was as close as the Vols would come, however, as Butler pulled out the 94-86 victory.
Kevin Punter Jr. led Tennessee with a game-high 27 points — his fifth consecutive game with 20 or more points. Armani Moore chipped in 17 points and freshman Admiral Schofield — who got the starting nod in place of the injured Robert Hubbs III — added a career-best 16 to go along with a team-leading seven rebounds.
Punter begins the week as the SEC's second leading scorer at 22.9 points per game and becomes the first Volunteer to score 20-plus in five consecutive games since Jordan McRae had an identical five-game streak in 2012-13.
Over those last five games, Punter is averaging 24.8 ppg and 3.8 assists per game while shooting 52.6 percent (41-of-78) from the floor.
Florida Atlantic is 2-6 to start the year and is led by sophomore center C.J. Turman's 11.5 points per game. Redshirt junior guard Adonis Filer — a Clemson transfer — is also averaging double figures at at 10.5 ppg scoring cliip.
Wednesday is the first-ever meeting between the Vols and Owls.
About Florida Atlantic
Florida Atlantic is off to a 2-6 start in its second season under head coach Michael Curry, who led the Owls to a 9-20 mark last year. Florida Atlantic is located in Boca Raton, Florida, and has an enrollment of 30,000. The Owls were picked by the Conference USA coaches to finish 12th in the 14-team league.
FAU sophomore center C.J. Turman originally signed with Tennessee out of Morgan County High School in Madison, GA, but he was granted his release during UT's coaching staff transition in April of 2014. Second-year Owls assistant coach Charlemagne Gibbons was Turman's high school coach.
The FAU roster features four high-major transfers: guard Frank Booker (Oklahoma), center Ronald Delph (Auburn), guard Adonis Filer (Clemson) and guard Solomon Poole (Georgia Tech). Florida Atlantic leads C-USA with a .738 free-throw percentage this season.
FAU assistant coach Eric Snow is a graduate of Michigan State and played 13 seasons in the NBA.
Good to be Home in December
Tennessee has won 16 of its last 17 December home games, dating to December 20th, 2011. That equates to a .941 winning percentage. The lone loss during that span came last season when the Vols suffered a 65-58 setback to NC State (December 18th, 2013).
Included in those 16 victories are wins over ranked Wichita State and Butler teams, as well as triumphs over Xavier, Virginia and Kansas State.
A Win Would
Snap Tennessee's current three-game losing streak. Preserve Tennessee's unblemished home record this season. Give the Vols 17 wins in their last 18 December home games, dating to 2011.
Extend Tennessee's home winning streak against non-conference opponents to 15 games. That streak dates to December 2013.
Tennessee Looking for Bench Production
Tennessee's bench has been outscored 149-110 this season–or 18.6 to 13.8 points per game. During UT's current three-game losing streak, the Vols' bench has especially struggled to contribute offensively, as UT's reserves have been outscored 21.7 to 12.0 ppg.
In Tennessee's loss at 18th-ranked Butler December 12th, the Tennessee bench was outscored 35-8, with Vols freshman Shembari Phillips scoring all eight of UT's points off the bench.
Punter Riding 20+ Points Streak
Senior Tennessee point guard Kevin Punter Jr. has scored 20 more points in each of UT's last five games, averaging 24.8 ppg over that span. Punter's 20+ streak is the longest by a Vol since Jordan McRae dropped 20+ in five straight games in February-March of 2012-13.
Punter's 22.9 ppg this season rank second in the SEC. He also ranks second in the league in minutes played (35.1 mpg).
Schofield Earns Starting Role
Admiral Schofield
became the first freshman to start a game this season when he earned a spot in the starting five at 18th-ranked Butler December 12th. Schofield averaged 1.5 points and just 6.3 minutes over UT's first six games. But over UT's last two outings, he is averaging 26.0 minutes and providing 14.0 points per game.
He is shooting 64 percent from the field (including 3-for-5 from 3-point range) in the last two games, and he is also a perfect 7-for-7 at the free-throw line during that span.
Tennessee Among Nation's Top Shot-Blocking Teams
Tennessee ranks third in the SEC and tied for 17th nationally with 6.1 blocks per game. Senior Armani Moore's team-high 17 blocks places him 29th nationally with 2.43 blocks per game.
Every Vol who has played in a game this season–with the exception of 6-1 guard Detrick Mostella–has blocked at least one shot.
Vols Must Rebound on the Road
In its four home games this season, Tennessee owns a +1.3 rebounding margin. In those contests, the Vols average 42.2 rpg while giving up 41.0 rpg. In games away from Knoxville, however, Tennessee owns a -9.0 rebounding margin. In those three games–all losses–UT pulls down just 37.7 rpg, and its opponents average 46.7 rpg.
Hubbs Still Sidelined
Junior wing Robert Hubbs III underwent an arthroscopic procedure on his right knee December 1st to address chronic swelling issues that had been present since the preseason. He traveled to–but did not play in–the Vols' game at 18th-ranked Butler December 12th.
The Newbern, Tennessee, native ranks second on the team in minutes played (31.7 mpg) and third in scoring (15.3 ppg) and had scored 159 points over his last 11 games played, dating to last season (14.5 ppg).
Broadcast Information
TV | SEC Network +
Play by Play: Mike Keith
Analyst: Steve Hamer
Reporter: Maddy Glab
Producer: Sam Scott
Radio | Vol Network
Play by Play: Bob Kesling
Analyst: Bert Bertelkamp
Engineer: Tim Berry
Satellite Radio
Sirius: Channel 145 (UT feed)
XM: Channel 191 (UT feed)
Online/Mobile
www.UTsports.com
Free audio stream only
www.WatchESPN.com
Free video stream