Tennessee Titans (3-10) at New England Patriots (11-2)
Sunday, December 20th, 2015 | Noon CST
Foxborough, MA | Gillette Stadium | TV: CBS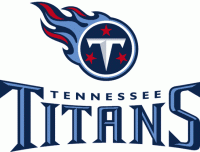 Nashville, TN – The Tennessee Titans (3-10) travel to face the AFC East-leading New England Patriots (11-2) this week. Kickoff at Gillette Stadium (capacity 68,756) is scheduled for 1:00pm EST/noon CST on Sunday, December 20th.
This week's game will be televised regionally on CBS, including Nashville affiliate WTVF NewsChannel 5. Play-by-play announcer Ian Eagle and analyst Dan Fouts will call the action, and Evan Washburn will report from the sidelines.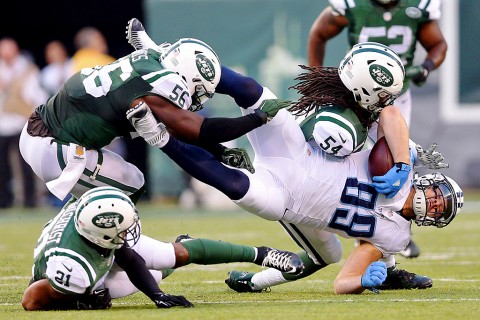 The Titans Radio Network, including Nashville flagship 104.5 The Zone, will carry the game across the Mid-South with the "Voice of the Titans" Mike Keith, analyst Frank Wycheck, gameday host Rhett Bryan and sideline reporter Jonathan Hutton.
Additionally, Westwood One Sports will carry the game to a national radio audience. John Sadak (play-by-play) and Ross Tucker (analyst) will have the call.
Tennessee Titans
Titans Look For Fourth Win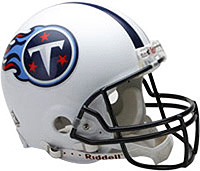 After defeating the Jacksonville Jaguars at Nissan Stadium on December 6th, the Titans traveled to New York last week in search of their second consecutive win. However, they were turned away by the Jets, who used three touchdown passes by Ryan Fitzpatrick and 183 total rushing yards to defeat the Titans 30-8.
The Titans' lone touchdown of the contest came on a 41-yard pass from running back Antonio Andrews to rookie Marcus Mariota, who is the first quarterback in franchise history to record a touchdown reception.
He is the first NFL player in 2015 to pass for a touchdown, rush for a touchdown and catch a touchdown pass, and the only other rookie in the Super Bowl era (1966–present) to accomplish the feat is Kordell Stewart (1995). Prior to Mariota, the most recent player to record touchdowns of at least 40 yards passing, rushing and receiving in the same season was Walter Payton in 1983.
With three games remaining in his rookie season, Mariota already has set the franchise rookie records for pass attempts (364), completions (227), passing yards (2,786) and passing touchdowns (19).
With one more touchdown pass, he could become the 10th quarterback in NFL history to reach 20 touchdown passes as a rookie. Tampa Bay Buccaneers rookie Jameis Winston, who has 18 touchdown passes, also could reach the mark in the next three weeks.
Mariota was not the only offensive player to reach a significant milestone against the Jets. Delanie Walker broke Frank Wycheck's franchise record for the most receptions in a season by a tight end. Wycheck set the record by hauling in 70 passes in 1998, and he matched the mark in 2000. Walker's 2015 totals now include 74 receptions for 871 yards and four touchdowns. He leads the team in all three categories and needs 20 more receiving yards to break the franchise record he set in 2014 of 890 receiving yards by a tight end.
The Titans go into New England looking for their fourth win of the season. They are 2-4 under interim head coach Mike Mularkey, who took the reins on November 3rd. After playing the Patriots, they finish the season with a home game against the Houston Texans (December 27th) and a road finale at the Indianapolis Colts (January 3rd).
New England Patriots
Patriots Seek Another Division Title

After experiencing back-to-back losses to the Denver Broncos (November 29th) and Philadelphia Eagles (December 6th), the Patriots voyaged to Houston last week for a Sunday night battle against the Houston Texans. Tom Brady passed for 226 yards and a pair of touchdowns to help with Patriots win 27-6 and break the rare losing skid. The Patriots defense recorded five sacks and allowed only a pair of field goals in the dominating effort.
As a result of the victory, the Patriots clinched a playoff berth. With one more win or a Jets loss, they will seal their seventh consecutive AFC East title to match the Los Angeles Rams (1973-79) for the most consecutive division titles in NFL history.
With the Patriots getting to the 11-win mark against the Texans, Bill Belichick recorded the 13th 11-win season of his head coaching career to tie Don Shula for the most in NFL history.
Belichick has 12 seasons with at least 11 wins with New England and one such season with the Cleveland Browns.
Brady is in his 16th season with the Patriots. Already this season he became the fourth NFL player to reach 400 career touchdown passes and the fourth player in history with at least 30 or more touchdown passes in six different seasons. Brady leads the NFL with 4,138 passing yards in 2015, and against the Texans, he became the third player in NFL history with at least eight 4,000-yard passing seasons.
Titans-Patriots Series At A Glance
Overall series (regular & postseason): Patriots lead 23-16-1
Regular season series: Patriots lead 22-15-1
Postseason series: Tied 1-1
Total points: Titans 807, Patriots 991
Current streak: Five wins by Patriots
Titans at home vs. Patriots: 10-7
Titans on road vs. Patriots: 6-16-1 (including 1-1 in playofffs)
Longest winning streak by Titans: 4 (1975-80)
Longest losing streak by Titans: 5 (2003–present)
Titans vs. Patriots at Nissan Stadium: 1-2
Last time at Nissan Stadium: PATRIOTS 34 at Titans 13 (9-9-12)
Titans vs. Patriots at Gillette Stadium: 0-3
Last time at Gillette Stadium: Titans 0 at PATRIOTS 59 (10-18-09)
First time: OILERS 24 at Boston 10 (11-25-60)
Mike Mularkey's record vs. Patriots: 0-5
Bill Belichick's record vs. Titans: 9-7 (4-6 with Cleveland; 5-1 with New England)
Mike Mularkey's record vs. Bill Belichick: 0-5
A Titans Victory Would
Give the Titans their first win over the Patriots at Gillette Stadium.
Break the team's five-game losing skid to the Patriots.
Improve Marcus Mariota's starting record to 4-8.
Improve Mike Mularkey's career record as a head coach to 18-36.
What To Look For This Week
QB Marcus Mariota needs four touchdown passes to become the third player in franchise history to pass for four touchdowns at least three times in a season, joining George Blanda (1960, 1961) and Warren Moon (1990).
QB Marcus Mariota can become the first rookie in NFL history to complete three or more touchdown passes in five different games.
QB Marcus Mariota (19 touchdown passes) needs one touchdown pass to become the 10th rookie in NFL history with at least 20 touchdown passes (Jameis Winston has 18 this season).
QB Marcus Mariota (2,786 passing yards) needs 214 passing yards to record the 17th 3,000-yard season in team history and the first since Matt Hasselbeck in 2011.
TE Delanie Walker (74 receptions in 2015) needs six receptions to record the 13th 80-catch season in franchise history.
TE Delanie Walker (871 receiving yards in 2015) needs 20 receiving yards to set a new career high and break his own franchise tight end record of 890 receiving yards in 2014.
TE Delanie Walker (197 receptions with the Titans) needs three catches to pass Alvin Reed (199) for third on the franchise's all time receptions list among tight ends and become the third tight end in franchise history to reach 200 receptions (Frank Wycheck and Bo Scaife).
WR Kendall Wright (248 career receptions for 2,810 yards) needs two receptions to reach 250 for his career. He needs four receptions to pass Bo Scaife (251) for 13th place on the team's all-time receptions list and needs nine yards to pass Alvin Reed (2,818) for 15th place on the team's all-time receiving yards list.
Titans-Patriots Series History
The Houston Oilers and Boston Patriots were charter members of the American Football League in 1960. In the league's inaugural season, the Oilers swept both games, winning 24-10 in New England and 37-21 in Houston. The teams met 20 times as part of the AFL (1960-69), with the Patriots earning a 10-9-1 advantage.
Upon the AFL-NFL merger in 1970, the Oilers moved to the AFC Central Division, and the Patriots began play in the AFC East. They officially became the New England Patriots in 1971.
Since 1989, the Patriots and Titans have met 10 times, and all but three of those games were played in New England.
The most recent Titans-Patriots contest was played at Nissan Stadium to open the 2012 campaign (September 9th), with the Patriots prevailing 34-13. Titans quarterback Jake Locker made his first career start and completed 23 of 32 passes for 229 yards, including a 29-yard touchdown pass to Nate Washington.
However, Locker and Washington were both forced out of the game due to injury on the same play early in the fourth quarter. Meanwhile, Patriots quarterback Tom Brady was 23-of-31 for 236 yards and two touchdowns.
The win gave the Patriots a 23-16-1 overall advantage in the series.
The last time the Titans traveled to New England, they suffered the worst loss in franchise history with a 59-0 defeat in a snowy Gillette Stadium on October 18th, 2009. In the victory, Patriots Brady passed for 380 yards and six touchdowns. In the 2006 regular-season finale at Nissan Stadium, the Titans needed a victory against the Patriots to clinch a playoff berth. However, a 40-23 loss dropped their record to 8-8 and ended their Wild Card hopes.
The clubs met in New England in a 2003 AFC Divisional Playoff game at Gillette Stadium. In the coldest game in Oilers/Titans history (four degrees at kickoff), the Titans fell to the Patriots by a final score of 17-14. The game was tied at 14 going into the fourth quarter, but Adam Vinatieri booted a 46-yard field goal with four minutes to play that would prove to be the game-winner.
Tennessee had a shot at the end as Drew Bennett caught two passes from Steve McNair in the final two minutes, but a third pass to Bennett fell incomplete on fourth-and-12, ending the drive. New England advanced to the AFC Championship and ultimately won Super Bowl XXVIII.
The 2003 playoff game was the second postseason contest between the teams. In a 1978 Divisional Playoff contest, the Oilers traveled to Schaefer Stadium and advanced with a 31-14 win, courtesy of three touchdown passes by Dan Pastorini and 118 rushing yards by Earl Campbell.
Titans-Patriots: The Last Meeting
New England Patriots 34 at Tennessee Titans 13
Sunday, September 9th, 2012
Nissan Stadium, Nashville, TN
| | | | | | |
| --- | --- | --- | --- | --- | --- |
| | 1 | 2 | 3 | 4 | Final |
| New England Patriots | 7 | 14 | 7 | 6 | 34 |
| Tennessee Titans | 3 | 0 | 7 | 3 | 13 |
In the season opener at Nissan Stadium, Tom Brady passed for 236 yards and two touchdowns as the Patriots defeated the Titans 34-13. Brady, who completed 23 of 31 passes with no interceptions, had help from New England's ground game. Running back Stevan Ridley rushed for 125 yards and a touchdown on 21 carries, helping the Patriots control the clock for more than 31 minutes.
Second-year signal caller Jake Locker recorded his first career start for the Titans, only to exit the game early with injury. He was 23-of-32 for 229 yards, one touchdown and one interception before hurting his left shoulder making a tackle in the fourth quarter.
Early in the game, Locker helped the Titans jump out to a 3-0 lead. After receiving the opening kickoff, they moved into New England territory, where they faced a fourth-and-one at the 37-yard line. Locker completed a 24-yard pass to Nate Washington to keep the drive alive, leading to a 28-yard field goal by Rob Bironas.
After an exchange of punts, the Patriots marched down the field to score their first of three first-half touchdowns with a 23-yard touchdown reception by tight end Aaron Hernandez.
In the second quarter, Locker had a costly turnover. On a third-and-13 from his own seven-yard line, he was sacked by Chandler Jones and lost the football. Linebacker Dont'a Hightower recovered the loose ball and then scored on a six-yard return to put the Patriots up 14-3.
Later in the second stanza, the Patriots took 12 plays to march 67 yards on a drive that included only one play more than nine yards. Brady and Rob Gronkowski finished it with a two-yard touchdown pass.
Trailing 21-3 at the start of the second half, the Titans cut the deficit on their first opportunity of the third quarter. A reception by tight end Jared Cook gained 35 yards, and three plays later, Washington scored on a 29-yard pass.
The momentum was short-lived. The Patriots, working with a short field after a Titans punt, needed six plays to go 48 yards, and Ridley scored on a one-yard run to make the score 28-10.
While driving the offense on the ensuing series, Locker attempted a pass for Washington less than a minute into the fourth quarter. Originally ruled a catch and fumble, the ball was picked up by safety Patrick Chung, who raced 49 yards before Locker tackled him. The play left both Washington and Locker injured on the field, Washington with a leg contusion and Locker with a left shoulder injury. Neither would return. However, the officials' ruling on the field was reversed, and the pass was determined to be incomplete.
Matt Hasselbeck finished the series—and the game—for the Titans and put Bironas in position for a 24-yard field goal. It would be Tennessee's final score of the game, while Stephen Gostkowski of the Patriots added consecutive field goals of 25 and 31 yards to close out the contest.