APSU Sports Information
Chris Horton grabs 1000th rebound, Josh Robinson scores 30

Clarksville, TN – Josh Robinson scored a career-high 30 points, including a Dunn Center record 14-of-14 free throws, while Chris Horton snatched his 1,000th career rebound as Austin Peay State University held off Wofford, 84-77, Tuesday night, in non-conference basketball action.
The victory was the Govs' second straight and pulled them one game shy of .500 at 6-7.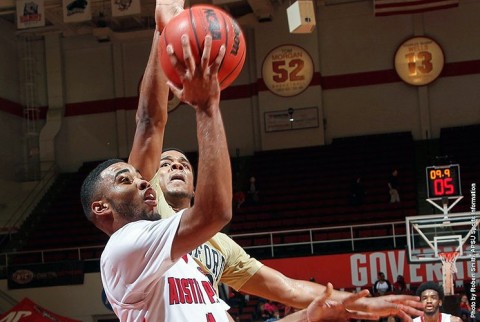 It was the fourth straight loss for Wofford, the two-time defending Southern Conference tournament champions, and dropped it to 3-8 on the season.
The Terriers used the near-heroic play of freshman guard Fletcher Magee to almost pull off a miracle comeback. He had 16 second-half points and nailed fourth final-half three pointer with 59 seconds left to pull the Terriers within four, 78-74, after APSU led by as much as 19 second-half points.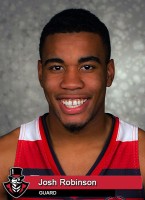 But two free throws by Terrell Thompson and four by Robinson over the final 58 seconds finally put the game away. Robinson was six-for-six at the line in the second half, all coming in the final 1:08. In fact, his 14-for-14 effort exceeded the Dunn Center mark of 11-for-11, set by Morehead State's Marty Cline (1/15/94). APSU's previous facility record was 10-for-10, set by Donald Tivis (1/23/91) and tied by Travis Betran (2/15/14).
For the game Robinson connected on 7-of-9 field goals, including a pair of three-pointers, in reaching 30 points for the first time. His previous high was 25 against IPFW, November 18th.
"Josh was very efficient," APSU coach Dave Loos said. "They attack the perimeter on defense so we told our guys to attack the basket (off the dribble). Josh was very good at getting to the basket and finishing."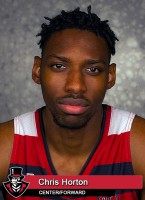 Horton, meanwhile, entered the game needing eight rebounds to become only the second APSU in history to reach that total (Tom Morgan, 1431. 1952-58). He didn't get his first rebound until the 5:01 mark of the first half and only have three at halftime. But with 8:15 left in the game he snatched his eighth of the contest.
Horton finished with 13 rebounds for the night to go with 20 points, his 10th straight double-double and 11th overall.
"We knew Chris was a good rebounder when we recruited him," Loos said. "But his game has improved so much since he has been here. He has that knack of finding the basketball."
Khalil Davis (15 points) and Thompson (10) points rounded out the Govs double-figure scoring as the Govs shot 61 percent (26 of 43) from the floor and 76 percent (28 of 37) from the free-throw line, thanks largely to Robinson.
Magree ended the contest with a career-best 27 points, his first 20-point game since the opener at Missouri.
The first half seemingly was a game of turnovers before the Governors settled down offensively while continuing to turn up the defensive pressure. Wofford came in averaging an NCAA-low 9.7 turnovers per game—the Govs forced 11 in the first half.
"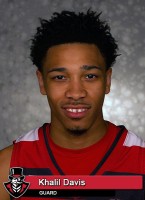 Even though they still shot 50 percent (10 of 20) in the first half, I thought it was our defense that really made the difference in the first half," APSU coach Dave Loos said. "They are a team that doesn't turn it over much but we got after them on the perimeter and forced some things. As I have said before, our defense created our offense."
APSU will take time off for Christmas before returning to action against Texas A&M-Corpus Christi, 7:00pm, December 28th, in the second of a six-game homestand.
Video – Chris Horton
It'll be a Merry Christmas indeed for Chris Horton, who became just the second player in APSU history with 1,000 points and 1,000 rebounds in his career after a 20-point, 13-board game against Wofford.
Box Score
Wofford (3-8) 77, Austin Peay (6-7) 84
| | 1 | 2 | Total |
| --- | --- | --- | --- |
| Wofford College | 30 | 47 | 77 |
| Austin Peay | 43 | 41 | 84 |
Wofford College 77
Player
FGM
-FGA
3FGM
-3FGA
FTM
-FTA
OFF
-DEF
TOT
PF
TP
A
TO
BLK
STL
MIN
24
Justin Gordon
6-8
0-0
1-2
1-2
3
5
13
1
3
0
0
23
5
Eric Garcia
2-9
2-6
2-4
0-3
3
4
8
4
2
0
1
33
20
Jaylen Allen
4-8
0-3
0-0
0-1
1
4
8
1
0
0
1
12
12
Spencer Collins
1-3
0-2
3-4
0-0
0
1
5
1
1
0
0
16
31
Cj Neumann
0-3
0-1
0-0
0-5
5
4
0
2
2
0
3
32
3
Fletcher Magee
8-16
7-11
4-4
0-0
0
2
27
0
4
0
2
30
1
Derrick Brooks
3-4
1-1
0-0
1-2
3
3
7
5
0
0
1
26
33
Cameron Jackson
3-3
0-0
1-2
2-2
4
2
7
0
1
0
1
14
50
Matthew Pegram
1-2
0-0
0-0
0-0
0
1
2
0
0
0
0
12
15
Trevor Stumpe
0-1
0-0
0-0
0-0
0
0
0
0
0
0
0
2
TM
TEAM
0-0
0-0
0-0
2-1
3
0
0
0
0
0
0
0
Totals
28-57
10-24
11-16
6-16
22
26
77
14
13
0
9
200
Austin Peay 84
Player
FGM
-FGA
3FGM
-3FGA
FTM
-FTA
OFF
-DEF
TOT
PF
TP
A
TO
BLK
STL
MIN
4
Josh Robinson
7-9
2-2
14-14
1-1
2
1
30
3
3
0
1
33
5
Chris Horton
7-12
0-0
6-11
3-10
13
2
20
0
4
2
0
36
11
Khalil Davis
5-8
1-3
4-6
0-4
4
1
15
1
3
0
3
34
0
Terrell Thompson
3-4
1-1
3-4
0-2
2
2
10
1
4
0
1
27
42
Kenny Jones
3-5
0-0
0-0
0-4
4
3
6
1
1
2
1
26
3
Chris Porter-Bunton
1-1
0-0
1-2
1-0
1
3
3
0
1
0
0
12
2
Jared Savage
0-2
0-1
0-0
0-3
3
3
0
0
0
0
0
14
45
Zach Glotta
0-1
0-0
0-0
0-0
0
2
0
1
0
0
1
13
1
Assane Diop
0-1
0-0
0-0
1-1
2
1
0
0
2
0
0
5
TM
TEAM
0-0
0-0
0-0
0-0
0
0
0
0
0
0
0
0
Totals
26-43
4-7
28-37
6-25
31
18
84
7
18
4
7
200