UT Athletics Department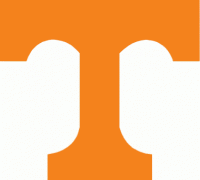 Knoxville, TN – An impressive final stretch that saw Tennessee hit six of its final seven field goals propelled the Volunteers to a 76-67 victory over in-state foe East Tennessee State on Tuesday night at Thompson-Boling Arena.
Tennessee started the second half hitting just five of its first 24 shots from the field before the closing stretch, a 15-2 run over the final 3:51 capped by a thunderous dunk from Robert Hubbs III to put an exclamation point on the victory.
Detrick Mostella led the Volunteers with 17 points, tying a career-high. Armani Moore scored 14, Kevin Punter Jr. 13 and Hubbs finished with 11.
Tennessee sprinted out to a strong first half, leading by nine, 42-33, at the break. UT pushed the lead to 10 on a free throw to begin the second half after a technical foul was assessed to the ETSU bench.
After the opening free throw by Punter, the Buccaneers exploded for an 11-3 run capped by a Deuce Bello dunk to give ETSU its first lead, 47-46. From there, neither team would lead by more than four points until UT's final run in a back-and-forth second half that saw 10 lead changes and eight ties.
Ge'Lawn Guyn led all scorers with 22 for ETSU, while A.J. Merriweather contributed 11 for the Bucs.
Mostella's 17 points put the sophomore in double-figures in consecutive games for the first time in his career. The performance builds on his 13 points against Gonzaga in Seattle last Saturday.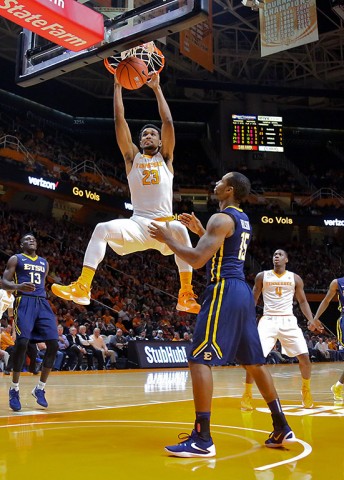 His point total was his most in a home game; his previous high of 17 came vs. VCU in Annapolis in his first college game on November 14th, 2014.
Devon Baulkman was a perfect 2-for-2 from 3-point range, the 10th game in a row the senior has knocked down a trey. Baulkman has hit at least one in 10 of 11 games this season, only missing in the opener vs. UNC Asheville.
The streak is the longest by a Vol since Jordan McRae made at least one 3-pointer in the first 25 games of the 2013-14 season. Overall, McRae made a 3-pointer in 37 games in a row dating to the final 12 games of the 2012-13 season.
Moore added a team-best 12 rebounds to his 14 points for his second double-double of the season and sixth of his career. His previous double-double this season came against Gardner-Webb with 15 points and 16 boards.
Tennessee improved to a perfect 6-0 at Thompson-Boling Arena in 2015-16. The Volunteers have now won 16 consecutive home non-conference games, dating to a December 2013 loss to NC State. UT has won 18 of its last 19 games played at home in December dating to December 20th, 2011, the only loss coming against the Wolfpack in 2013.
The Vols improved to 15-2 all-time against ETSU. The Vols have won nine games in a row and are 11-2 against the Bucs in Knoxville. ETSU's lone wins in the series came in 1989 and 1991.
"I'm really happy for our team. We knew coming in it was going to be a really, really hard fought game. They (ETSU) are talented and extremely well-coached," stated Tennessee head coach Rick Barnes.
"We scored 6 out of 7 baskets at the end of the game. We stayed in zone a little bit trying to protect KP. We went small. That is the first time this year that line-up has ever been on the floor together. I thought they did some really good things. I just loved the fire we competed with there at the end. It was really a good win for us," said Barnes.
Video Highlights
Tennessee put together a 15-2 rally over the final four minutes as it topped ETSU, 76-67, at Thompson-Boling Arena (December 22nd, 2015).
Next Up
The Tennessee Volunteers are back on the court after Christmas to take on the Tennessee State Tigers Tuesday, December 29th, 2015 at Thompson-Boling Arena. Tip off is set for 1:00pm ET (12:00pm CT).
Box Score
East Tennessee (5-6) 67, Tennessee (6-5) 76
| | | | |
| --- | --- | --- | --- |
| | 1 | 2 | T |
| East Tennessee | 33 | 34 | 67 |
| Tennessee | 42 | 34 | 76 |
East Tennessee State Buccaneers
MIN
FGM
-A
3PM
-A
FTM
-A
ORB
DRB
RB
AST
STL
BLK
TO
PF
PT
Isaac Banks, F
22
1-2
0-0
0-0
1
4
5
0
0
0
2
1
2
A.J. Merri- weather, G
29
4-11
1-3
2-2
2
7
9
2
0
0
2
2
11
Ge'Lawn Guyn, G
37
7-18
3-10
5-6
1
5
6
2
1
0
3
3
22
Petey McClain, G
19
0-1
0-1
0-0
0
3
3
1
0
0
0
2
0
T.J. Cromer, G
29
4-13
1-4
0-0
1
1
2
4
0
0
1
4
9
Peter Jurkin, C
18
2-3
0-0
1-3
2
5
7
0
1
1
1
4
5
Abednego Lufile, F
5
1-2
0-0
0-0
0
1
1
0
0
0
0
0
2
Lester Wilson, F
9
3-6
2-4
1-1
1
4
5
0
0
0
0
1
9
Desonta Bradford, G
11
1-2
1-1
0-0
0
1
1
0
1
1
0
1
3
Deuce Bello, G
21
2-10
0-4
0-0
2
1
3
4
1
0
1
2
4
25-68
8-27
9-12
12
33
45
13
4
2
10
20
67
36.8%
29.6%
75.0%
Tennessee Volunteers
MIN
FGM
-A
3PM
-A
FTM
-A
ORB
DRB
RB
AST
STL
BLK
TO
PF
PT
Armani Moore, F
37
6-17
0-3
2-5
3
9
12
1
0
0
2
1
14
Admiral Schofield, F
8
1-4
1-2
0-0
0
1
1
1
0
0
0
1
3
Kyle Alexander, F
16
1-2
0-0
3-4
1
1
2
0
0
3
1
1
5
Devon Baulkman, G
33
2-3
2-2
2-2
1
3
4
3
3
1
2
2
8
Kevin Punter, G
28
3-8
1-2
6-8
0
8
8
5
0
0
0
3
13
Ray Kasongo, F
4
0-1
0-0
0-0
2
1
3
0
0
1
0
0
0
Derek Reese, F
14
1-1
0-0
1-2
3
1
4
0
0
1
1
0
3
Robert Hubbs III, G
30
5-12
0-3
1-3
2
5
7
0
1
0
0
2
11
Detrick Mostella, G
27
5-13
2-6
5-7
0
2
2
4
0
0
1
2
17
Shembari Phillips, G
3
1-2
0-0
0-0
0
1
1
0
0
0
1
0
2
25-63
6-18
20-31
13
33
46
14
4
6
8
12
76
39.7%
33.3%
64.5%
Technical Fouls: Players: None – Teams: East Tennessee State (1)

Officials: Brian Shey, Byron Jarrett, John Hampton

Attendance: 14,684