Austin Peay Sports Information

Nashville, TN – In its return from winter break, Austin Peay State University track and field team's performance at Sunday's Ed Temple Invitational gave head coach Doug Molnar a sense of what's working and what still needs refinement as the Govs get into the heart of indoor season.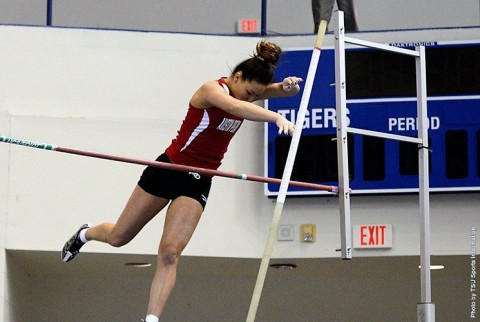 Austin Peay finished fourth in the Division I standings in the meet with 41 points, three behind Ohio Valley Conference foe Tennessee Tech. Host Tennessee State won the event with 61 points.
Kymmalett Ross' versatility was on display Sunday. The senior won the 55m dash with a 7.15 mark, and followed that with a runner-up showing in the 200m (25.05).
Another versatile Gov, sophomore Sonja White, earned points in the 200m dash (fifth, 25.81) and just missed doing the same in the 55m hurdles with a sixth-place, 8.31 mark.
Junior Terri Morris continued her return to form in the 400m, placing third in the event at 58.34. She then joined Ross, White and senior Breigh Jones to take third in the 4x400m relay with a 3:58.35 mark.
Austin Peay's distance runners stepped up to earn points, with juniors Unjula Lester (fourth, 5:26.46) and Molly Jordan (fifth, 5:33.72) scoring in the mile and senior Alexis Eldridge (fifth, 19:32.14) picking up a point in the 5000m run.
The field events again were paced by a pair of precocious pole vaulters. Freshmen Savannah Amato (first, 3.64m) and Dascha Hix (second, 3.34m) again took the top two spots in the field, while sophomore Gretchen Rosch (fourth, 3.04m) just missed giving the Govs a clean sweep of the podium.
Senior Michella Carter took runner-up honors in the shot put with an 11.68m (38-04), while junior Chancis Jones (third, 5.66m) and freshman Nia Gibbs (third, 1.54m) found the podium in the long jump and high jump, respectively.
Austin Peay's indoor season continues next weekend at East Tennessee State's Niswonger Invitational, beginning Friday in Johnson City, TN.