Austin Peay Sports Information

Clarksville, TN – Austin Peay State University women's basketball team charged back from a 16-point deficit, but did not score over the final six-plus minutes in a 66-58 Ohio Valley Conference loss to Tennessee State, Thursday night, at the Gentry Center.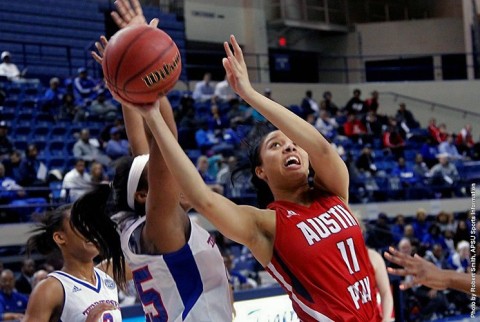 Austin Peay (5-12, 3-1 OVC) got off to a slow start and trailed by 10 points, 38-28, at halftime.
The Govs slow start included a second quarter that saw it go 0-for-9 from the floor with its eight points all coming at the free throw line.
Tennessee State (8-9, 3-1 OVC) opened the second half with a 10-4 run to extend its lead to 16 points, 48-32, less than five minutes into the third quarter. It would be the Lady Tigers largest lead but Austin Peay started chipping away as junior center Tearra Banks and senior guard Tiasha Gray each hit a pair of free throws on back-to-back possessions.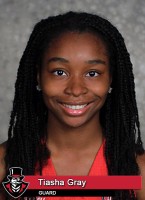 Those four points kick started a 12-0 APSU burst that needed just 2:30 to slash the lead to four points. Tennessee State would stem the Govs run, but led by just three points, 52-49, at quarter's end.
Austin Peay opened the fourth quarter with a 9-2 run, including seven straight points. Junior forward Beth Rates hit a layup, junior guard April Rivers followed with a three-pointer that gave APSU its first lead and Gray finished the run with a layup to give APSU its largest lead, 58-54, with 6:19 left.
But just as the Govs gained all the momentum, the offense went silent. Austin Peay did not score over the final 6:19, going 0-for-9 from the floor with seven turnovers. Tennessee State closed the game with a 12-0 run to grab the win.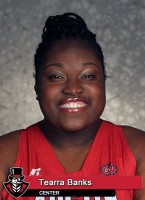 Gray led Austin Peay with a 14-point outing, but struggled through a 4-of-16 shooting night. Banks added 13 points off the bench, making 4-for-5 from the floor. Nine different Govs scored in the contest.
Brianna Lawrence led Tennessee State with 16 points. I'mani Davis added 15 points and Jayda Johnson chipped in 14 points.
Austin Peay continues its three-game road trip with a 5:00pm, Saturday contest at Belmont.
Box Score
APSU (5-12, 3-1 OVC) 58, Tennessee State (8-9, 3-1 OVC) 66
| | 1 | 2 | 3 | 4 | Total |
| --- | --- | --- | --- | --- | --- |
| Austin Peay | 20 | 8 | 21 | 9 | 58 |
| Tennessee State | 23 | 15 | 14 | 14 | 66 |
Austin Peay 58
Player
FGM
-FGA
3FGM
-3FGA
FTM
-FTA
OFF
-DEF
TOT
PF
TP
A
TO
BLK
STL
MIN
Gray, Tiasha
4-16
1-7
5-8
0-4
4
3
14
4
7
0
4
38
Baker, Falon
2-6
2-6
2-3
0-6
6
0
8
0
3
0
0
26
Alexander, Brianne
2-3
0-0
2-4
1-1
2
3
6
1
2
0
0
18
Rates, Beth
2-3
0-0
0-0
3-3
6
2
4
0
5
1
1
24
Norton, Symantha
1-2
1-1
0-0
0-3
3
1
3
2
4
0
0
10
Banks, Tearra
4-5
0-0
5-6
3-3
6
1
13
0
5
1
0
19
Gregory, Keisha
1-5
1-3
2-2
0-3
3
3
5
0
1
0
1
21
Rivers, April
1-5
1-3
0-0
1-2
3
2
3
0
0
0
1
14
Olszewski, Shelby
0-0
0-0
2-2
0-1
1
0
2
0
0
0
0
5
Gooch, Sydney
0-4
0-0
0-0
0-2
2
0
0
0
0
1
0
15
Rich, Madison
0-2
0-1
0-0
1-0
1
0
0
0
1
0
0
10
TEAM
0-0
0-0
0-0
4-2
6
0
0
0
0
0
0
0
Totals
17-51
6-21
18-25
13-30
43
15
58
7
28
3
7
200
Tennessee State 66
Player
FGM
-FGA
3FGM
-3FGA
FTM
-FTA
OFF
-DEF
TOT
PF
TP
A
TO
BLK
STL
MIN
Lawrence Brianna
6-13
0-2
4-6
1-3
4
2
16
0
1
2
3
40
Davis, I'mani
5-9
2-4
3-3
0-5
5
1
15
4
2
2
4
35
Johnson, Jayda
5-16
0-0
4-4
3-3
6
2
14
2
5
0
2
32
Palma, Samantha
3-7
0-0
2-4
1-4
5
3
8
0
1
0
0
28
Cox, Michelle
1-6
0-2
2-2
0-2
2
2
4
5
4
1
2
23
Sims, Asia
1-1
1-1
0-0
0-0
0
2
3
0
0
0
0
5
Beard, Maxine
0-0
0-0
2-2
0-1
1
2
2
2
3
0
0
12
Beatty, Diamond
1-2
0-1
0-0
0-0
0
2
2
1
1
0
1
5
Hood, Tyesha
1-2
0-0
0-0
0-1
1
2
2
0
0
1
0
3
Brightwell Jordan
0-1
0-1
0-0
1-2
3
1
0
0
1
0
0
11
Parker, Tiana
0-2
0-0
0-0
1-4
5
1
0
1
1
0
0
6
TEAM
0-0
0-0
0-0
1-1
2
0
0
0
0
0
0
0
Totals
23-59
3-11
17-21
8-26
34
20
66
15
19
6
12
200