Austin Peay Sports Information

Johnson City, TN – Day One of the 2016 ETSU Invitational proved to be a successful one for Austin Peay State University track and field team, as the Governors produced a victor in the field and a number of qualifiers on the track for Saturday's final.
Topping the list for not only Austin Peay but the entire 25-competitor triple jump field was junior Kaylnn Pitts.
The Woonsocket, Rhode Island native hit 11.90m (39-00.50) on her second jump, winning by nearly a foot over USC Upstate's KeAndrea Ladson. Pitts first and second attempts of the meet were the top two attempts by any competing athlete on Friday.
On the track, juniors Myiah Johnson (8.78) and Amia Butler (8.92) qualified second and third, respectively, for Saturday's final and will be joined by sophomore Sonja White (9.13), who picked up the eighth qualifying position by one-thousandth of a second over Indiana Tech's Jaquel Taylor.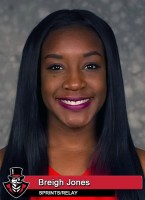 Returning to her comfort zone in the 400m dash, senior Breigh Jones qualified second (56.93) for Saturday's final, setting up a rematch against Jernail Hayes. Last season, Jones was stride-for-stride in the final against the world indoor 400m champion for much of the race en route to becoming the first APSU athlete to break 55 seconds in the indoor 400m dash.
Junior Terri Morris, who qualified sixth (58.38), also will represent Austin Peay in the 400m final.
Both Ross sisters displayed their talents Friday. Sophomore Keyondria Ross posted a top-five finish in both the triple jump, hitting 11.41m (37-05.25) for a fifth-place tie, and high jump, where she was runner-up thanks to a personal-best 1.61m (5-0.3.25) mark.
Meanwhile her sister, senior Kymmalett Ross, finished third in the 60m dash preliminaries with a 7.63 mark—one-hundredth of a second off her personal best and two-hundredths behind the school indoor record, set last season by Erika Adams.
The elder Ross also led a trio of APSU athletes into Saturday's 200m dash final. Her 24.76 mark left her third after the preliminaries, and she was followed closely by Jones (25.48) and Morris (personal-best 25.55).
Junior Michella Carter closed the day on a strong note for APSU. Her personal best 12.71m (41-08.50) mark secured her a fourth-place finish in the shot put.
Action continues Saturday morning with the 3000m run.