APSU Sports Information
A.J. Gaura becomes Volunteer Assistant

Clarksville, TN – Austin Peay State University baseball head coach Travis Janssen has completed his coaching staff, hiring Greg Byron as assistant coach, Thursday.
In addition, Janssen announced former Govs pitcher A.J. Gaura will move into the team's volunteer coach position for the upcoming season.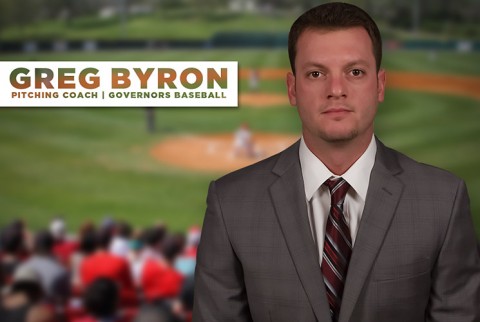 He fills the position vacated by Greg Bachman, who accepted a coaching job at Space Coast Junior/Senior High School in Cocoa, Florida.
Byron is in charge of the team's pitching staff. He joins Janssen's staff after two seasons as a coach at the Triple-A level. Byron worked in the Minnesota Twins organization with the Rochester Red Wings during the 2015 season. He was with the St. Louis Cardinals organization in 2014 as an assistant with the Memphis Redbirds.
"Greg comes highly recommended by some very good baseball people; people that I really have a lot of respect for," said Governors head coach Travis Janssen. "His experience at both the college and the professional levels is going to pay dividends for our pitching staff. They really will have an opportunity to improve as they work with him every day. Greg is a first-class person off the field and really has a passion for the game of baseball. He has a strong work ethic which is so important to being a good coach. I am excited to see the impact Greg will have on our student-athletes."
"I am thrilled to join Austin Peay and welcome the opportunity to be part of Coach Janssen's staff," said Byron. "I'm looking forward to working with and learning from both Coach Janssen and Coach Dunbar. I believe the experience and success they each bring to the program and my own experiences will help our student-athletes continue to grow and achieve their goals – not only on the field but also off the field and in their daily lives. I am excited about the character and talent of the guys in our clubhouse. Austin Peay baseball has a rich tradition of winning and I believe we have the ability to add to that tradition."
Prior to his time as a coach and scout in the minor leagues, Byron was a volunteer assistant at both Iowa and Central Arkansas. While at Iowa he worked with program's catchers and assisted pitching coach Scott Brickman.
Byron's time at Central Arkansas saw him help the team to the 2013 NCAA Tournament as a volunteer assistant/pitching coach. The Bears, who recorded a program-record 42 wins, won the Southland Conference Tournament as the seventh seed by capturing five consecutive elimination games.
The Bears went on to post a 3-2 Starkville Regional record, forcing an elimination game for the regional championship against Mississippi State after eliminating South Alabama and Mercer. UCA finished the year ranked No. 25 in the Collegiate Baseball poll.
Three Central Arkansas players were selected in the 2013 MLB First-Year Player Draft, including left-handed pitcher Jeffery Enloe, who was taken in the 37th round by the San Diego Padres.
Following the 2013 season, Byron served as the pitching coach for the Thunder Bay Border Cats in the Northwoods Prospects League. He has also served as associate head coach/pitching coordinator for the Ontario Blue Jays (18U) from 2008-12, and was a graduate assistant at Bethany (Kan.) College in 2008-09.
Byron also attended Scout School for the Toronto Blue Jays in 2011, threw batting practice for the MLB Pre-Draft Camp at the Rogers Centre in 2010 and assisted in gathering information for the Blue Jays' draft-eligible collection in 2009-10.
Byron played professional baseball from 2009-11, playing for the Lake Erie Crushers (2009), Quebec Les Capitales and Washington Wild Things (2010) and New York Federals (2011).
After a junior college stint at Cerro Coso Junior College, Byron spent two years in the state of Kansas. He played his junior season at Kansas Wesleyan in 2007 and posted an 8-3 record as part of a Coyotes team that won the Kansas Collegiate Athletic Conference regular-season title. Byron then transferred to Bethany College where he posted an 11-1 record during his senior campaign and led NAIA with a 1.30 ERA. He was a 2008 NAIA All-American and named a Kansas Collegiate Athletic Conference first-team all-conference and first-team All-Region IV selection.
Byron earned his bachelor degree in business management from Bethany College in 2015 and an associate's degree from Cerro Coso Junior College.
The Greg Byron File
Hometown – Toronto, Ontario, Canada
High School – Sir John A. McDonald S.S.
College –
Cerro Coso Junior College [Calif.] (A.D., General Studies, 2006)
Bethany [Kan.] (B.S., Management/General Studies, 2015)
Coaching Experience –
Rochester (AAA-Minnesota), assistant coach/video, 2015
Memphis (AAA-St. Louis), assistant coach, 2014
Iowa, volunteer assistant, 2013-14
Thunder Bay Border Cats (Northwoods), pitching coach, 2013
Central Arkansas, volunteer assistant (pitching), 2012-13
Ontario Blue Jays (18U team), associate head coach/pitching coordinator, 2008-12
Bethany College, graduate assistant/pitching coach, 2008-09
Professional Playing Career –
New York Federals (Can-Am League), 2011
Washington Wild Things (Frontier League), 2010
Quebec Les Capitales (Can-Am League), 2010
Lake Erie Crushers (Frontier League), 2009
Collegiate Playing Career –
Bethany (Kan.), 2008
Kansas Wesleyan, 2007
Cerro Coso JC, 2005-06
What they are saying about Greg Byron
"I've coached baseball for many years, from high school to the big leagues and Greg Byron is hands down one of the best baseball people I've ever been around. He has the unique ability to combine tremendous character with work ethic, passion, knowledge of the game and competitive fire to demand the most out of himself and the players he's been entrusted to lead. What sets Greg apart the most, in my opinion, is that he develops a personal relationship with and truly cares about all of his players." – Jamie Pogue, St. Louis Cardinals, bullpen catcher
"Passion and energy combined is the best way to describe Greg.  He is hungry to educate players on the game and is very serious about building men and a winning program.  Always looking for a new edge he can bring to his players and won't stop until he's helped them reach thier full potential.  A very emerging coach in this game. Austin Peay is fortunate to have him as part of their program." – Dallas Black, Toronto Blue Jays scout