Austin Peay (5-13/3-2 OVC) at Morehead State (7-12/1-4 OVC)
Wednesday, January 20th, 2016 | 5:00pm (CT)
Morehead, KY | Johnson Arena

Morehead, KY – Austin Peay State University women's basketball team closes its three-game Ohio Valley Conference road trip with a 5:00pm (CT), Wednesday contest against Morehead State at Johnson Arena.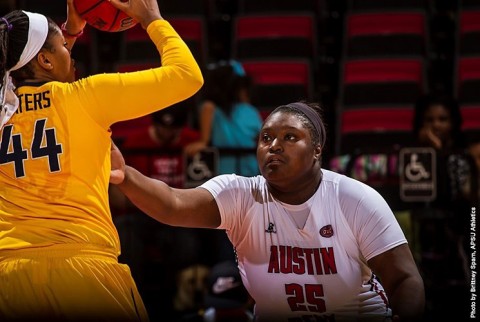 The Govs search for an elusive road win was extended following its 88-82 OVC loss to Belmont, Saturday, in Nashville. Despite facing a double-digit deficit in the first half for the fourth straight outing, Austin Peay battled back to take a slim fourth-quarter lead for the fourth-straight game.
However, the Govs defense could not get a crucial stop down the stretch, the Bruins posting a 10-5 run in the final two minutes to hand APSU its second-straight loss.
Senior guard Tiasha Gray saw her career-high 38-point outing go for naught in the loss. She added 11 assists for her second double-double this season. Junior center Tearra Banks added 20 points in a 17-minute outing – her third 20-point effort this season.
Austin Peay will need to have its track shoes at the ready for Wednesday's contest. Morehead State runs the nation's fastest offense, averaging 90 possessions per game according to WBBState.com. For comparison, APSU is ranked 179th nationally at 72.8 possessions per game.
The Eagles high pace of play has helped them lead all OVC teams in scoring at 82.8 points per game, more than eight points per game more than second-place Belmont. However, Morehead State also ranks 12th among OVC teams in scoring defense, with opponents averaging 84.9 points per game, 10 points more than 11th-place Eastern Illinois's defense.
Austin Peay and Morehead State will meet for the 77th time since 1976-77. The Eagles own a 39-37 edge in the series, including last season's win in Clarksville. That win was the latest in a string that has seen the road team win in each of the last three meetings.
The More You Know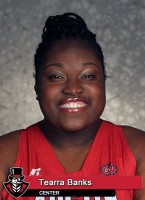 Bank on Banks
Junior center Tearra Banks is in rarified air at the season's halfway point, entering Saturday's game ranked 8th among Division I players in field goal percentage (60.2). Only one player in APSU history has finished a season shooting better than 60 percent – Gerlonda Hardin, who accomplished the feat all four years she played at Austin Peay and finished her career shooting 61.8 percent from the floor.
Gray Milestone Watch Continues
Senior guard Tiasha Gray became only the fifth APSU women's basketball player to reach the 1,500-point plateau with her 27-point performance at East Tennessee, December 21st: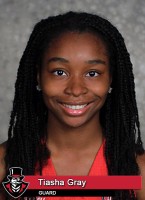 OVC Career Steals | Currently 7th (278)
Next: 288 by Danielle Carson (YSU, 1982-86)
APSU Career Steals | Currently 1st (278)
Previous Record: 243 by Tracie Mason (1987-91)
APSU Career Points | Currently 5th (1,643)
Next: 1,805 by Shondra Maxwell (1986-90)
APSU Career Assists | Currently 3rd (455)
Next: 507 by Jeanne Hinchee (1978-82)
About the Austin Peay Lady Govs
Facing one of the nation's toughest nonconference slates (32nd ranked) took its toll early as APSU averaged just 59.3 points per game against its 11 Division I opponents. It has popped the lid on its offense in conference action, averaging 77.2 points per game and topping the 80-point barrier three times.
Austin Peay has largely been the Gray and Banks show in 2015-16, with the duo combining to score 595 of the team's 1209 points (49.2 percent). The search for a consistent No. 3 scorer has hindered Austin Peay's offense. In the Govs 16 Division I contests, Gray has been one of APSU's top two scorers in all 16 while Banks has been one of the top three 13 times.
Among the rest of the roster, six different players have been one of the team's top three, with redshirt freshman guard Falon Baker breaking into the top three seven times.
About the Morehead State Eagles
Morehead State is an extremely balanced scoring team with seven players averaging eight or more points per game (each at least 10 percent of the team's 82.9 points per game).
Sophomore forward Eriel McKee leads the Eagles offense with 15.3 points per game and has reached double-digit scoring territory in all 19 games this season. Freshman guard Miranda Crockett is a five-time OVC Freshman of the Week honoree, and is averaging 12.5 points per game.
While the MSU offense is noteworthy, its defense shouldn't be overlooked as they are ranked first nationally in blocked shots (6.8 per game),14th in turnovers forced (21.1) and 18th in steals per game (10.9).
An Austin Peay Win Would
End its 10-game road losing streak… Be its second-straight win at Johnson Arena… Keep APSU above .500 in OVC play at 4-2 through the first third of the league slate… Make David Midlick 6-13 overall and 4-2 in OVC play in his first season at Austin Peay and 51-29 in his third season as a head coach overall… Make the Govs 456-662 since 1976-77 and 232-332 in OVC action.
Broadcast Information
OVC Digital Network
Presented by Morehead State Athletics
Live Video: www.OVCDigitalNetwork.com
Live APSU Audio: www.LetsGoPeay.com/Listen
Live Statistics: www.PeayStats.com