UT Athletics Department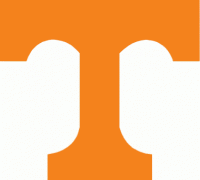 Knoxville, TN – Tennessee was unable to counter a barrage of 3-pointers from Vanderbilt as the Commodores picked up an 88-74 victory over the Volunteers at Thompson-Boling Arena Wednesday.
Despite Vanderbilt's significant height advantage, with three players standing 7-foot or taller, the Vols dominated the points in the paint, 34-18. The difference came beyond the arc, as the Commodores hit 13 3-pointers, to just four for the Volunteers.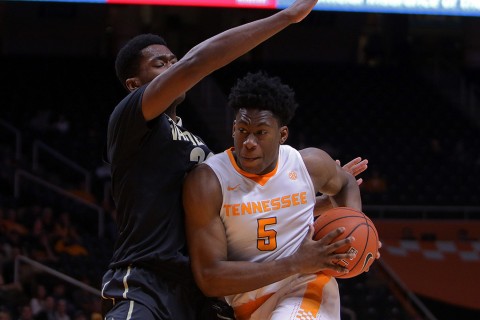 10 of those 3-pointers for Vanderbilt came in the first half, as it built a 44-23 halftime advantage. UT was held without a 3-pointer until
Kevin Punter
Jr. hit his first with 8:04 remaining in the second half.
Tennessee did not stop fighting in the second half and rallied to outscore Vanderbilt, 51-44, in the second period.
Punter led all scorers with 26 points, including making 3-of-5 from 3-point range and shooting a perfect 5-of-5 at the free throw stripe. Armani Moore finished with 14 points, while Robert Hubbs III added 10.
Wade Baldwin IV led VU with 25 points. Matthew Fisher-Davis scored 18, with all of his points coming on six 3-pointers.
"Tonight, we played like the team everybody picked to finish 13th in the Southeastern Conference. We came out and did not do very much of anything of what we talked about. We never were able to really put any game pressure on them. We had a chance a couple of times where we could have gotten it (the lead) down around 11 or 12 points. We ended up taking some bad shots," stated Tennessee head coach Rick Barnes.
"When we got down in the first half, we just didn't execute. Guys were putting their head down and trying to go one-on-one. We just didn't give ourselves a chance. Not to take anything away from Vanderbilt because they present problems for us. They can obviously create problems inside with their size. They can also shoot it the way they can. With their size, they are able to pass over us too. We were trying to double some to start the game but weren't doing very good," said Barnes.
The game was the 189th all-time meeting between the in-state foes, a series Tennessee leads 116-73. It is the second-longest series in Tennessee basketball history (trailing the 218 all-time meetings between the Vols and Kentucky).
The win was just the 19th for Vanderbilt all-time in Knoxville and marked the first time VU has won back-to-back games at Thompson-Boling Arena since the 1992-93 and 1993-94 seasons.
Punter in Double-Figures Again
Punter's team-best 26 points gave the senior his 17th game this season in double-figures and 35th in his 50 career games with the Vols.
It was Punter's 13th game this season with 20-plus points after never reaching that plateau in his first season as a Vol in 2014-15.
Trailing at Half
For the first time in SEC play (six games), the Vols trailed at halftime, as they were behind, 44-23, at intermission.
Next Up
Tennessee will play host to #24 South Carolina (17-1) at Thompson-Boling Arena on Saturday at noon in a game that can be seen on the SEC Network.