Nashville, TN – The National Weather Service (NWS) in Nashville has issued a winter storm warning for Clarksville-Montgomery County as well as most of Middle Tennessee through Saturday morning. A winter weather advisory is in effect for the far southern counties of Middle Tennessee through Saturday morning.
It is currently snowing in Clarksville-Montgomery County with 18 MPH winds out of the North. It is 26°F outside and the high today will be 32°F. Power lines are covered in ice from freezing rain early this morning. Some trees, limbs and power lines may be knocked down creating scattered power outages in the area.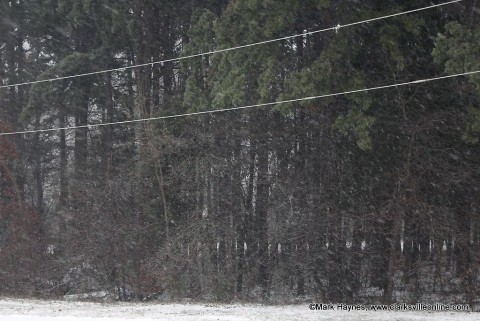 A very strong storm system is moving across Middle Tennessee today, with rain and freezing rain changing to snow from west to east during the day.
Light ice accumulations up to two tenths of an inch are possible north of I-40 early Friday morning.
Later in the day, heavy snow is expected in some areas with 6 to 10 inches of snow possible north of I-40 and west of I-65 and 3 to 7 inches possible north of I-40 and east of I-65.
To the south of I-40, snow totals will range from around 1 inch near the Alabama border up to possibly 5 inches near I-40.
Major travel impacts are expected due to the snow and ice on area roadways today into at least Saturday as temperatures remain below freezing and travel may become impossible in some areas of northwest Middle Tennessee.
Winter Weather Alert Details
Timing: Until 6:00am Saturday.
Main impact: Snow and ice on roads and bridges will create very hazardous travel conditions. Some trees and power lines may be knocked down from the weight of snow and ice and scattered power outages are possible.
Ice Accumulations: up to two tenths of an inch of ice are possible early Friday.
Snow Accumulations: 6 to 10 inches are possible with locally higher amounts.
A winter storm warning means significant amounts of snow, sleet, and ice are expected or occurring. Strong winds are also possible. This will make travel very hazardous or impossible.
Counties Affected
Macon County, Montgomery County, Robertson County, Stewart County, Sumner County, and Trousdale County.