Clarksville, TN – The Bayeux Tapestry, a medieval embroidery that depicts the Norman invasion of England in 1066, contains such elaborate details that only a male artist could have produced it.
As one critic pointed out, it's impossible for a woman to have stitched such accurate-looking military weapons and uniforms.
Excuse me!" Macon St. Hilaire, an Austin Peay State University art student, said recently. "As a military wife, and specifically a woman, I am certainly no expert but have the mental capacity to remember what something looks like, and I imagine women in 1066 had the same level of cognitive ability."
The famous tapestry was created at a time when artists didn't identify themselves with their artwork, and after reading one critic's sexist views, St. Hilaire decided to look into the possibility that women helped stitch some of the great embroideries of the middle ages. In the spring of 2015, she received an APSU Presidential Research Scholar grant, and last semester, she used the grant's $3,000 award to travel to Europe to examine the works first hand.
"For this embroidery project, I want to understand the stitches used to find if there is a way to determine areas worked by different artisans/crafters, the way that brushstrokes in paintings can be analyzed in determining the painter," she said.
Several artists likely worked on the 230-foot wide tapestry, and St. Hilaire believes there is credible evidence that some of them could have been women.
"In the Domesday Book, which served as a kind of census, women are listed with land, with embroidery mentioned as something they taught or produced," she said. "Women often participated in the cottage industries of their husbands or contributed in other occupations, but their husbands would claim it, so it is very unusual and noteworthy to have evidence of specific women."
Last summer, St. Hilaire developed contacts with curators at some of Europe's leading museums, and in November, during the Thanksgiving holiday, she flew to London for a week of research. One afternoon, she was ushered into a back room inside the famed Victoria and Albert Museum to examine 700-year-old embroideries within the museum's private collection. On the back of the fabric, she observed how the old masters made each stitch.
"I had a really great appointment at the Victoria and Albert Museum; I got to put my face practically up on these embroideries to study the stitches," she said.
While in England, St. Hilaire's research also took her to The British Museum, The Clothworker's Center, Durham Cathedral, The Reading Museum and The Ashmolean Museum. At The Royal School of Needlework, in North Yorkshire, she even participated in a gold work embroidery class.
"A lot of what I do is blend studio art practice with historical research, so I will study this and then try to make it into a contemporary artwork," she said.
St. Hilaire had planned to view embroidery collections in France and Brussels, but a week before her trip, a massive terrorist attack took place in Paris. The metro stopped running, and museums closed their doors.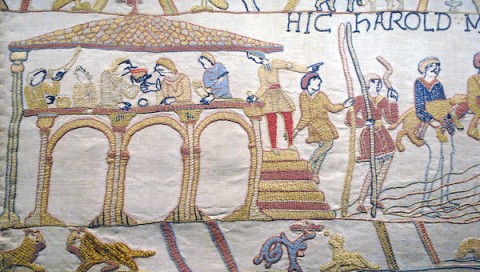 "Rachel Qualls, my friend and research assistant, she and I decided that it wouldn't be wise to get all the way there and possibly not be able to access Wi-Fi to find out if more things were closed or to help us if we got stranded, plus we wouldn't have been able to eat with the entire city shut down," she said. "I was disappointed because I had worked for a year building a relationship with the curator of the museum, and I would have had complete access to the textiles in their collection."
Still, the week in England helped St. Hilaire further her research beyond what she could have done in Clarksville.
"I wouldn't have had this opportunity anywhere other than Austin Peay," she said. "I would have to have been in a graduate program. It was totally amazing."
St. Hilaire will present her research at the University's Research and Creativity Forum later this spring. For information on other student research at APSU,contact the University's Office of Undergraduate Research at or 931.221.7625.