Ohio Valley Conference
Brentwood, TN – All-session tickets for the 2016 Ohio Valley Conference Basketball Championship are now on sale and are just $60.00 through OVC schools' ticket offices until January 31st.
The OVC Championship will be held March 2nd-5th, 2016 at Municipal Auditorium in Nashville, Tennessee.
Fans wishing to sit in the lower level of Municipal Auditorium with other fans from their favorite school should purchase the all-session tickets directly from their school's ticket office. Please note that reserved seating is limited and once a school's allotment is purchased, only general admission tickets will be available.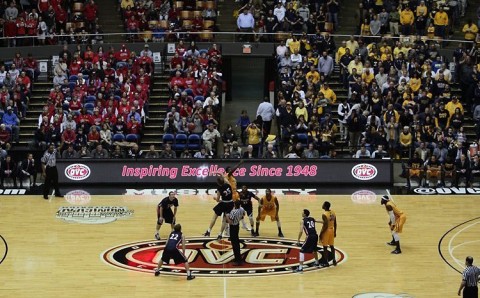 A $60.00 all-session ticket includes admission to all eight sessions of the OVC Championship, which includes seven men's games and seven women's games (seating for women's games is all general admission). Buying a ticket prior to January 31 means each game of the Championship costs just $4.29 apiece.
After January 31 the price of an all-session ticket goes up to $80.
Single session, general admission tickets will be on sale starting in early February through the Municipal Auditorium ticket office. Those tickets will be priced at $30.00 for a men's session and $15.00 for a women's session.
For the fifth season in a row tickets in the lower arena will be assigned via a quadrant seating assignment. That guarantees schools participating in a given session will have the seats closest to the court and grouped with their fans. Fans of schools not participating in a specific session will sit in general admission seats in the upper (balcony) level.
The OVC Tournament will feature the top eight teams on each the men's and women's side.
For the sixth year in a row the men's teams are using a merit-based format where the No. 1 and 2 seeds receive a double bye to the semifinals while the No. 3 and 4 seeds received one bye into the quarterfinals. The first round includes the No. 5 seed against the No. 8 seed and the No. 6 seed against the No. 7 seed.
Starting last year the women's bracket shifted back to a traditional format that pits No. 1 vs. No. 8, No. 2 vs. No. 7, No. 3 vs. No. 6 and No. 4 vs. No. 5 in the first round. Two first round games (featuring the top two seeds) will be played on Wednesday, March 2nd with those two teams getting a day off before semifinal games on Friday, March 4th. The other two first round games will be played on Thursday, March 3rd.
The men's teams continue to use divisional play and seeding is based on the following. The teams that finish in first place in each division will earn the No. 1 and No. 2 seeds, with the top seed going to the team with the best overall conference winning percentage. Seeds 3-8 will be determined by conference winning percentage, regardless of division. OVC women's teams are no longer using divisional play.
OVC Basketball Championship Website | Schools' Ticket Office Information