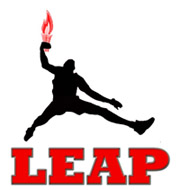 Clarksville, TN – The LEAP Annual 7 Points Scholarship Essay Contest is open to high school seniors. Each year, the theme highlights one of our 7 principles of Leadership, Enlightenment, Achievement, Perseverance, Outreach, Responsibility, and Growth.
In your own words define outreach in the context of helping others then choose a person or persons you admire for their outreach and explain why. Pick an experience from your own life where you benefited from outreach and explain how it has influenced the way you see the world.
Describe your goals and aspirations then explain how once they are reached you will be able to give back and help others.

7 Points Theme Outreach
Essay must address the 2016 – 7 Points Theme
Essay must be 350 – 750 words, typed and double spaced. Must be a senior to apply
Include Name, School, and Contact # in top right corner of each page.
Deadline to submit essay is January 31, 2016.
Entries may be submitted either via email to info@leaporg.net, fax to 931.274.0929, or mail/deliver to 1860 Wilma Rudolph Blvd Clarksville, TN 37040.
$1,000 to be awarded to the winner at our Annual Dining with the Stars Gala on March 5th, 2016 at the Riverview Inn.
For additional info call 931.614.0440 or visit www.leaporg.net/scholarships