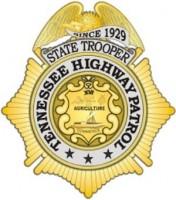 Nashville, TN – The Tennessee Highway Patrol's East Bureau Interdiction Plus Team (IPT) initiated a traffic stop that led to the discovery of 13 kilometers (equal to 29 pounds) of crystal meth, and the arrest of a Texas man on felony drug charges.
Trooper Scott stopped a 2003 Chevy Suburban for a traffic violation on Interstate 40 eastbound in Knox County at approximately 3:40pm on Monday, February 1st, 2016.  The vehicle was occupied by a male driver, who gave multiple conflicting stories regarding his travel destinations.
Further questioning raised suspicions of the investigating trooper, so he requested and received consent to search the vehicle.  THP Interdiction Plus Trooper Kevin Stroup and Sergeant Greg Roberts arrived on scene to assist.
Prior to searching the vehicle, Trooper Scott deployed his K9 around the vehicle, receiving a positive response to the vehicle that drugs may possibly be present.
During the search troopers found inside one of the seats a shrink-wrapped package of crystal meth weighing 1.1 pounds.  The vehicle was moved to a Tennessee Department of Transportation (TDOT) facility where a further search yielded a total of 23 shrink-wrapped packages of ICE, with a total weight of 29 pounds all located within several seats of the vehicle (see photo attached).  Additionally the vehicle and $378 dollars in cash were seized.
Juan Munoz, 48, of Dallas, TX was arrested and charged with felony possession of schedule II drug with the intent to sell and deliver.  The Drug Enforcement Agency was contacted to adopt the case for federal prosecution.
"This interdiction stop is one more example of the importance of our drug interdiction efforts on our interstates.  Because of its geographic location, Tennessee is a major drug trafficking corridor," Department of Safety and Homeland Security Commissioner Bill Gibbons said.
Munoz was transported to the Knox County jail without incident.
The Tennessee Department of Safety and Homeland Security's ( www.TN.Gov/safety ) mission is to serve, secure, and protect the people of Tennessee.