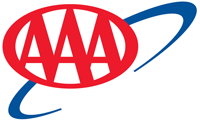 Tampa, FL – Falling crude oil prices have helped keep downward pressure on the price at the pump and drivers continue to pay prices unseen since 2009.
Today's national average price of $1.74 per gallon represents a savings of 6 cents per gallon since last week, 43 cents lower than a year ago. Consumers continue to save more than $1.00 per gallon versus the 2015 peak price.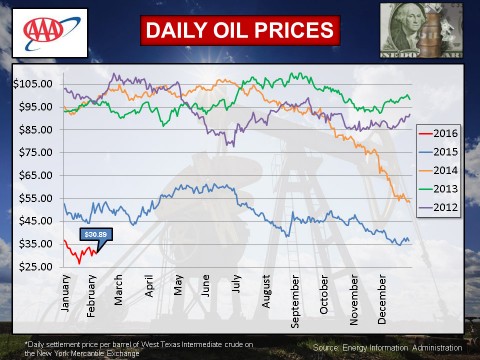 "Attention remains focused on the global oil market's oversupply as volatility has once again returned to the price of crude oil," said Mark Jenkins, spokesman, AAA – The Auto Club Group. "Speculation about discussions between the Organization of Petroleum Exporting Countries and other oil producers to reduce output has appeared to have some impact on the global price of crude oil. However this impact is likely to be short-lived unless there is further suggestion that an agreement is near. The impact of the lower-for-longer price environment on non-OPEC countries is also being discussed, and studies projecting output for 2016 are beginning to surface."
WTI closed out the week down 83 cents to settle at $30.89 per barrel at the close of formal trading on the NYMEX.
Florida: The current average price of $1.80 is 3 cents lower than last week and 40 cents lower than this time last year.
Georgia: The current average price of $1.70 is 3 cents lower than last week and 39 cents lower than this time last year.
Tennessee: The current average price of $1.57 is 4 cents lower than last week and 45 cents lower than this time last year.
"Gas prices in the southeastern U.S. didn't decline as much as in recent weeks, in what could be a sign that refineries are beginning seasonal maintenance, leading to a slowdown in gasoline output," Jenkins said. "Unless oil prices decline in the coming weeks, there's a good chance that prices at the pump could begin to inch up. Historically, refinery maintenance has led to 50-70 cent increases at the pumps from February to June."
Current and Past Price Averages
Regular Unleaded Gasoline
Sunday
Saturday
Week Ago
Month Ago
Year Ago
National
$1.744
$1.752
$1.799
$1.996
$2.172
Florida
$1.798
$1.804
$1.829
$1.996
$2.196
Georgia
$1.700
$1.708
$1.734
$1.892
$2.089
Tennessee
$1.566
$1.573
$1.609
$1.751
$2.022
Click here to view current gasoline price averages
AAA updates fuel price averages daily at www.fuelgaugereport.aaa.com. Every day up to 120,000 stations are surveyed based on credit card swipes and direct feeds in cooperation with the Oil Price Information Service (OPIS) and Wright Express for unmatched statistical reliability. All average retail prices in this report are for a gallon of regular, unleaded gasoline.
About The Auto Club Group
The Auto Club Group (ACG) is the second largest AAA club in North America.  ACG and its affiliates provide membership, travel, insurance and financial services offerings to over 9 million members across eleven states and two U.S. territories including Florida, Georgia, Iowa, Michigan, Nebraska, North Dakota, Tennessee, Wisconsin, Puerto Rico and the U.S. Virgin Islands; most of Illinois and Minnesota; and a portion of Indiana.
ACG belongs to the national AAA federation with more than 56 million members in the United States and Canada and whose mission includes protecting and advancing freedom of mobility and improving traffic safety.