Clarksville, TN – Local sign and visual graphics provider FASTSIGNS® of Clarksville was named Rookie of the Year at the 2016 FASTSIGNS International Convention, which was recently held in Orlando, Florida.
The Rookie of the Year Award honors the FASTSIGNS center with the highest sales volume in its first 12 months of operation and opened between October 2013 and September 2014.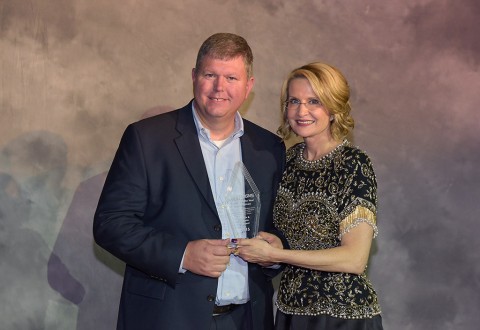 "It's an honor to be recognized as a top performing center and this award acclaims all of our team's hard work and positive contributions in our community," said Lincoln Barnard, who owns FASTSIGNS of Clarksville with his wife, Connie. "We thank our customers for their support and trust and look forward to continuing to help local businesses and organizations tell their story using comprehensive signs, visual graphics and creative marketing solutions."
FASTSIGNS of Clarksville was also recognized as a Runner-Up for the FASTSIGNS Comprehensive Customer Solutions Awards for the superior signs and visual graphics the center provided Austin Peay State University.
Located at 2141 Wilma Rudolph Boulevard, FASTSIGNS of Clarksville provides a wide range of visual communications solutions including wall, window and floor graphics, architectural signs, tradeshow displays, wayfinding solutions, vehicle wraps, digital signage and more.
"We're so much more than a sign company; we are a visual communications provider that helps bring ideas to life and communicate messages in an effective way," Barnard said. "No matter what the visual communications challenge may be, our team is more than ready to help."
About FASTSIGNS®
FASTSIGNS® of Clarksville is an independently owned and operated sign, graphics and visual communications company that provides comprehensive visual marketing solutions to customers of all sizes—across all industries—to help them attract more attention, communicate their message, sell more products, help visitors find their way and extend their branding across all of their customer touch points including décor, events, wearables and marketing materials.
To learn more, visit www.fastsigns.com/2003 or call 931.919.2200.