Austin Peay Sports Information

Charleston, IL – All of a sudden Austin Peay State University men's basketball team is becoming a closer.
A game after closing out Murray State with a 7-0 run, the Governors utilized an 18-4 run over the final 5:10 to rally past first-place Eastern Illinois, 79-70, Wednesday night, in Ohio Valley Conference basketball televised on the American Sports Network.
The victory was the Govs' second straight road victory and allowed them to finish a five-game road swing with a 3-2 record.
As importantly it improved the Governors' OVC mark to 5-7 while putting their overall record at 12-15 as they return home to played UT Martin, 7:30pm, Saturday.
And for the second straight game the Governors took down on the road an OVC West leader. When the Governors rallied to defeat Murray State, Saturday, the Racers were tied for first. Wednesday's win came against a Panthers team that was sitting alone atop the West. The decision dropped the Panthers to 7-5 in the division and 11-14 overall. The decision also snapped EIU's five-game winning streak, started in Clarksville in that overtime outcome.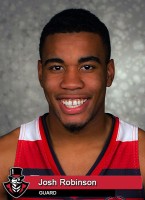 "I was really proud of our guys tonight," APSU coach Dave Loos said. "Other than that dry spell (14-5 EIU run) to open second, I thought our guys played really well all night."
The Govs led 34-31 at halftime after Josh Robinson was fouled shooting a three with 1.7 seconds left. The call initiated a reaction from the EIU bench, resulting in a technical. As a result, the Govs went from trailing 31-29 to leading after Robinson made all five free throws.
But the "dry spell" early in the second half had the Govs scrambling. But surgical interior passing allowed the Govs to tie it up as Chris Horton scored twice from passes from inside cohort Kenny Jones and then Jones hit a layup off a Khalil Davis pass.  As result, the game was tied at 49.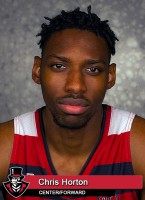 For the next six-plus minutes the momentum swung back and forth. A pair of Davis free throws gave APSU a brief one-point lead only to have Trae Anderson muscle his way in for a 60-59 Eastern Illinois advantage with 6:52 left.
However, 30 seconds later Chris Horton answered with a dunk on a pass from Josh Robinson before Cornell Johnston, the lithe Panther point guard, nailed his fifth three pointer and EIU had the lead, 63-61 with 6:29 left. The Panthers seemingly had the momentum as they pushed the lead to five, 66-61, with 5:29 left after A.J. Riley made a pair of free throws.
But the Govs continued to grind away. Jones scored inside on a pass from Davis, who had a team-high six assists for the contest, with 5:10 left. Robinson then tied it with only his third three pointer with 4:04 remaining. The Governors had the momentum.
Davis nailed a 15 footer from the right elbow extended to give APSU the lead for good, 68-66, with 3:06 left. Reserve point guard Tre' Ivory then muscled his way past Johnston for a layup to make it a 70-66 contest with 2:20 left.
EIU, which shot 60 percent from the floor during the early stages of the second half, now could snap out of its cold spell and they also could not keep the Governors off the boards, especially the offensive glass. After Robinson missed a three pointer, Horton grabbed the rebound and laid it in for six-point, 72-66, advantage with 1:29 left. The Governors dominated the glass to a 42-27 advantage, including 15 offensive grabs that led to 16 second-chance points.
Ivory then all but the put the game away with two free throws with 43 seconds left to give APSU a 74-66 lead with 43 ticks left.
Despite making only three field goals—all three pointers—Robinson led the Govs with 21 points, thanks largely to a 12-of-15 free-throw shooting effort. It was his second straight game with double-digit free throw makes.
Frontline mates Horton and Jones finished with double-doubles. Horton made it his 20th double-double this season with 19 points and 10 rebounds while Jones finished 19 points and 10 rebounds, his first career double-double. It was the first time APSU had two players record double-doubles in almost a year.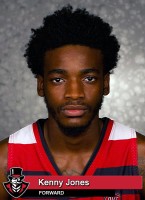 For Jones, it was his third double-digit scoring game in the past four outings. Earlier in the January, he totaled just 11 points in five games.
"Kenny plays with great energy and is doing a good job of finishing around the basket," Loos said. "He also has assumed a leadership role on this team."
Davis ended with 10 points, seven rebounds and six assists as the Govs put four players in double figures.
After shooting only 38 percent from the floor in the first half, the Govs converted 15-of-28 shots (54 percent) in the second half. The Govs also made 23-of-30 free throws to offset a 4-of-16 night from three-point range.
Johnston led EIU with 16 points while Anderson and Riley had 11 and 10 points, respectively.
Up Next
Austin Peay Governors Basketball returns home Saturday, February 13th, 2016 to host the UT Martin Skyhawks. Tip off is set for 7:30pm CT.
Box Score
Austin Peay (12-15/5-7 OVC) 79, Eastern Illinois (11-14/7-5 OVC)
| | 1 | 2 | Total |
| --- | --- | --- | --- |
| Austin Peay | 34 | 45 | 79 |
| Eastern Illinois | 31 | 39 | 70 |
Austin Peay 79
Eastern Illinois 70
Player
FGM
-FGA
3FGM
-3FGA
FTM
-FTA
OFF
-DEF
TOT
PF
TP
A
TO
BLK
STL
MIN
Johnston, Cornell
5-10
5-8
1-1
0-1
1
2
16
6
4
0
0
40
Anderson, Trae
5-10
0-0
1-2
0-3
3
2
11
2
2
0
1
21
Teson, Casey
3-11
3-9
0-0
0-0
0
0
9
0
0
0
0
30
Piotrowski, Luke
4-6
0-0
0-0
0-5
5
3
8
1
0
5
0
20
McReynolds, Demetrius
2-9
1-6
0-0
1-2
3
4
5
1
0
0
1
30
Riley, A.J.
4-9
0-2
2-2
5-5
10
3
10
5
1
0
2
22
Johnson, Anthony
2-3
0-1
0-0
0-0
0
2
4
0
0
0
0
4
Kuligoski, Joe
1-3
0-2
1-1
1-1
2
2
3
3
0
0
0
16
Diallo, Aboubacar
1-1
0-0
0-0
0-0
0
1
2
0
0
0
0
6
Blackmon, Marshawn
0-0
0-0
2-2
1-0
1
0
2
0
0
0
0
5
Muldoon, Patrick
0-0
0-0
0-0
0-0
0
2
0
0
2
0
0
6
Norman, Luke
0-0
0-0
0-0
0-0
0
1
0
0
0
0
0
0
TEAM
0-0
0-0
0-0
1-1
2
0
0
0
1
0
0
0
Totals
27-62
9-28
7-8
9-18
27
22
70
18
10
5
4
200