Austin Peay Sports Information

Nashville, TN – Kymmalett Ross has enjoyed a tremendous senior season. Her weekend at the Music City Challenge, hosted by Vanderbilt, was no different.
Friday, Ross made a little APSU history.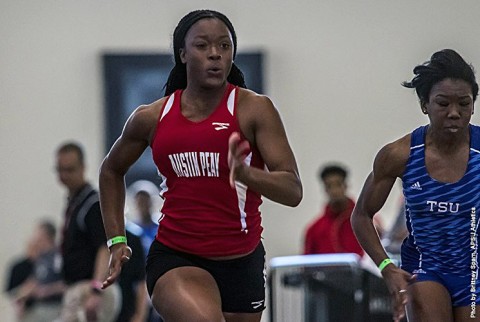 The senior posted a 24.37 200m dash mark, winning the fourth heat and lowering her school record by nearly two-tenths of a second just two weeks after posting APSU's all-time best in the event at the Thundering Herd Invitational.
She just missed an entry into the 60m dash finals, finishing 12th overall with a 7.68 mark, less than a tenth of a second away from a qualifying mark.
Ross wasn't the only APSU athlete to make a mark at Vanderbilt as junior Myiah Johnson continues to make strides. After qualifying seventh for the 60m hurdles finals (8.62), Johnson breezed to a fifth-place, 8.55 finish in the finals that puts her just six-hundredths of a second behind Roni Hopkins' 2002 school record in the event.
Austin Peay's distance medley relay squad performed admirably on Saturday. Sophomore Rebecca Wheeler and juniors Unjula Lester, Molly Jordan and Michaela McGhee placed sixth in the 4000m event, posting a 12:46.05 mark.
The 4x400m A-team was a scratch due to some hamstring tightness, but Austin Peay's quartet of McGhee, sophomores Allysha Scott and Sonja White and junior Tamira Wilson broke the four-minute mark with a 3:58.36 run, good for eighth.
In the pole vault, freshmen Savannah Amato and Dascha Hix continued to impress. Amato equaled her personal-best 3.81m (12-06.00) en route to an eighth-place finish, while Hix's 3.66m (12-00.00) was a personal-best and earned her a share of ninth.
Austin Peay will have its final indoor meet before the OVC Indoor Championships at next weekend's Buckeye Tune-Up, hosted by Ohio State.