"Voucher Bill" was laid on the House Desk by the Sponsor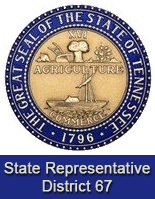 Nashville, TN – Tennessee State Representative Joe Pitts (D-Clarksville) moved several pieces of legislation forward in the legislative process. He also will start moving a bill forward in the Transportation Sub Committee next week.
House Bill 1514/Senate Bill 1730 (Senator Kerry Roberts (R-Springfield) is a bill that was brought to Representative Pitts by a mother whose innocent son was killed by an impaired driver in Clarksville on his way to Austin Peay State University.
Tyler Head was killed on February 3rd, 2012 and the bill, if passed, will be known as the Tyler Head law. It will establish a memorial sign program for the State of Tennessee.
There are currently 14 states that have this program in honor and memory of innocent citizens that are killed yearly by drunk and/or impaired drivers.
The sign will be free to family members, installed on interstate highways, United States highways or state highways.
House Bill 1629/Senate Bill 1615 (Senator Mark Green (R-Clarksville) is part of the Montgomery County government's legislative agenda and authorizes local governments to enter into cooperative purchasing agreements with federal agencies. This legislation cleared the Local Government Full Committee this week and will be heard on House floor on Thursday, February 18th.
House Bill 1513/Senate Bill 1658 (Senator Jim Tracy (R-Shelbyville) is a proposal from the Tennessee Sheriff's Association to allow county governments to give to retiring full time deputies their service weapon (pistol) that was carried in the line of duty. Montgomery County Sheriff John Fuson, an active member of the Tennessee Sheriff's Association, requested we sponsor this legislation on behalf of his retiring deputies. This legislation cleared the Local Government Sub-committee on February 10th and it will be heard in the Local Government Full committee on February 16th.
House Bill 1049 (Representative Bill Dunn (R Knoxville) Senate Bill 999 (Senator Todd Gardenhire (R-Chattanooga) called "Tennessee Choice & Opportunity Scholarship Act" also known as the Voucher Bill was placed on the House desk, effectively stopping the bill from being voted on by the House of Representatives this session.
The House sponsor stood in front of the members and explained that he simply did not have the votes to pass the legislation so he was "laying it on the desk". This bill was passed in the Senate in 2015.
"I am opposed to the premise of this legislation for many reasons," Representative Pitts said. "The already meager funding for our public education system should not be used in this manner, the proposed bill would cause a low-income family to have to choose between changing schools or allowing their child to receive a free or reduced lunch at the public school, and finally, it would limit participation since private schools would not be required to offer transportation. It is also important to note that every public school system in the state, all 141 of them, was opposed to the legislation."
If you have questions about the above or other issues of concern, please call me at 615.741.2043, or email me at