UT Athletics Department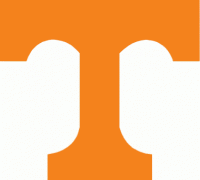 Columbia, MO – Senior Kevin Punter's 21 points wasn't enough for Tennessee Saturday, as the Vols fell 75-64 to Missouri at Mizzou Arena.
The Volunteers (12-13, 5-7 SEC) struggled with shooting the ball consistently, shooting 38 percent from the field compared to the Tigers' (9-16, 2-10 SEC) 55 percent, the second highest percentage for Missouri this season.
After being down by as much as 14 points in the first half, UT cut Mizzou's lead to just four points after senior Devon Baulkman drove to the basket for a layup with 1:25 remaining in the game, but a 38-27 halftime deficit would be too much for the Volunteers to overcome.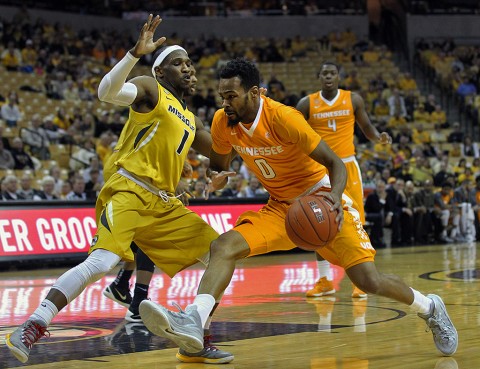 Free throws would be the determining factor for the game, though, as the Tigers converted on 22-of-30 from the charity stripe for the game, including five made in the final minute of action.
Baulkman and Punter had the hot hand for the Vols, scoring 38 of the team's 64 points. Baulkman finished with 17 points, scoring 13 in the second half. Punter's 21 points helped make him become the Vols' all-time leading scorer amongst two-year players (886 career points).
Missouri was led by senior Ryan Rosburg, who finished with 21 points, five rebounds and two blocks in 35 minutes of play.
Devon Baulkman heated up during the second half, scoring thirteen of his 17 points after the break. This was Baulkman's second consecutive game hitting four three pointers after only making two over the previous six contests.
Tennessee will be back in action Thursday night, traveling to Lexington to face the Kentucky Wildcats in Rupp Arena at 7:00pm on ESPN.
UT Vols Limiting Turnovers
The Vols turned the ball over only five times during the game, their fewest of the season. This is their third straight game of single-digit turnovers.
Up Next
Tennessee will head to Lexington for a matchup against the Kentucky Wildcats on February 18th. Tipoff is scheduled for 7:00pm ET/6:00pm CT.
Tennessee is currently 68-151 all-time against Kentucky. With 68 wins, Tennessee has the most wins in history versus the Wildcats.
The Vols have now beaten Kentucky 18 times when being unranked against a ranked UK team.
Kentucky is 88-16 all-time when facing the Volunteers in Lexington.
Tennessee head coach Rick Barnes 2-2 for his career against Kentucky.